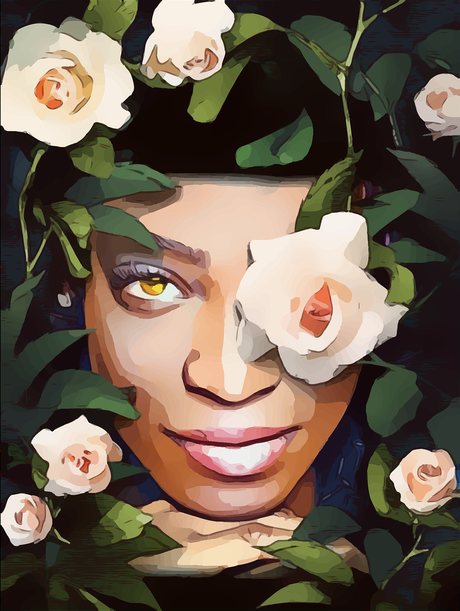 "Learn to value yourself, which means: fight for your happiness." ― Ayn Rand
It boggles my mind that after all this time, I am still needing moments of learning this lesson of self-value. Why is it that despite all the personal work I've done, I should still be wrestling with vestiges of low self-esteem? What vestiges of darkness does this inner wounded child cling to that I have not fully uncovered and released to the light of day? For this must be the reason I continue to subject myself to less-than ideal situations with people.
Right?
I am fighting for my happiness. I am motivated like I never have been to stop this emotional runaway choo-choo train I've been riding most of my life, and reverse what I see as bad fortune, or more kindly, lessons not yet learned. My heart is moving over, and making space so I can open the door to the chamber which holds the secret of my silent pain.
"You can be the most beautiful person in the world and everybody sees light and rainbows when they look at you, but if you yourself don't know it, all of that doesn't even matter. Every second that you spend on doubting your worth, every moment that you use to criticize yourself; is a second of your life wasted, is a moment of your life thrown away. It's not like you have forever, so don't waste any of your seconds, don't throw even one of your moments away." ―
Meanwhile, I see so clearly in others, what I stumble upon in my own self. For all kinds of crazy and real reasons I made some decision, at some moment, at some before-time that set these raggedy wheels in motion. I've been re-acting to it and playing it out ever since. I'm not sure it is important to know what that moment was in order to heal it and make peace with it, but I do believe that above all, I must know my own value, intrinsically - in a real felt sense, in a bodily way - to integrate head and heart knowledge with this tangible fleshly vessel I embody.
Whatever is behind me, I am using all my intent, focus, and determination to see things as I wish them to be, as they really are but for the blinders I wear. I am learning to privilege what I know as truth, and drown out the miscellaneous voices, whose judgment I adopted long ago as my own, and continued to play out endlessly through people placed in my path.
Until yesterday. Until today.
I clearly see that regardless of whether or not anyone ever acknowledges me, I do. I am saving that child still craving my own love within. And I know that no one can ever make me feel as if I am worthless again, unless I hand them over that power.
What I know is that my value doesn't decrease based on someone's inability to see it. For as I remember who I am, I remember my pre-life beginnings, when things like self-worth and value did not exist for me, were a given. In very practical terms, I am knowing anew, what I am worth, and I am walking upright with the power to change my world.
Really knowing your value enlightens, shines, and reflects value for others, who then enlighten their worlds, shine, and reflect forward. And so on. And so on.
None of us is more than any other of us. We have value because we exist, because we are. Somewhere in our being, no matter how many voices we may have integrated into ourselves, no matter how many present-time experiences and attempts to try to convince us otherwise, cannot belie the truth. When we seem to forget, we may be sent another person, another situation to trigger us and help us see, by way of difficult lessons.
"It took many years of vomiting up all the filth I'd been taught about myself, and half-believed, before I was able to walk on the earth as though I had a right to be here."

― James Baldwin, Collected Essays: Notes of a Native Son / Nobody Knows My Name / The Fire Next Time / No Name in the Street / The Devil Finds Work / Other Essays
If someone cannot, will not see your value, it is up to you to declare it. You have to know it. You have to live it. You have to be it. There is not another like you under the sun which means you are pretty special. Appreciate that. Let it sink in. Never compare yourself to others because there is nothing to compare.
You have value. I have value. We are worth more than diamonds, more than gold, more than oil. We are magnificence magnified infinitely. And sparkly shiny, too. When we can really get our heads around this, in a real lived, felt sense, we will not only know our value, we will magnify Life.
I know this now. I wear it. I am strutting my stuff.
The once-dimmed light of truth flickers in this moment, and I continue moving fast in its direction.
© 2019 Egyirba High. All Rights Reserved
Feel free to share this post with others, as long as you include the copyright information and keep the whole posting intact. If you like this piece, please share it with others. You can like me on to see more of my writing and my personal and spiritual journey.