HOLLYWOOD—
On Sunday, April 24, being a journalist is never easy. You simply cannot win. Whether you write an incredible piece on someone, the subject somehow gets upset about something you wrote, omitted or even worse if the review was truthful.
Somehow reporters are always blamed for everything, from invading the privacy of others to crafting fictitious stories to sell newspapers. They are even accused of simply trying to generate more traffic for their website.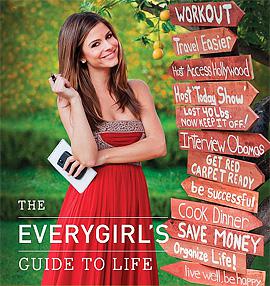 Reporters are always attacked for meddling into the affairs of others, and this mere curiosity is judged as sticking their noses where they don't belong. 

Journalists somehow make people nervous, and being a TV reporter dishing on A-list celebrities can be even more challenging. TV reporters are blamed for spreading vicious rumors that are later confirmed as being true. But if someone really needs you to promote them or assist them with something, you are suddenly the most popular person in the room. 

Take Maria Menounos who interviews Hollywood's biggest celebrities as a reporter for "Access Hollywood" and seems to be very well-liked and respected by the public. She's an incredible human being, very down-to-earth. 

While nothing was mentioned about her dishing on celebrities and her journalism, we could only come to the conclusion that it happens to her as well.
We met Maria on April 14, when she was on tour with her book, "The Every Girl's Guide to Life." 

She loves sharing information, and she's been in the business for 11 years. She's been exposed to the biggest stars and experts in the business. The experts helped her stay organized. At the age of 32, she's doing very,very well. With her busy schedule, sometimes she has to miss her family gatherings. 

In a brief Q&A, she managed to keep the audience interested with speaking Greek and telling everyone she went to Greek school at the age of 13.
Q: How does your week go?
A: "We shoot 'Access Hollywood' between 11 and 1. Then we have to do junkets, sometimes interviews, we have to be prepared for everything and anything. Sometimes we only have minutes before to prepare and research the subject."
Q: How did you feel about "My Big, Fat, Greek Wedding"?
A: "I loved it. It spoke to every culture; it was so much fun. I even got to know Nia Vardalos."
Q: How did you get the idea for the cover of the book?
A: "Good question. We are Greek; we invent everything. We are do-it-yourself people. Then I asked my friend to take photographs, did some research online and we shot the cover of the book in one hour in my backyard. I also did my own hair and makeup."
After skimming through Maria's book, we noticed that she was also a fan of Eve Pearl and her cosmetics. Menounos's book has something for everyone and covers everything from being successful to losing weight. 

We can't imagine Maria being 40 pounds heavier; however, Maria did lose 40 pounds and tells us how to keep it off in her book. It offers plenty of tips to promote an overall healthy lifestyle. 

We loved the book and highly recommend it to get started with an organized, efficient, life style full of happiness. Having said that, don't let the title fool you, everyone can read it, including men, who can definitely get some great tips for losing weight, travel and dealing with relationships.
Rose's Scoop: Susan Lucci, when promoting her long-awaited memoir, "All My Life," shrugged off rumors that ABC was canceling "All My Children," the daytime soap. ABC did, in fact, cancel the shows, so perhaps she really didn't know or just didn't want to say.