Photo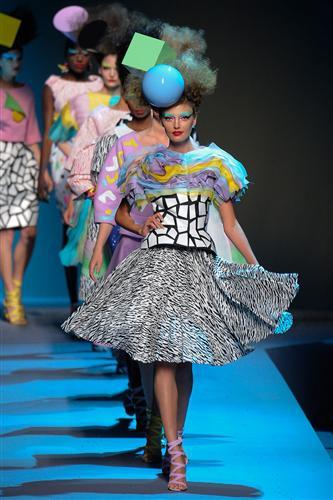 FASHION REPORT - Dior Without Galliano
Marking the end of an era and the beginning of Haute Couture Week 2011, Dior displayed its first Haute Couture collection sans Galliano in 15 years. Leaving the team to get on with the collection while the Dior CEO contnues his search for a new head designer, The fashion houses archives remained open for re-interpritation.
Looking through the pictures online I would almost say that I was looking at 4 different shows by 4 different designers. Starting with Geometric shapes in Pastel shades, moving on to Morroccon style summer wear, to psycedelic evening wear and then onto classic, and somehow boring ball gowns. It just didnt seem cohesive - which is why there is normally a head designer.
For the first time in my life i looked at one of Diors shows, and didnt instatly fall in love with a single piece. This collection truely marks the seperation between house and designer but was it for the best? There were a few signiture pieces missing including an exquisitly tailored jacket & skirt. That glmourous sex appeal thit is the key look of Dior, just wasnt there. Instead it was replaced by overly draped fabrics, with too many ruffls and layers and not enough pleats and sharp cutting.Where there Was however good pattern cutting, the fabrics were all wrong - either too floaty or too stiff. The team just couldnt seam to get it right without a leader.
It was all too fussy and not quite wearable enough.
So not a rave review from me im affraid, but I wait with anticipation for the first collection headed by a new designer. A few tweeks here and there, and Dior will be fighting strong once again.
xoxo LLM