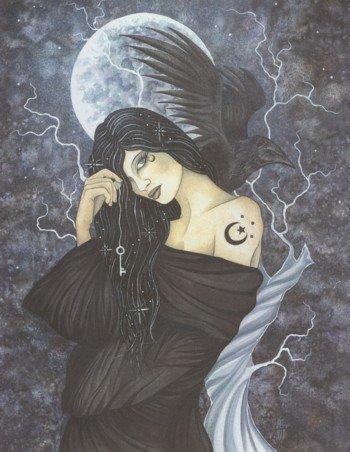 Today (November 30th) is the Feast of Hecate Trivia, one of my favourite goddesses. Today's celebration honours her as goddess of the crossroads. Trivia roughly translates to mean "crossroads" in Ancient Greek, specifically a crossroads where three roads meet. In Ancient Greece, altars to Hecate were often placed at crossroads and people, especially women, who were traveling at night left offerings in return for safe passage.
If you're at a crossroads in your life, unable to make a decision or in need of a solution, call on Hecate today to guide you. Be warned, she doesn't suffer fools and she's not gentle.
Hecate is one of the dark goddesses, deities who rule the darker aspects of life including death, the underworld, magic and rebirth. Dark goddesses, Kali and Lilith amoung them, are known for their ancient wisdom and swift action.
Hecate is also a triple goddess, meaning she represents the cyclical aspects or phases of life. These include:
Birth-Life-Death
Earth-Air-Water
Full-New-Dark moons
Past-Present-Future
Maiden-Mother-Crone
Underworld-Earth-Heaven
Originally a goddess of women and childbirth, Hecate governed the beginnings of life. During the Hellenistic period, she became a triple-faced goddess of Witchcraft and magic. Her involvement in the myth of Persephone lead to an association with death. She is the keeper of the key to the Underworld and keeps Persphone company while she resides with Hades. However, Hecate is also responsible for leading Demeter to rescue Persphone. Because of her psychic and magical gifts, Hecate was the only person who could hear Persephone's cries while she was trapped in the Underworld.
Today, Hecate is celebrated as the goddess of change, death, life, rebirth, Witchcraft, magic, psychic abilities and crossroads. She is also associated with fertility, the dark moon, psychic abilities and truth. She is worshiped at this time of year, from October through the winter, when everything is dead and dormant and we become introspective.
Hecate's Correspondences
Symbols
key, torches, cauldron
Animals
dog, owl, cat
Plants
poisonous and hallucinogenic plants like Nightshade and Belladonna, also garlic, myrrh and cardamon
Flowers
poppies, lavender
Stones
obsidian, jet, moonstone, amethyst
Colours
black, silver, purple
If you're going to ask for her guidance, you should properly introduce yourself first. Spend some time meditating and try to connect with her. In spell work, be swift, direct and respectful. Do not waste her time. Leave her an offering and remember to thank her.
Also, remember that she works quickly, cutting through pretenses and bringing about abrupt and sudden change. As a result your life may get worse before it gets better. For example, if you ask Hecate to help you decide whether or not to take a job offer, be aware that you may be in the wrong career. Hecate will know your true path and completely change the direction of your life. Think you want to be a doctor? Maybe your true path is in the arts. You might find yourself fired from your job or dropping out of law school, but it will ultimately be for the best. Keep this in mind when asking for her guidance with love, friendship, money, travel or anything else.
I warned you.