We usually look for different kinds of food depending on many factors.. mood, cravings, hunger level, who we eat with, what occasion there is, of course, the budget, and sometimes even just for the sake of trying something new.. But what happens if you can get them all - every time in a single go? Do you still need to think it over? I bet not.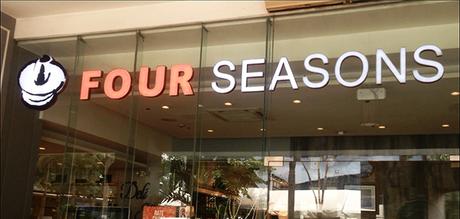 Four Seasons buffet & hotpot at Araneta Center - Cubao
As usual, I will be honest that I am not a big fan of eat-all-you-can establishments as I only eat a handful in one sitting. Come on, it's so hard to discipline yourself especially when it comes to food. So, what brought me here? Family. If we go here, it will always be our father's fault. Well, not to drop him in any way but since it was my older brother's birth month.. It can be one of the reasons why lol.
So for this post, I'll give you 5 reasons why you should visit 
Four Seasons buffet & hotpot
by Vikings
here at
Araneta Center, Cubao
.
1. THE VARIETY OF FOOD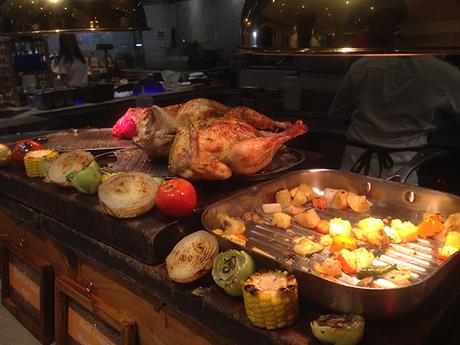 Ze carving station
Aside from the given fact that it is an eat-all-you-can restaurant, their variety is nice. Since I don't eat a lot and I am really more fond of eating the snack type of foods, I find their selection delicious. Their
siomai
from the
Chinese appetizer
area tastes really great
.
They also have Japanese starters like
sushi rolls and California Maki
if you like those kinds of stuff. They also have a wide range of
fruits and vegetables
for the vegetarians and fruit addicts lol. If you are a fried-food eater type of person, don't worry they got your back - Enjoy their selection there including
different kinds of Tempura
.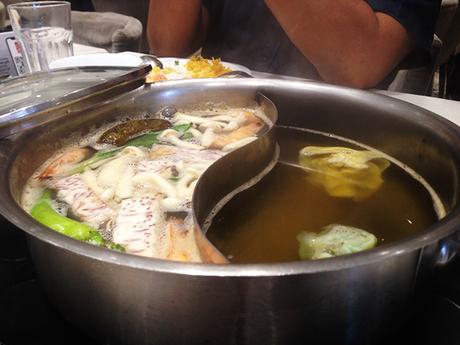 Hotpot on the table
They serve chicken, pork (lechon), steak, beef, turkey, lamb, seafood, noodles and pasta, pizza, rice, of course, the hotpot, I even saw some burgers and fish dishes there.. Name it, they have it - From raw items to cooked ones. Its "do your own thing" there as long as you do not disturb other guests I guess. 
Special feature
: Dessert section (dessert-all-you-can)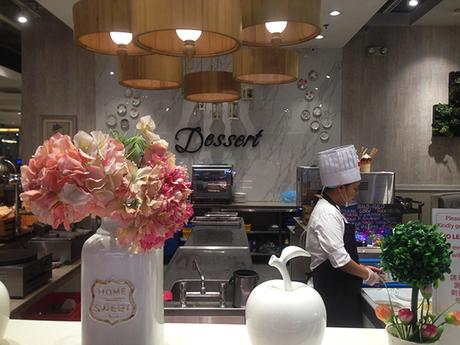 Dessert area
One thing is for sure here.. If kids love candies, chocolates, and cakes, then all people inside here are kids haha! Their dessert area caters from different kinds of bread, rice cakes, actual cakes, brownies, fruit salads, chocolates, donuts, and to even ice cream in different forms and flavors. These treats are always a temptation whenever you are inside. As a matter of fact, their presence often makes me want to do my dessert early on. And as much as I would like to eat moderately, they always have a special place inside my stomach even though I think I already ate a lot. Man, do they have magic? lol!
2. DRINK-ALL-YOU-CAN FEATURE 
(my favorite)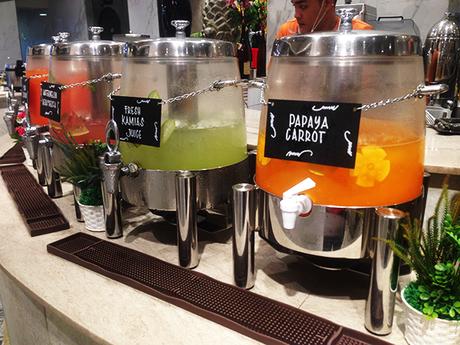 Fruit drinks section at the bar
I drink a lot especially juice drinks so if you want to meet me then wait here, for sure I'll be stopping by a lot of times in this section looking for what to drink next haha! Guys, they have milk tea, fruit juices and shakes, coffee, tea, branded health drinks, soft drinks and some alcohol beverages (not sure with wine since I am not a wine person but I definitely saw beers). Did I miss anything? If I am just near the area, drinking nights (the healthy non-alcoholic version) would definitely be often.
3. THE COMFY-HOMEY VIBE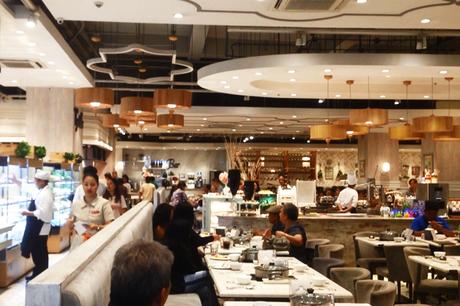 Inside Four Season Cubao
As the facade may look intimidating, you'll actually feel more comfortable once you get inside. The comfort will grow as you stay longer. I am really not fond of much attention so I like how everything works inside with how freely you can move without much needing of such. One factor though is that we may have been here a number of times already. But hey, I still feel that way so I guess it still helps. You may not feel the same on your first visit but I would like to think that you'll get to feel it too may be on your next.
For me, attaining this homey-comfy vibe to reach your guests is very hard to do but very rewarding when successful. So great job
Four Seasons - Cubao
.
4. THE PRICE & PROMOS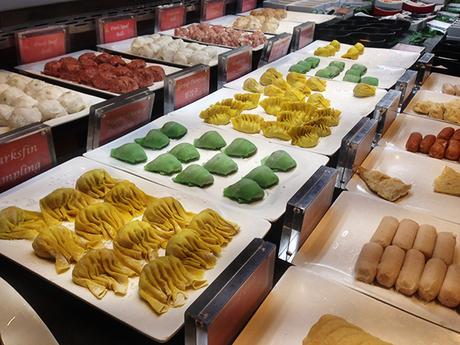 Raw foods for your own cooking
Pricing is as follows:
> P688/adult for weekday lunch - 11:00am to 2:30pm> P888/adult for weekend lunch/dinner/holidays - 5:30pm to 10:00pm> (kids' price vary from P188 to P588 depending on the height starting from 3ft.)If they are 3ft. below, their entrance is FREE 
Promo is as follows:
> Celebrant's birth
date
: He/She is FREE when accompanied by another (1) paying adult> Celebrant's birth 
month
: He/She is FREE when accompanied by 3 other paying adults> For big group reservations, 2 persons are FREE for every 10 paying adults [12+2]> For bigger groups, bigger discount applies
(max. is 40% off for 100 pax and more)
The pricing may seem expensive at first but when you consider everything that comes with it, it's actually reasonable. I won't go on comparing it with others as it may be comparing it with apples to oranges but the mere fact that it is unlimited food, unlimited drinks, and unlimited desserts (still excluding the promos) is already something to consider at.
5. THE EXTRA MILE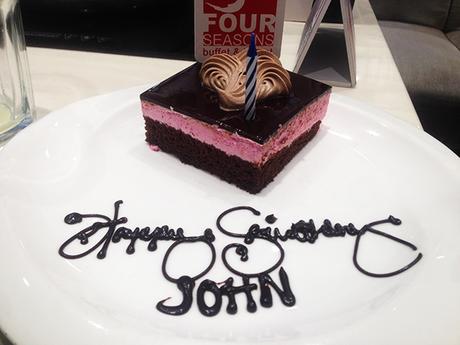 Older brother's free birthday cake - "Happ..Something" lol
"
Let's appreciate the little things some people do especially when it's not required of them
" Well, assuming that it is a part of the crew's job to do the little surprise things about the birthday celebrants inside the establishment.. But still, at the end of the day, their efforts are appreciated by many. "Whoever can be trusted with very little can also be trusted with much.." -
Luke 16:10

So if they put effort into such little things, what more to the big ones.. Let this video right here prove more about what I am saying on this blog post. Enjoy guys!
Oh! I almost forget.. I'll make sure to create another entry too when I get to visit Vikings (Marikina probably) again. I'll link it here. That's all lol! Thanks again for visiting!
Location:
Gen. Roxas Ave. Quezon City - Araneta Center, Cubao
Operating hours:
11:00 am to 2:30 pm for lunch, 5:30pm to 10:00pm for dinner
Contact nos.:
932-77-77 / 939-77-77 
Email address:
[email protected]
website:
www.fourseasonshotpot.com.ph
Facebook fan page: 
https://www.facebook.com/fourseasonshotpotcubao/
Instagram account: 
https://www.instagram.com/fourseasonshotpotph/