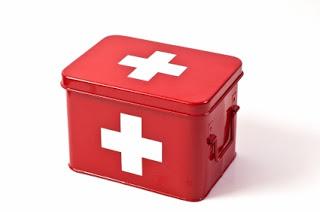 Time for triage on Planet Baby again
Ah Lovelies. I can't thank you enough for all your emails, text messages, phone calls and Facebook messages enquiring about my wellbeing. You are all so kind. It flummoxes me, actually. 
Frustratingly, on Monday our fortunes took a huge dive. 
Mr PB lost his job. Just when he was getting over January's shock, the poor fellow.
It's a dreadful way to bookend our year. And horrid timing just before
Christmas
.
So we're in triage phase again, sorting out our priorities.
Notifying the relevant people and organisations.
Doing our sums. Calculating. Guessing. And hoping.
My main priority right now is looking after Mr PB. He's had to be strong for so long, just to look after me. He's such a good man. And, unsurprisingly, it's taken its toll on his health.
Now I'm feeling a bit better, it's my time to step up to the plate and shoulder some of the load so he can get better.
Curiously, this time around doesn't feel as devastating as last time. Maybe it's because I know we can get through this again.
Part of it is also because in the short term, it forces him to take a rest as most businesses will be shutting down or working with skeleton staffs for the next few weeks. That means they won't be there to receive his job enquiries. He hasn't had a day off, outside of the public holidays, for 8 months. And he's been the sole breadwinner for 6 of the past 7 years. No wonder he's worn out! 
And the other part is because it also gives him an opportunity to finally seek some career advice. For the longest time, he's questioned whether he's in the right field. Now he can ask some experts for guidance.
We're not sure where this path will lead. I'm trying very hard not to be scared. And to embrace the potential of change.
I just have to encourage him to do that as well.
Not to mention ensuring the pixies still feel loved and secure, despite all the uncertainty swirling around us.
The few souls with whom we've shared our news have surprised us with extraordinary generosity.
Planetarians have visited and hugged me. They've phoned, emailed and texted me. They've had groceries delivered to our door. They've prepared us pizza dough and given us all the fresh ingredients for making our dinner. Not to mention a bottle of chardonnay to accompany it! They've met me in the park and consoled me whilst our children have played. They've offered to look after the pixies and even pay bills.
I am just staggered. And overwhelmed. I can't thank you all enough, let alone understand why all this generosity is being channelled our way. I'm not fishing for compliments - I mean that most genuinely.
I just have to be gracious and accept people's help. That's the best way I can thank them as it allows them to feel satisfied and enjoy their giving.
So, my blogcation will continue indefinitely whilst we get back on our feet. I trust you'll understand. I miss you all terribly but blogging takes so much energy from me, I need to conserve all I have to tackle our challenges.
I hope to pop by around Christmas time, though - I can't miss out on sharing that time with you all!