Glamorous: A Grace Bishop Novel By Denise Bossarte is a begins with a high-end drama. That is more than enough to create your connection with the story straightaway right from the first page you read. The moment you get to know Beth is having a profuse bleeding you become curious to know what and how of it. Even if you still don't know who Beth is. But DL knows. DL is sleeping with Jennifer in their bedroom gets a call from Chris quite late at night. To avoid waking Jennifer he avoids taking call and moves towards the adjacent bathroom without switching on any lights. On the first instance, he avoids taking his call. Because it is never a good thing coming from Chris. But since it is quite late in the night, thinking there must be something serious, he picks up the call to know about Beth.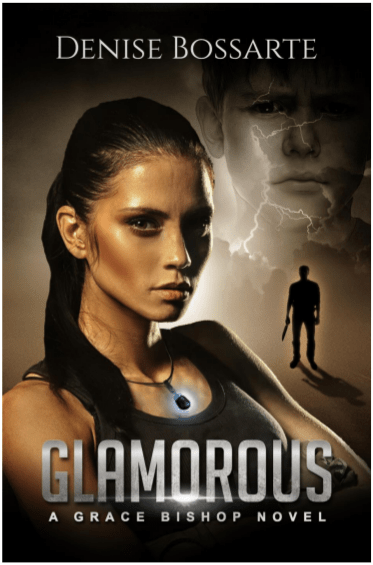 Glamorous: A Grace Bishop Novel by Denis Bossarte is a fabulous suspense thriller. The story is about a serial killer who targets homeless girls. To match his powers we have Grace, an ex-cop whose career came to an end because of a car accident. In fact, that was an accident in which she also lost her brother. The painful memories of this double loss torture her every now and then. But her zeal to fight against the wrong didn't leave with her job. She is still as strong and powerful against wrongdoers. Rather that accident has transformed her life in many ways. She is having some strange paranormal powers that she herself is not aware of. But gradually she understands that without using her special powers, she will never be able to overpower the killer and stop his murder spree. That makes it a powerful paranormal thriller.
Glamorous: A Grace Bishop Novel is a fabulous suspense thriller
Coming back to the gripping story. DL reaches Chris's place just to find Chris high on drugs and Beth in a pool of blood in the bathroom. She has deep cuts on her arms and other places. Good that she was still alive. DL thus had no other option than approaching Grace for finding out the attacker and get to know the reason behind this attack on Beth. You just need to read first few page and then the powerful story of Glamorous: A Grace Bishop Novel by Denis Bossarte will hook you strongly to it and won't let to stop before you finish it.
Just a few more points before I end this review. This is, in fact, the first book in a series of urban fantasy and paranormal thrillers by Denise. I bet, the intriguing mystery will force you to grab more books from the author. The next two in the series are Return and Beginnings in the same order. You can read author's interview here.