Guess Who's been Accepted into Grad School!!!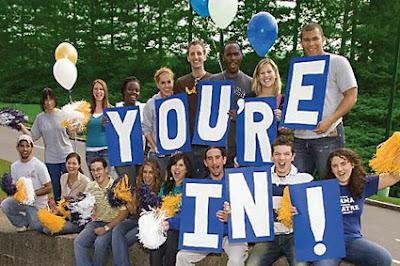 Forgive me. I know it's been a while, but you know that crazy thing we call life? Well, it has gotten in the way and for good reason!
     Over these past few weeks I've been doing some soul searching and have decided that it's time I take my education to the next level. I've been going through the rigorous process of applying to grad school, and guess what? I've been ACCEPTED!
      I have to say the road wasn't an easy one especially when I had to track down professors I haven't communicated with since 1999!!! LOL.
      Thankfully, my profs remembered me and took time out of their busy schedules to help me. I also have to thank my countless other friends, (sister friends), and former colleagues for helping my dream become a reality.
     So, will going to grad school cause me to put my writing on hold? 
Question. Do pigs fly?
      Of course not! Although I'm very much focused on school and working towards my degree, I am making a promise here tonight and saying there is no way my classes will interfere with my writing.
      Writing is and will always be my first love. It's what I'm most passionate about...although I have to say over these past few weeks I haven't been feeling very motivated to want to even pick up the laptop, but I'm back, and ready to go.

So, what does that mean about Perfect Proposition. However I know I was pushing toward a fall release for the book, I have to say more than likely that's not going to happen, but I can tell you this, I will finish it, and when I do it'll be a read that you won't want to put down until you've reached the end!