"Those are girl glasses." said the little boy from the pool. My son, sporting his sister's hot-pink and rhinestone sunglasses, shot back, "NO, they are BOYS!"
"But…they're pink" the boy said, confused. "Yeah they're pink, but I'm wearing them, so they're boy glasses." You go, Gavin.
This wasn't an example of me letting my three-year old express himself by wearing the pink sunglasses. No, I'm not that progressive. It was more, I-can't-find-your-sunglasses-just-wear-your-sister's kind of thing. Pink sunglasses on boys and Captain America costumes on girls are common in the life of a boy/girl mom.
When you are a boy/girl mom, your life is filled with all things boy, all things girl, and everything in between. I often see things on Twitter, Instagram, or other social media sites where parents showcase a typical boy or girl moment, usually followed up with the hashtag "#boymom" or "#girlmom". Those are some of my favorite posts!
I see very little, if anything though, on the unique experiences you have if you are living with both a young boy and young girl. Take a glimpse into our daily life:
You might be a boy/girl mom if….
-Your daughter requests a Skylander's birthday party
-You find yourself playing hair salon and monster trucks at the same time
-At night you navigate through a mine field of Legos, My Little Ponies, hot-wheels, and princess crowns
-There are Star Wars sheets topped with flowered pillow's on either of your children's bed
-The beautiful tea party set is often used as a weapon
-You often have to remind your daughter that no, she does not have a tiny penis
-Your son has a favorite Disney Princess, and your daughter has a favorite Avenger
Your son dresses like this: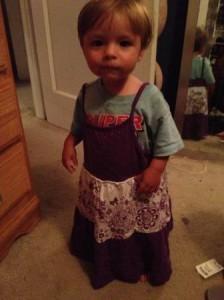 And your daughter dresses like this: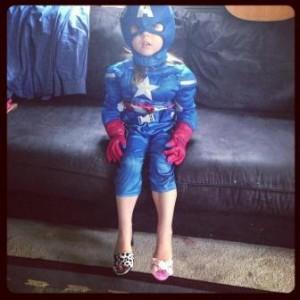 Being a boy/girl mom forces you to be gender neutral, like it or not. Thankfully, around here we like it, or at least don't care enough to not like it.
About The Guest Blogger: Myndee is an almost 30 (by that she means 33) year old mom who recently left her career to stay home with her three kids, ages 4 and under. She writes over at Random Myn about whatever random thing that crosses her mind- anything from politics to parenting. She's also not a raging alcoholic, though her Instagram kind of makes her look like one. She's also on Facebook & Twitter…