Today's guest post from my dad talks about his discoveries whilst purchasing footgear.
-------------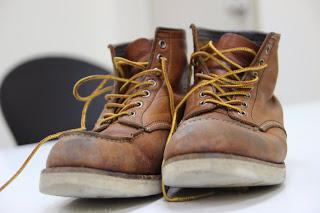 Thanks to LJ- for the image
NEW BOOTS!
It was as documents go, small, restrained, brief even, not a 36 page instruction manual embracing 999 thousand words and in all honesty I really can't complain, such was its brevity.
A bare two A4 sides of instructions, an utterly trivial 1,562 words explaining the instructions, regulation, care, maintenance and use of 'A PAIR OF BOOTS!'
Now I hate to blow my own trumpet but I really thought that I had mastered 'How to wear a pair of boots' long, long ago, I seem to think them go on your feet?
Ah not so easy, it is assumed in this day and age that anyone buying a pair of boots may possess minus 'infinity intelligence', and all you would ever need to know about boots, and a lot more besides, would have to be spelt out to you, in great detail. What follows is but a taster.
To be honest, 'they' did assume that you knew how to put boots on your feet, so what else did you need to know? Well for a start, you MUST NOT clean the boots with Caustic Soda! (who in their right mind would ever ..... ?)
Indeed, when the boots are dirty, they insist that you must clean them (without Caustic!), allow them to dry naturally - forced drying is forbidden and you must store them in a cool, dry area when not in use, and most certainly not expose them to impacts exceeding 200 Joules or compression greater than 15,000 Newtons.
Perhaps unlike the average passerby in the street I do happen to understand a smattering of scientific type weird shit (aka jargon) having worked in a laboratory for twenty years, but precisely what in everyday terms a compression of 15,000 Newtons relates to is quite beyond me.
A falling brick? And from what height?
Oh no, I'm confusing Compression and Impact, bother!
Other fascinating information tells me that the upper leather and rubber sole are guaranteed for 10 years!
And that the 'manufacture' of the boots themselves is guaranteed for 3 years!?
(Deep breath) The safety footwear (boots) comply with the EC Directive of personal Protective Equipment (Directive 89/686/EEC) and meets the EU standard EN ISO 20345:2011. It features Metatarsal protection - no, I'm not making this up - Resistance to fuel oil and Resistance to inimical environments! (What?)
So if you find yourself in an Inimical environment, you had better know where your Protective Equipment (Directive 89/686/EEC)/EU standard EN ISO 20345:2011. boots are!
Oh and you have to wear a sock - one sock per boot! I kid thee not .... the boots aren't guaranteed if you don't wear socks!
Head over to www.facebook.com/RavenMagical for my parents mail order business offering all kinds of new age and weird and wonderful magical goodies!  But, unfortunately, not boots.