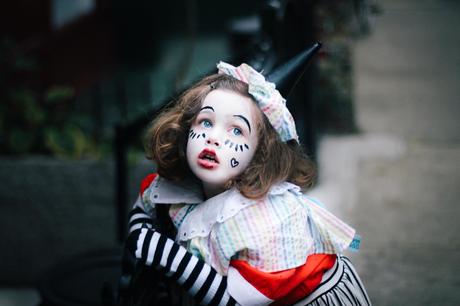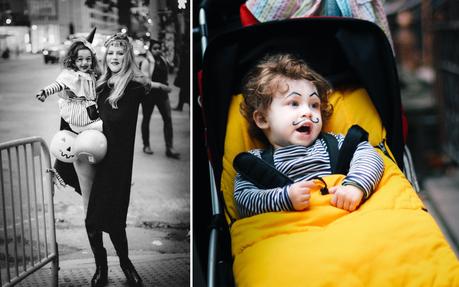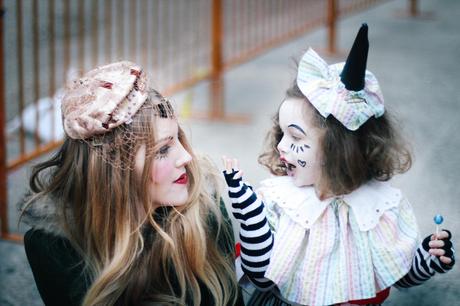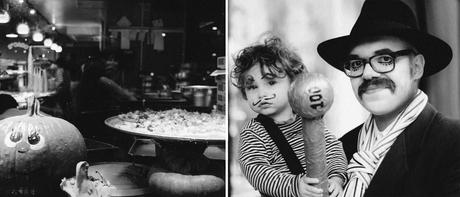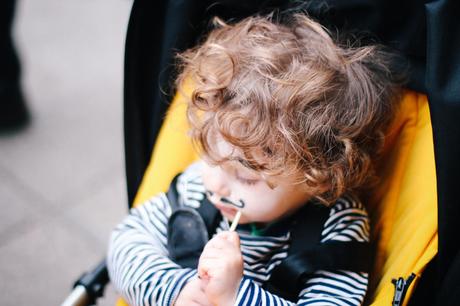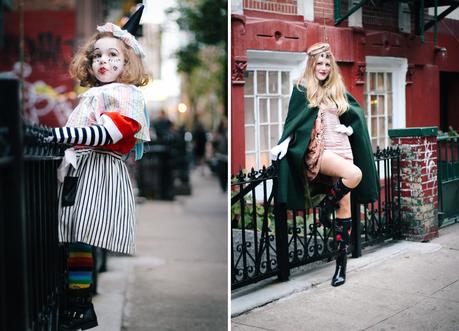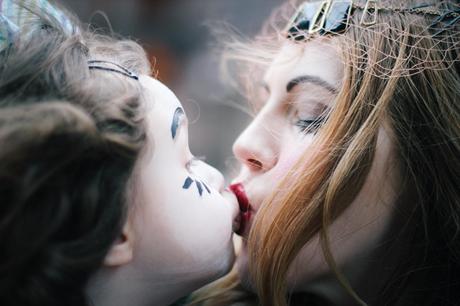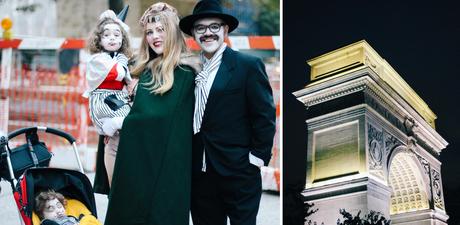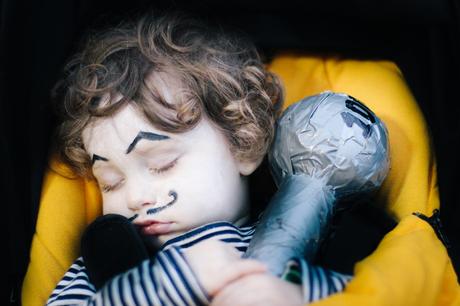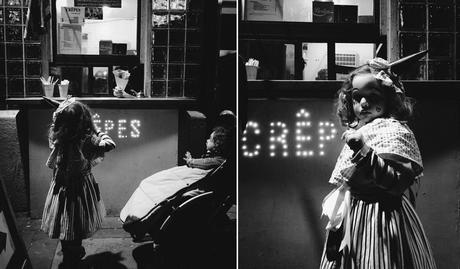 I rolled a sheet of paper into a tiny cone and slipped it inside of her miniature pointy hat to prop it up straight, being careful not to tear the ruffle we had just sewn on.  Then placing it upon her head, I secured it to her wild curls with a few of my bobby pins, making sure to throw a few more bobby pins into my pocket for later, when we would inevitably lose these ones. Her wild locks have a way of making pins disappear.
We buttoned our capes, picked up our pumpkins, and barreled out of the front door of our apartment, singing "Cabaret" at the top of our lungs and letting our joyous words bounce off of the hallway's marble walls. Then out of the building we marched, with great gusto and excitement, as if ascending a stage. Outside, in full costume, Gaby and Lou waited for us to join them to complete the "circus". For this was not just another day, and we were not just another family.  Today was Halloween, and we were the Savransky Traveling Family Circus.
The neighbors from the laundromat and the coffee shop were gathered outside already, chatting with Gaby and Lou about all things that neighbors chat about, as happens each day on our gloriously neighborly block.  And upon seeing Biet dance out of the door in her fluffy layered concoction of fabric and pattern, as a true-to-form old fashioned circus clown, the eyes of the group collectively lit up. Then Gaby hugged her, and kissed me, and off we went, a clown and a strong man and a trapeze artist and a ringleader, into the wild and wonderful world of the village on Halloween.
However, before we could even take a step, Gaby leaned over my shoulder and said "Hi Yoko!".  I didn't really register what he had said until I turned around and found myself face to face with Yoko Ono, who just happened to be walking with a friend down our quiet block.  And so right outside of our apartment building, she stopped and said hello. We showed her our costumes before she graciously and authoritatively continued on her way. It was utterly surreal, and a perfect start to an utterly surreal evening.
Onward we went, traveling east to west, through the East Village to Noho to Greenwich Village to the West Village.  Lucien learned to say "trick or treat!" in about two seconds (positive reinforcement, people!!), and would yell it at the top of his lungs over and over as we paraded through the streets. During the daylight hours on Halloween, before all of the grit and strangeness of the underworld takes over the streets, before the ridiculously beautiful and otherworldly-costumed weirdos emerge, before the sun sets, children rule the streets. And suddenly, the whole city is their friend. The deli's and restaurants and shops all welcome them in with open arms.  People move aside on the sidewalks and let the kids wildly dash along. Candy flows like water. Everyone smiles and snaps pictures and oohs and ahhs. And each child walks with a certain mix of pride and excitement and sugar-rush, as they, for one day, have each become whatever or whoever they imagined they could be.
We hit up mostly businesses on the walk west, and private stoops on the walk back east, stopping for a few minutes in the middle in Washington Square Park to let the kids run around in the fountain, which had been turned off for the season and had transformed into a giant concrete stage in which the children were showing off their costumes and counting how many Elsa's they could find. The sun had now set and the air had cooled, and we were all hungry, so we ducked into one of our favorite old diners for burgers and shakes before heading home.
And when we finally did approach home, when the shops had closed and the bars had opened, when the darker and more elaborately-costumed partygoers began to emerge, when there were few children left on the streets and the ones that did remain looked supremely happy and thoroughly exhausted in their strollers, waiting to get home to their beds, we passed the gorgeous old St. Marks Theatre.  Lou was snug in his stroller, but Biet asked to go in, so I decided it would be our last stop.  We wandered into the dark absinthe bar at the front.  The place was almost empty, lit only by candles.  "Trick or Treat!," she called out, and from the other side of the room the bartender emerged. "No more candy." she bluntly told us, so we turned to leave. We had tried.  But on our way out, a man with a thick french accent stepped out of a doorway in front of us and began speaking.
He was from France, and he loved our homemade costumes.  They reminded him of old theater in his home country when he was a child. Now he ran the little crepe window on the side of this theater. And no, there was no more candy. But yes, there was something special he could give us.  And then leading us back into the bar, through two heavy doors, and down a bright hallway, we came to the prop closet, from which he brought out a little basket of rings, and instructed Biet to choose one. And with eyes so bright and enthralled you'd think he'd just given her a castle, she chose a tiny delicate white one.  It just so happened that she had been asking for a ring for weeks, yet we'd had no luck finding one small enough. And it just so happened that this one fit her perfectly. The whole encounter was eerily perfect.
And just as we'd emerged from our apartment hours earlier, pristinely made-up and full of enthusiasm for the bright and magical Halloween adventure which awaited us, we now emerged from the dusty dim theater into the wild and dark village streets, our legs tired and makeup half smeared off, looking more like vagabonds than a traveling circus.  We were tired. We were happy. We began to leave, but the man, who had returned to his crepe stand, yelled to us from the little open window, "Wait, I'll make you a crepe too!", and proceeded to whip up a butter and sugar crepe, roll it up neatly, and hand it to Biet through the window.  Then he informed her, "I'm from Brittany, France- where we know how to make real crepes."  We thanked the kind man profusely, and with full hearts and bellies, turned the corner and walked back home.
Later that night, when the kids were scrubbed and brushed and tucked away in bed, and the apartment was calm and quiet save for the occasional sounds of festivities drifting in from the streets outside, I threw a coat over my pajamas and took Nico for a walk.  The city had transformed into a gothic carnivalesque paradise. Just like every Halloween, there was a distinct wild feeling in the air, like anything could happen at any moment.  On First Avenue I passed two amazing drag versions of Marie Antoinette- one all in white and one all in black, and paused for a second to marvel at their beautiful costumes. And the all-white Marie, with her lace and glitter and seven-foot hairdo, called out to me, with a little humor yet a little scorn, "Girl, where's your costume? Where's your Halloween spirit?!"
And I looked back and smiled.