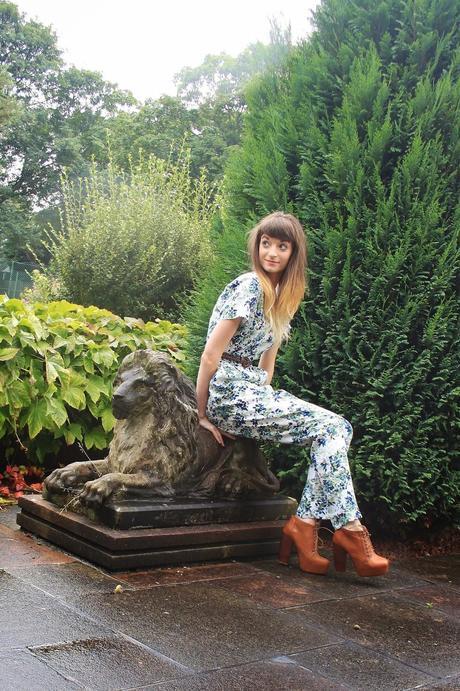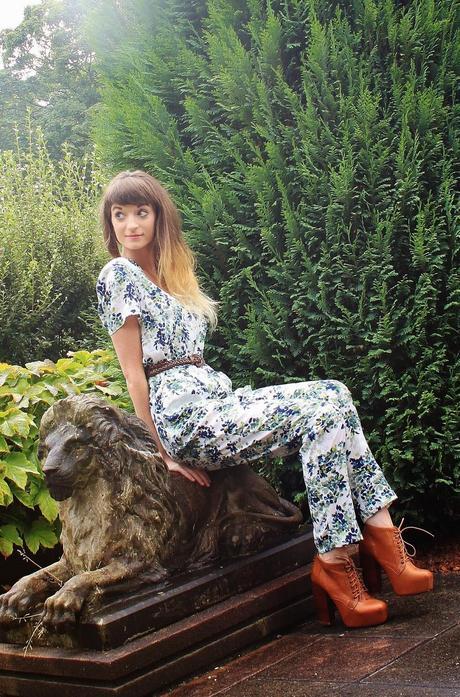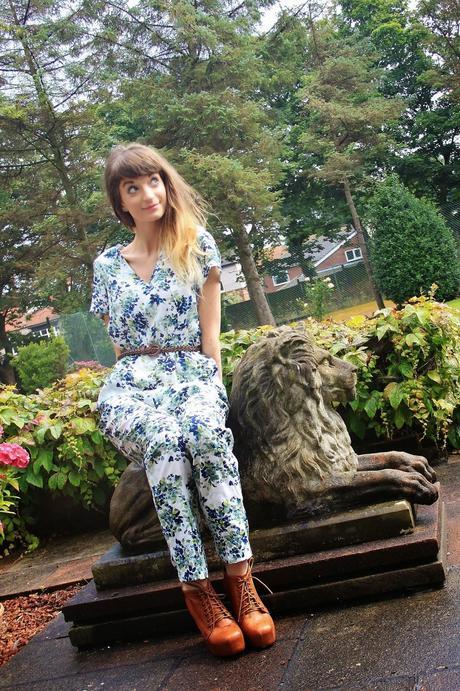 Playsuit: Warehouse*, Belt: Primark, Heels: Topshop
Hello lovelies!At last! It is finally that wonderful time of the year! No, not Christmas, It's August! And only 21 days 'til my birthday! Not that I'm counting or anything...
First up I'd like to say thank you all so much for the lovely and supportive comments in my last post, I was really flattered at how kind everyone was about my new ideas for my Blog and how I'd even inspired some of you as well. What a lovely bunch you all are! ;) Speaking of which I have made another change to my blog, if you haven't noticed already I have actually got Violetdaffodils her own domain name! I'm actually really excited about this! It's a good feeling to know she's all mine and it just looks so much better :)As August is my favorite month, I felt the need to include a post with these Lion statues to pay homage to my Leo star sign ;) So I ventured outside for this post which also fits nicely with the outfit I'm wearing as it fits the floral theme. The material feels so soft and I really like jumpsuits for how versatile and comfy they are. I either go laid back with some gladiator sandals and pointed flats or team them with black heels and big boots. The jumpsuit comes with a thin black belt which is cute however for this outfit I felt a brown belt would coordinate better with the boots. The belt is off an old Primark dress and when I donated the dress to charity I kept the belt incase I wanted to wear it with something else and the boots are actually off a few years ago, I got them with my staff discount before I stopped working there.
Also I feel like I should make August a really good Blogging month, I know recently I've been posting at least once a week but I might try and blog more consistently. I'm normally struggling to come up with ideas for content but I've felt so motivated since graduating and after reading all your encouraging words in my last post, that I want to share more with you. I feel a bit daft posting another outfit post after my ramble on my last post haha, but I can assure you I have a few different posts lined up for you lovely bunch so keep those eyes peeled.
I'm kicking off the start of August by going for a meal with my friend Charlotte to celebrate us both passing University which is a belated celebratory meal due to busy schedules so I'm really looking forward to it. We will be heading to Italian Kitchen which I've never been to before so we're going to stuff our faces full of pasta and chicken! :D 

Can't wait!