I haven't been to Las Vegas but I know how to dress to a girl's night out with my galfriends. This is the reason of posting my ideas for a night out, I was invited by Kendra to participate in her challenge to dress her up for the Sin City. Here is the challenge:
My Fashion Challenge
In a few weeks, I'll be heading to Las Vegas to enjoy a fun-filled getaway with friends. As the mother of 3 young children, I want to get a little help revitalizing my wardrobe before my big trip. For that help, I'm turning to my readers. Give me some great ideas for what I should wear on an evening at The Palms Casino and Resort. To help get you started, here's a description of one of the clubs my friends and I plan to visit:
The View
I love scenic views, and I especially enjoy seeing the lights of a spectacular city from the air. The View certainly lives up to its name, and that's why I'm excited to be spending an evening unwinding with friends at the top of Fantasy Towers in The Palms Resort. The View's lounge features floor-to-ceiling windows that provide panoramic vistas of the city and the surrounding area. This club's open seating adds to its casual atmosphere, and guests sitting at tables can play their choice of board games throughout the evening. Other guests enjoy games of shuffleboard or pool while sipping on signature cocktails. The View feels to some extent like an upscale rec room.
No other city in the world has the type of eclectic style you'll find in the city of Las Vegas. This city has it all, and the blend of activities and attractions available here features something for everyone to enjoy. Due to the endless options available I turned to reviews from other experts on Gogobot to determine which hotels and restaurants on the strip were for me. Regardless of what I plan to do on any trip to Sin City, I know I'll have more fun when I'm dressed to impress. I can't wait to see the fashion ideas you have for me.
-Kendra Thornton 
Challenge accepted!!! I love to mix and match and it turned out great! Check out the outfits I came up for Kendra for her night out in Las Vegas.
Outfit #1: Gold and Black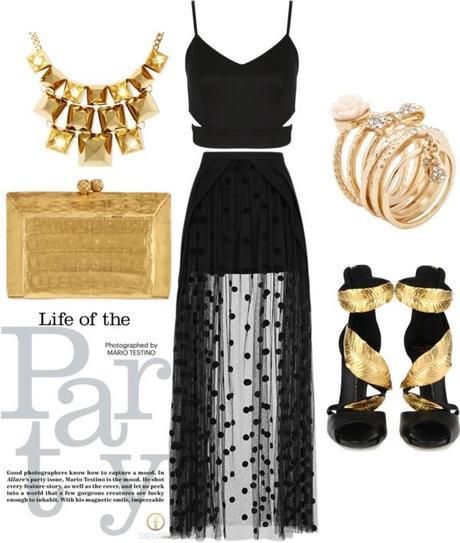 Gold and Black by
aby-c
featuring giuseppe zanotti sandals
Sass Bide long tulle skirt
, 24,570 PHP /
Giuseppe zanotti sandals
, 83,730 PHP / Nancy Gonzalez croco handbag, 54,050 PHP / ALDO rhinestone ring, 535 PHP / Vince Camuto gold tone necklace, 7,060 PHP
Outfit #2: Girl's Night Out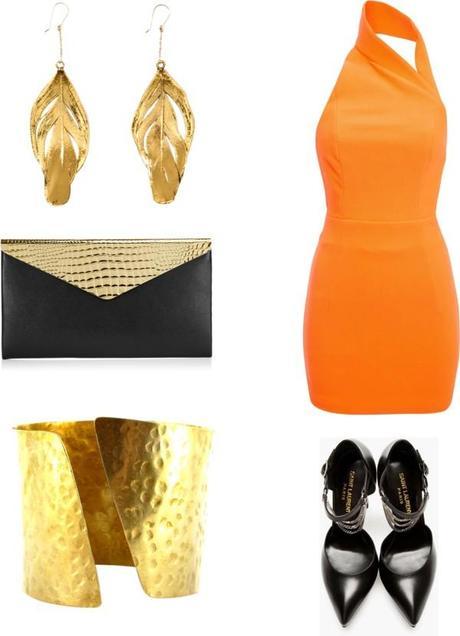 Girl's Night Out by
aby-c
featuring pointy toe pumps
Short bodycon dress, 7,040 PHP / Yves Saint Laurent pointy toe pumps, 57,850 PHP / Jimmy Choo genuine leather handbag, 64,775 PHP / Aurélie Bidermann yellow earrings, 40,235 PHP / Made hammered jewelry, 1,855 PHP
Outfit #3: Leather and Pink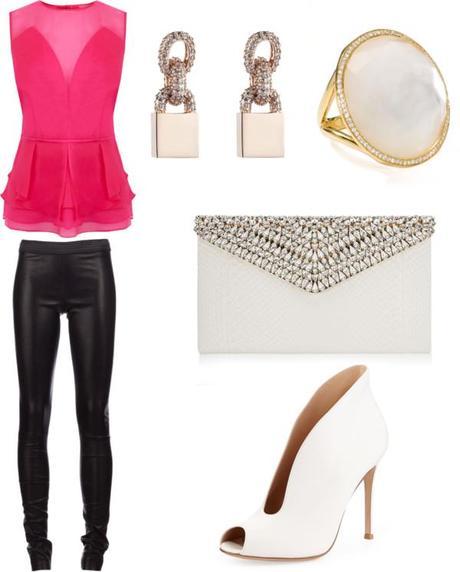 Leather and Pink by aby-c featuring genuine leather boots
Coast party top, 4,820 PHP / Drome leather pants, 46,090 PHP / Gianvito Rossi genuine leather boots, 35,290 PHP / Jimmy Choo snakeskin purse, 223,130 PHP / Ippolita 18k yellow gold ring, 147,190 PHP / Pave earrings, 16,305 PHP