What's say friends? Today I'm here with my first waxing strips review. Yes, I bought and used Hiphop waxing strips for my first waxing experience at home. I bought this in Urban Touch last month. You must have seen it in my last month's haul post right? So here is my first waxing experience below.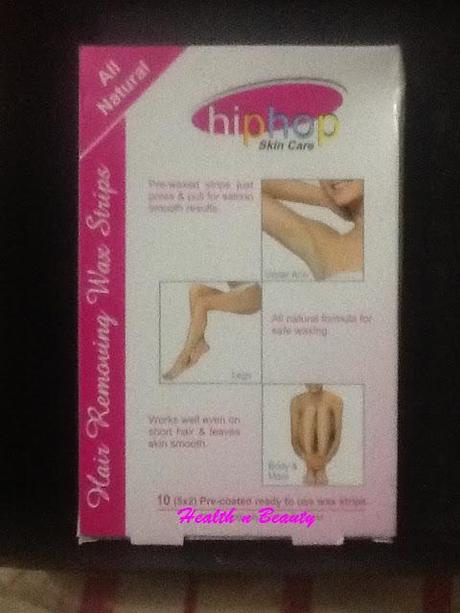 What does it claims:hiphop skin care wax applied double strips remove unwanted hair from roots and leave your skin smooth & silky for several weeks.Reusable: hiphop wax strip is all Natural with no side effects, no skin darkening, no mess, no burns, no rashes, easy clean up (with tissue wipes).The same strip can be reused 3-4 times.
Price: Rs.65.00
Shelf life: 3 years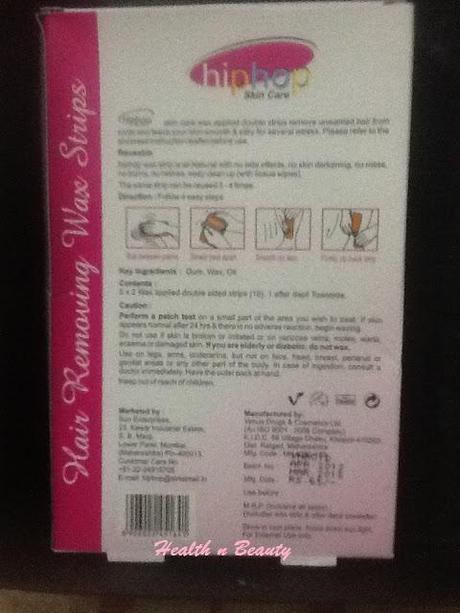 Direction: Follow four easy steps.- Rub between palms.- Slowly peel apart.- Smooth on skin.- Firmly zip back strip.
key Ingredients: Gum, wax, oil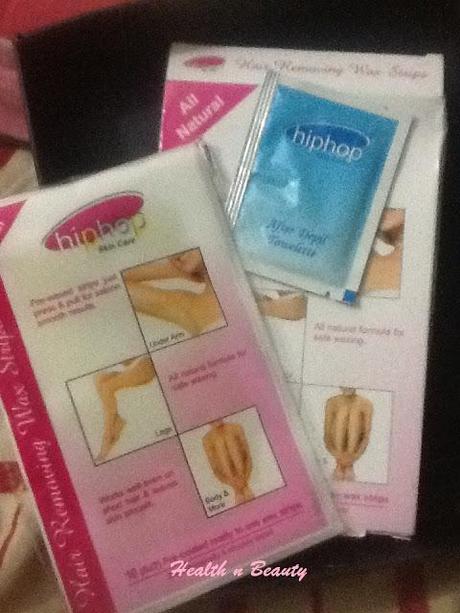 Contents: 5 x 2 wax applied double sided strips (10). 1 after depil Towelette.
Caution:Perform a patch test on a small part of the area you wish to treat. If skin appears to normal after 24 hours and there s no adverse reaction, begin waxing.Do not use if skin is broken or irritated or on vericose veins, moles, warts, eczema, or damaged skin. If you are diabetic or elderly, do not wax.Use on legs, arms, underarms, but not on face, head, breast, perianal or genital areas or any other part of the body. In case of the ingestion, consult a doctor immediately. Have the outer pack at hand.Keep out of reach of children.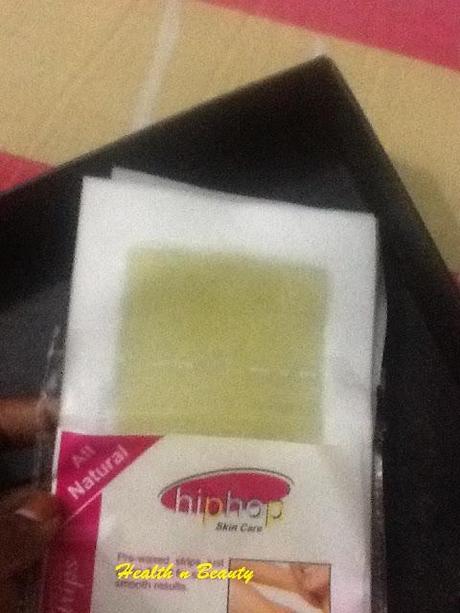 My Experience with it:
When I opened it first time, I saw 5 two sided wax strips packed in a polythene cover and a towelette packed n a box. I was a little scared to use it for first time thinking it's going to pan a lot. A leaflet was also provided with this product which also mentioned the same thing that was provided on the box. Following the directions, I rubbed one strip in my palms and separated apart. Place one of it on my arm and pressed gently and zipped back in the opposite direction of the hair growth. Yes it pained but not that much. I don't know about others' experience because it was my first time. I think its due to the less hair growth on my skin. My body hair is so less that I need not remove it. Even though I remove, you are not going to recognize it. I used it just to remove the tan. Well, I think it removed tan to some extent. So not impressed much about this. It may be lack of experience too. But when I used it on underarms, I couldn't remove all the hair. I really don't know if you people remove your underarms hair completely with these strips or not. I would like to know about how you do it. Now coming to towelette, when i used it, it made my skin smooth for the whole day but got little irritated due to its oily nature. Don't know if all the towelettes are the same way.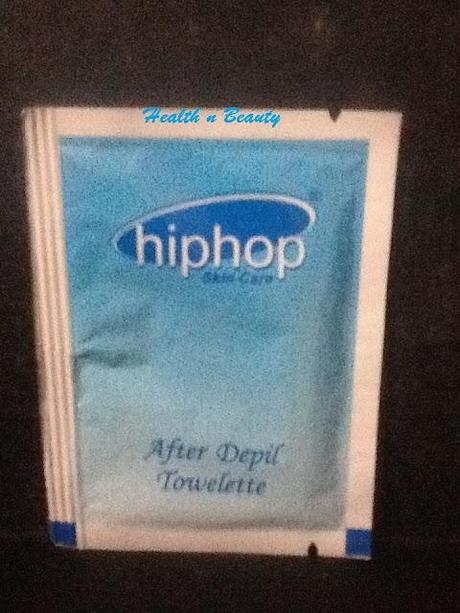 Pros:
- Removes hair quite well.
- No side effects.
- Easy to use.
- Affordable.
- After depil towelette is available.
- Removes tan to some extent.
Cons:
- Don't know if its available in the market or not. I bought it online.
- It claims to give smooth skin for weeks but I don't think so. You have your as usual normal skin. The smoothness longs for maximum 1 day.
Rate: 3.5/5
Will I repurchase: Yes. It comes for very affordable price and does its work quite well. I'll use it.
Hope this helped you girls. But since t was first time for me, I would like your advices on waxing friends. Please let me know about your tips or experiences below in comment box. I'll wait for your tips. Luv u all...
- Gayatri