To be honest, from my side we are already a year engaged but without proposal or ring. We just decided that we are, the moment he asked me via Skype. Of course for me it's enough but he wanted to make it formal and took him some time to visit Philippines again because of work. When he arrived here, we spent our New Year together hoping this year will be our year. We haven't tour much not like the past years of his visit. The only place we went that is new for the three of us was in Tagaytay. We had a nice visit but exhausting due to long commuting and warm weather. We mostly spent time with my family, play games (Online games), watch movies, and drink. The purpose of this vacations was mainly for spending more time and for the remaining paper works so he can bring it with him and finally file it at the IND. We finished all the papers and went to the Netherlands Embassy for final stamping and received it January 11th.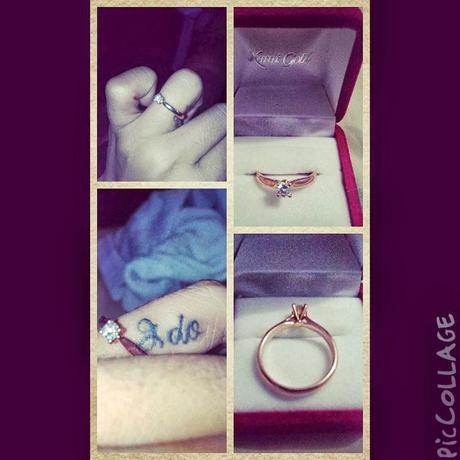 Basically, deep inside we knew we need to make this as official and so we talked about the ring. I was asking just a simple one in exchanged to my old promise ring we both have, because I lost the diamond on it. He wanted me to have a real nice ring he said and we searched for nice one on line. We tried to check some shops too and check the prices. Yes they are all expensive. I don't want him to spend so much but eventually we don't have a choice. 
January 8, 2014: We decide to buy it and was so amazed of how beautiful it was. He asked me to pick the ring I wanted and so I did, a simple but beautiful rose gold with single round cut diamond not too small and not to big (I am not sure with specs).On our way at home,  I was at the cloud 9 wearing the ring then he asked me to remove it and I did, putting it back to its box. Went home and reached my bed to rest, he asked me with a kiss to stand up and not to sleep yet. I wonder why but still I stood near my door room and he knelt in front of me showing his winning smile and the ring. "Will you marry me?" he was looking at me and I don't know why my tears fell and I can't stop crying. He kissed me and I was trembling while saying my "Yes" and hugged him back. We announced the event to our families and both parties are happy for us. I am so overwhelmed and can't stop thinking of my own fairy tale came true. It is really funny to think of it, I was still surprised with the proposal but he said he always wanted to do that for me and watch my reaction. He loves to surprise me but he always fails because I always discover it. This time he won it. 
January 13, 2014: We needed to say goodbye again but no one cried for we both know we will see each other soon. He got all the papers with him and he can file it as soon as possible.