If you want to have a tasteful experience sitting at home, then you should definitely try HOG Just Fork It. This is a delivery only outlet in Safdarjung. So if you are there or around, just give it a try and you will enjoy the preparations. There is a precision in preparations with no foolish jugglery of ingredients and spices. These are just tasty, straight, and simple preparations that promise to find a piece of appreciation from your taste buds. Besides excellent preparation and taste, the packing is also up to the mark. It delivers American and Italian food. And it is a late night and early morning delivery outlet. So their day starts at 7 pm. And ends at 3.30 am.  So the interesting bit is the timings. If you want a late night or early morning delivery, this is the ideal place to opt for some tasty food.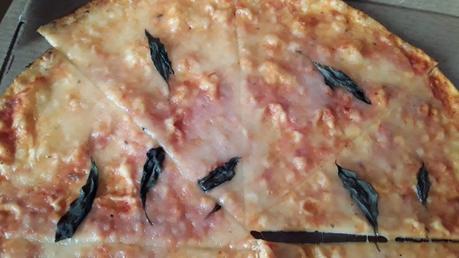 I had Uncle Sam's Fried Rice, Slap Yer Cottage Streak, and Mamacita Margherita. Let us start backward. Mamacita Margherita is a pizza for Cheese lovers. Though the definition of Margherita says toppings of tomatoes and basil along with cheese, here we had plenty of cheese and basil. Slap Yer Cottage Streak is a cheese sandwich, squarish and large.  There are two such large pieces with a lot of sauce. And it comes along with Potato Wedges. So basically, it is a set of two large pieces. And there are two of such kind. This one is quite tasty and unique dish. The third dish was Uncle Sam's Fried Rice. The third one was Uncle Sam's Fried Rice. We had Veg Fried Rice. As a matter of fact, the rice was fabulous in taste, preparation, and presentation. All three dishes from HOG – Just Fork It were in good packing.
HOG Just Fork It Is A Good To Try Late Night Delivery
Overall, HOG Just Fork It was a good and tasty food journey. Surprisingly, English dictionary says Hog is a domestic pig that you grow at home and slaughter later.