I thought it was time I looked at my resolutions from January, to see how I'm doing. This year is just passing by far too quickly!
1. I will go dancing
Well I haven't done too badly on this one, but could do better. I've completed level one and two of a lovely little jive class, but my social dance attendance has been pretty poor. Anyone for a jive?
2. I will make my house a nice place to be
Ahh.. well. The upstairs has had some major improvements, and we have a proper sitting room now (but with a tiny sofa). Downstairs however had been put on hold for a while. The kitchen is the next job. In fact I should really be stripping wall paper right now...
We did, however, buy ourselves some cute presents for when the kitchen is complete, including this lovely milk just from a boutique in Bath.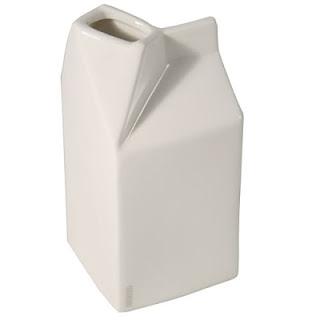 3. I will plan a F**king awesome wedding
I'm on my way, but boy is there lots to think about! We have the venue sorted now, and I'm very pleased with it! Only another 99 things to arrange...
4. I'll attempt to drive in London
Well, I did have a go. One lesson in fact. Anxiety attack is an appropriate way of summing up the experience. I might try again at some point. Maybe. 
5. I'll learn to use my shiny new sewing machine
I'm crap.
Maybe if I look back again at Christmas the results will be a little better? Here's hoping...