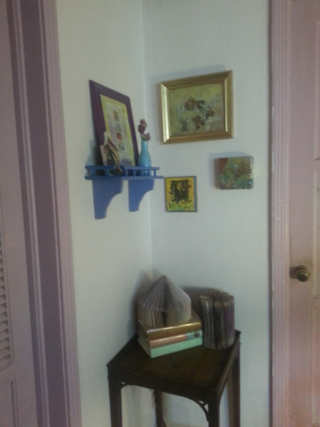 Celebrating Women's History Month in the Entry Way
Did you know March is Women's History Month?
I run two blog  series called Literary Grannies and in my Letting Your Words Flow series I oftentimes use prompts by women and as if pretty obvious, I am a woman so it might seen obvious to highlight women's accomplishments.
Strangely enough, it was only last weekend that I consciously put together a visual art display in my entry way completely dedicated to women artists and writers. It was so simple to put together and not only good for me and my family, it is the perfect way to let your family know about the significant women in your life.
In my display I used art I created as well as a selection of books and some art I have purchased created by women artists.
The stack of books include a memoir of poet Harriet Monroe, the founding editor of Poetry Magazine, which continues to be influential in the poetry world. Many poets got there start upon those pages. The book sculptures you see are upcycled from novels by Mary Higgins Clark and Fannie Flagg.
Mixed media pieces include a photo of the sculpture "Homage to Women" by Mico Kaufman and a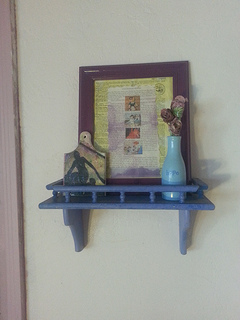 Mico Kaufman's mixed media on a mini-bread board.
work by an artist from the Lorton Art Center, originally the Occaquan Work House where the suffragists who were held for the simple act of speaking up for the right to vote. When the women were released, they used this horrific experience to gain support. I visited the Lorton Art Center and it was a perfect example of how to take a place with a difficult history and make it into something possible.

Other pieces feature the art of 20th Century Photographer Gertrude Kasebier (with model Evelyn Nesbitt) and my own "Wonky Poetry" piece. I laughed when my friend Kathi said she didn't see anything wrong with it when I explained I display it because of its imperfection.
Can you see how it is imperfect or does it seem just right to you, too?
=====
Please stay in touch: Follow me on Twitter: @JulieJordanScot    
 Be sure to "Like" WritingCampwithJJS on Facebook. (Thank you!)
Follow on Instagram
And naturally, on Pinterest, too!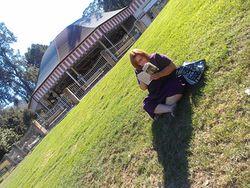 Julie Jordan Scott is available to speak to your group (or in your teleconference) about the creative process, writing and will create a session individually according to your wants and needs. Contact her at 661.444.2735 for more information.