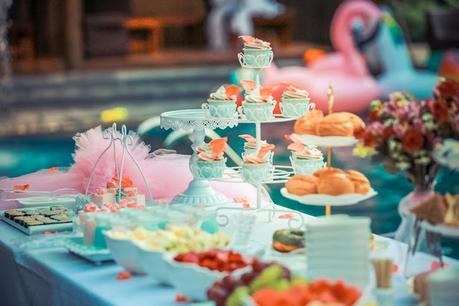 Hosting a kid's birthday party at home is a big undertaking. A lot of care and planning goes into a 2-3 hour party, especially on milestone birthdays. However, a home birthday eliminates travel, scheduling mishaps, and budgetary concerns from the planning process, making it an appealing option for many parents. 
Here are some practical tips for decorating your kid's party at home, from inspiration points to organizational considerations.
Set a Theme
Decor planning starts with a theme. Your child may have a clear idea of what they want their party to look like. Creating a theme around their interests is simple and straightforward if they're passionate about a certain cartoon or going through a dinosaur phase. 
If your child isn't sure of a theme or is too young to share their opinion, choose something that you can put together with your availability and budget. Selecting a popular theme for your child's age group will also make it easier to find decor and stick to your budget.
Use Colored Accents
One of the best ways to make decor go further is to choose color accents from the core theme. For example, if your child chooses a licensed character, you can work with the colors from their outfit or logo to plan the cake, accent decor, and a bright and colorful birthday flower delivery
Using unbranded color accents can also help you stretch your decor budget further. Plates, tablecloths, napkins, balloons, and streamers don't need to be printed with dinosaurs or cartoon characters to be on the theme. Choose a few branded or printed pieces to communicate the core theme, then build on it with accent colors.
Identify Zones
Start by identifying zones in your home where the party will take place. This consideration is essential for laying out the party in your home and restricting access to certain areas. It can also help you determine which decor should go where to improve the flow and atmosphere of the party.
Placing most of your decor in the room where you want the kids to spend time will naturally draw them to that space. You can also use streamers to block off the stairs or rooms where no one is allowed.
Creating zones is also ideal when hosting parents or adult family members during the child's party. You can decorate these areas with more adult-oriented decor, like flowers, nice dishes, etc.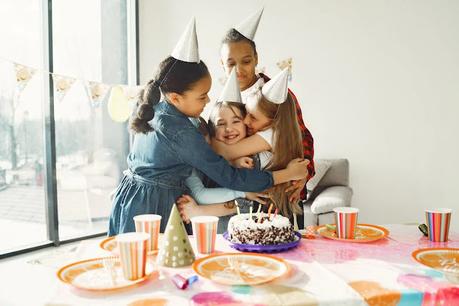 Consider Reusable and Organic Decor
Most decor you purchase on Amazon or at the local party store is disposable with minimal reusability. Purchasing single-use decor contributes to the wastefulness associated with most holidays. 
Consider using reusable or biodegradable decor. Avoid shiny, metallic birthday banners and opt for paper streamers instead. Opt for biodegradable or reusable serving ware rather than plastic forks and spoons. 
Use natural elements for decor, like flowers, shells, and leaves. Consider shopping at the thrift store for reusable table linens that are on-theme or serving ware you can upcycle and repurpose. Rather than decorating with several balloons, choose one big balloon and use tissue paper balls and tassels instead.
The less decor that ends up in the landfill when the party is over, the better. 
Create a Photo Wall
Capturing and sharing moments is a fun way to create memories while amplifying the birthday decor. Create an accent wall that doubles as a photo booth for the kids to take pictures together and celebrate your child. You can even print these photos on a portable photo printer to give out as a party favor after. 
Create a backdrop that suits the party theme. You can keep it simple by hanging brightly colored streamers or a repurposed tablecloth. Alternatively, add some texture with hanging flowers (real or paper), fans, pinwheels, tissue balls, etc.
You can also hang sheer curtains with twinkle lights behind them for an evening party. Not only will this photo wall add to your decor, but it will keep the kids entertained for a while.
Hide Valuable Decor
Most party decor tips center around what items to display. It's also important to identify what treasured decor items to put away when your house will be full of children.
Take some time to identify any potential hazards or breakable items before your child's party. Consider taking down art pieces, vases, and other breakable decor items and storing them safely for the duration of the party.
Accentuate the Food Table
The food table is a focal point at most parties. Use this space to tie the theme together and include other elements that highlight your child. Sprinkle some flower petals or confetti on the table before placing everything. Fill gaps with photos of your child or pieces of their favorite artwork. 
Adding a few faux candles can add a magical touch to the snack table and works especially well with certain themes.
Add Fun Lighting
Lighting is a great way to make a bit of decor go a long way. Place string lights around the ceiling in the main party room or use them to accent the food table. You can also get star projection lights to decorate an entire room with the click of a button. 
Solar-powered lights and string lights are also a great way to decorate for an outdoor party in the evening. This budget-friendly decor piece creates a magical atmosphere that both the children and adult guests will love.
Decorate the Windows and Entryway
Don't forget to decorate the windows and entryway. This is a simple way to show guests where they should be going when they arrive to drop off or pick up their children. The entryway also creates a nice transition into the party, setting the theme and creating excitement.
Assign Jobs
Don't be a hero when it comes to decorating. While there's a sense of accomplishment in handling everything yourself, it's more stress than it's worth. Accept help when people offer it and assign clear jobs to everyone in your house while decorating for the party.
Using these tips will help minimize stress and ensure you stick to your budget when decorating for your child's birthday at home. Don't hesitate to enlist helpers and let go of perfection as you navigate this experience. 
If you enjoy my blog, please consider following me on Bloglovin'