For a change, I thought I'd write something useful. I went to the TP-Link Service Centre in West Manbalam, it was quite an ordeal finding that place that I decided to write a post with the route so that someone else looking for it, might find it easier in the future.
Its located in a small dead-end street(what do they call it, cul-de-sac?) called Swamynathan Street. Its not listed on Google maps. If you are going from Mambalam railway station, take an auto, or be prepared to walk for a while.
From the station:
1. Get down the West Mambalam side(not the Ranganathan street side).
2. Find Station Road(which is the one that you'll find as soon as you come out the station and turn left).
3. Go straight through Station Road till you reach an intersection with Lakeview Road. Turn right here.
4. The first left from Lakeview road will be Jubilee road. Take that left and keep walking. There's a small S-bend. Keep walking past it.
5. You'll reach the end of that road, past Anjugham school. Take a right there.
6. The first left again, will be a street called Raju street. Keep walking till you find the 2nd right. That is Swamynathan street.
7. Almost the end of the street, on the left, is a small building called E-caps, which is the TP-Link service center.
The map is as follows.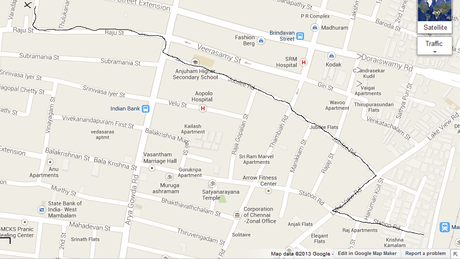 Of course, there are parallel streets that you can use.