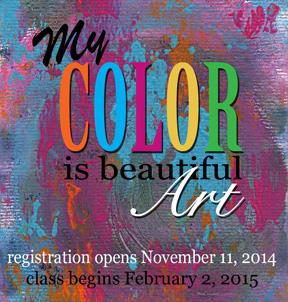 I am really excited to share a wonderful, collaborative effort that Tiare Smith has put together and that I have been asked to make a contribution - how exciting!
Myself along with 7 AMAZING mixed media instructors will bring you an experience like no other. You will get to immerse yourself in color, creativity, techniques, awesome positive energy and inspiring and empowering techniques.
Here is what you can expect when you join us:
8 wonderful, creative instructors
10 amazing video mixed media main lessons, 1 lesson per week for 10 weeks. PDF Download of each lesson, provided as well.
10 eye opening color challenges and background techniques, videos and/or pdf's provided. 1 challenge per week for 10 weeks.
10 positive, creative energy boosts and exercises, videos and/or pdf's provided. 1 exercise per week for 10 weeks.
Fun giveaways/prizes.
Classroom access through December 31, 2015.
Access to a private My Color is Beautiful Art Facebook Group

We will kick off the fun with a blog hop starting November 1, 2014 and you will be introduced to the rest of the wonderful instructors!
Registration will open on November 11, 2014 and class begins February 2, 2015.
My Color is Beautiful will be hosted in Tiare's creative community Scraps of Color. Membership is free and you will need to sign up for an account and access to the classroom. Sign up here for community access.
Once registration opens and you are registered you will be invited to the classroom.
I am really excited to be part of this wonderful collaboration of creatives and to share my lesson and interact with you on both the Scraps of Color Community and the Facebook Group.  
Do make a note that we will be doing a blog hop from the 1st November to the 9th November, where you will be meeting the other instructors, and come back here on Sunday 2nd November and I will be sharing with you what you will be doing in my lesson!