Having said that, I already have a tattoo. But I want another one. This one. 

The quote is from Albert Camus, winner of the Nobel Prize for Literature.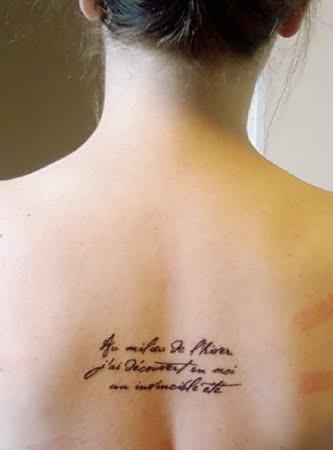 This particular version in french, which I love. It says,
" Au milieu de l'hiver j'ai decouvert en moi un invincible ete."
In English, that translates as:
"
In the depth of winter I finally learned that there was in me an invincible summer."
Does anyone else think that is really beautiful? I really like it's sound as you speak it and the meaning really hits home for me. Perhaps you'll understand more of you read this. The idea of discovering something beautiful and brilliant within yourself during a time of desolation is pretty inspiring in my eyes.Issue is, where do I have it? I don't like outright copying exisitng tattoos, so I don't really want to have it on my back. I also try to make sure that it's somewhere I can very easily cover up with clothes.  Maybe on my ribs? I have no idea. I may have to think on this for a long while more. In the mean time, more tattoo lusting in on the cards.