Photo Post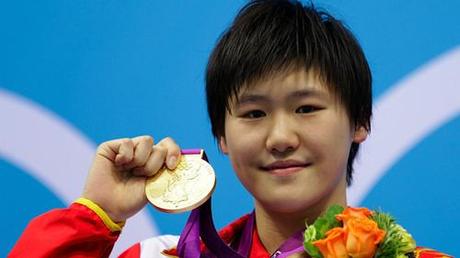 If you've been following the Olympics, I'm sure you've heard about Ye Shiwen, the female Chinese swimmer who outpaced Ryan Lochte's final 50 meters in the 400 individual medley. Both won gold medals. 
Given that Ye Shiwen is only 16, 5'8", 141 pounds—and Chinese—there's been a lot of speculation about how her incredible performance might have been boosted by steroids or other deceptive techniques.
It really pisses me off, not only because it steals glory from Ye Shiwen, who underwent brutal—and probably forced—training to win the event, but also because there's an undercurrent of "if you're beating the Americans soundly, you're probably cheating" going on in our media. 
Granted, the Chinese have been caught doping before. But so have basically every other country who have participated in the games. And the aspersions cast by the New York Times, for instance, are comically dated:
Yet China has brought uncertainty upon itself. Ye has never tested positive for banned substances. But in the 1980s and '90s, according to news accounts, more than 50 Chinese swimmers did. Seven were caught by a surprise test at the 1994 Asian Games in Hiroshima, Japan. One swimmer, Yuan Yuan, was caught with 13 vials of human growth hormone at the 1998 world championships in Perth, Australia.
How could Ye test positive with teammates who were competing when she was 2 years old? And wasn't everyone doping in the 1990s, some of our most revered athletes included?
Not only that, but there's all kinds of talk about how she's only one a single other medal on the international stage before now. Um, isn't she fucking 16? 
Give the girl her victory, and talk about her like she's the 2012 Olympics' Michael Phelps, not like a cheater.
(And, to watch her incredible final lap when she won the World Championship last year, check out this video. Watching her trail, and then come up with the win, in this race gives some context for how she did it at the Olympics.)