Late again…but you should all expect that from me by now!
I've been rather tired lately (more than usual) so I didn't do a lot for the IHSW, but what I did do was work on my Nei piece a little more. I really want to get it finished soon.
Here's where I'm at with it: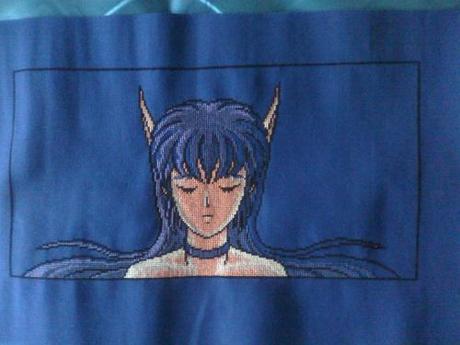 As you may be able to see, I've started to add in the mid-purple tone of the hair. My phone's camera doesn't distinguish between the darker purple and the blue aida very well, so hopefully once the rest of the purples are in it'll look a bit better photo-wise. It's already looking much better in real life!
So, yes. Not a lot of progress, but some is better than none, right?

I plan to do some stitching this week, some entries for the latest Sprite Stitch challenge, "minimalism" – they should be really quick to make! I will also be grabbing some other pics of recent things to post at the weekend.

Hope everyone enjoyed their IHSWs, I'll be touring your blogs shortly to see what you've been up to!

54.772841
-1.505108