"Ninety nine decisions treat, Ninety nine ministers meet
To worry, worry, super scurry, Call the troops out in a hurry
This is what we've been waiting for…This is it boys, this is war…."
If there has ever been a finer verse of German music written then I'm a Dutchman. Nena's seminal 99 Red Balloons was a lesson in life, love, war and peace. When you're 14 any older woman wearing a short leather dress, knee-high boots and fishnet tights on Top of the Pops looks good, even is she is singing a load of tosh and sounds like a strangled cat. Even my Dad remarked upon it back in the summer of 1984. "Remarkable set of lungs on her, young Stuart"…"She's German, Dad"…."Really? I met a German Girl once. I was in Düsseldorf back in 1952. Hair everywhere. Piece of advice for you son. When you start courting, make sure the girl knows how to use a razor. And with that my Dad sent me out into the big bad world.
Fast forward near thirty years and I was back in Dussers, and Mr Last is fond of calling it. This is fast turning into our new European HQ for Continental operations. From here German footballing missions can be marshalled, with the borders of Holland and Belgium within striking distance if we ever get bored with German football (i.e never). We also had (mid)Field Commander Legg on patrols in the area at the behest of her Majesty (not in a bad way I should add just in case Mrs Legg is reading) and it was at his request that we dropped tools and headed to the land of Beat Uhre and leather trousers.  After August's visit (see here, here and here), poor Kenny had run out of PG Tips, Marmite and Immac (obviously his Dad gave him similar advice to mine about German girls) so he sent out a distress call.
"Chaps…low on essentials. Please arrange air drop. P.S got tickets for Fortuna Düsseldorf v Bayern München and Paderborn v St Pauli if you fancy hanging around for a day or two."
How could we resist?
Gatwick may have gone through a multi-million face lift but at 5am it is a soulless depressing place. The thought of people queueing to get a beer at Weatherspoons so early in the morning turns my stomach. But we were on holiday, albeit for 72 hours and so make mine a pint of JW Lees Chocoholic please. Big Deaksy (He'd been able to keep his "Big" title for this trip as even bigger Stephen Deacon wasn't present) had joined Danny and I for the very short hop over the Channel, down the A1 and then throwing a right over Strasbourg to land at the heart of NordRhein Westfalen before most people back in Blighty had turned off their alarm clock.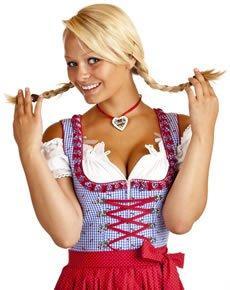 It would be tempting to have simply parked our bums in the nearest Brauhaus, sinking litres of Alt beer whilst waiting for Kenny to finish work. Unfortunately, the work of the British Government isn't a 9 to 5pm role here in Germany. Oh, no on a Friday they finish at 4pm. So we didn't want to be gibbering wrecks by the time he changed out of his Derndl (well, no more than normal). Therefore a plan emerged thanks to the combined brains of Fuller and Last.
"What about a tour around Borussia Dortmund's ground? Biggest stand in Europe, most passionate fans, best football tack in Europe?" Said Danny.
"What about a tour around the DAB brewery? 30 minutes of chat followed by two free litres of Dortmund's Awesome Beer?" I retorted.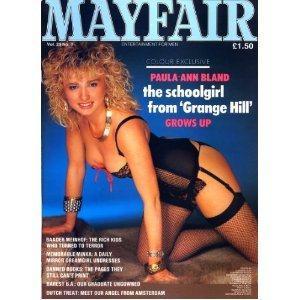 "Can we do both?" Of course we could. Add in an evening visit to Bochum versus Hertha Berlin and you have one of the best days ever – well since as a 15-year-old I found a copy of Mayfair featuring Grange Hill's Claire Scott in the buff on a bus home from Gravesend (the magazine was on the bus, not Paula Ann Bland unfortunately).  God knows what StuPot must have felt when he saw a copy back in the day!
Thanks to those good folk at NH Hotels, we were able to have our rooms from 9am (gratuitous corporate plug done -tick) and dressed in our German finest before heading for Dortmund with our free rail travel (Great things about German football #1 – Most clubs give free travel on match days in that region if you have a ticket to the game). Unfortunately time was slightly against us and just the one tour was possible so we chose the Signal Iduna Park. Marks out of ten? Just a six from the English jury – far too much talking and not enough letting us on the pitch for a kick about. You cannot not be impressed by the sheer size and yellowness of the ground and with the derby just twenty-four hours away, the grass was having a final laser-guided cut.  Who said footballers were pampered these days? The final part of the tour saw us in the police cells underneath the Nord Tribune. "Hopefully these will not be full up after tomorrow's game versus Schalke" joked Wilhelm our guide. Two cells! Of course they were full after over 150 were arrested before, during and after that game.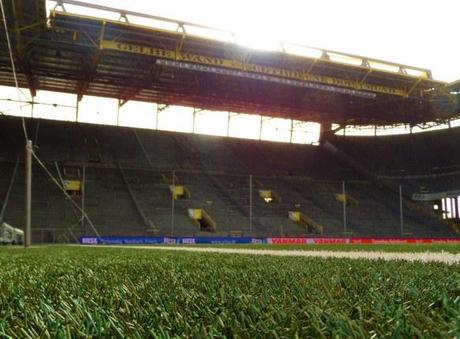 Kenny and his Greek mate Stelios were waiting for us at Bochum station, a pint of local Hervel in each hand for us. We headed up to the stadium and joined the throng of home fans in the huge beer garden next to the ground. Plenty of characters here all dressed in their Bochum finest enjoying the October sunshine. I still find it strange that games are played in Germany at 6pm when us Brits would be just logging off our computers, but football and beer are more important than risk analysis reports – it's all about priorities in life, so a Bochum fan was explaining to me. "Football, beer and hardcore pornography are a staple of life here. Oh, and Christmas Markets – but they are just a front for wife-swapping and dogging. You know the word "Hunding"?"
Before my new friend could ask to come visit in England and sample our "Christmas markets" we headed into the ground. Two beers in hand we climbed to the back of the terrace for the visit of the league leaders Hertha. Beer and a terrace – that would give football authorities a heart attack in England. Of course there was no issues, no trouble, no need to even have the police anywhere near (Great things about German football #2 – Football, Terracing and Alcohol does mix). Allowing fans to drink in the ground also stops the English problem of the 5 minutes before kick off crush outside….sorry readers – just writing sense again. As we know there is no place for such sentiment in our national game.
VfL Bochum 0 Hertha Berlin 2 – The RewirPower Stadion – Friday 19th October 2012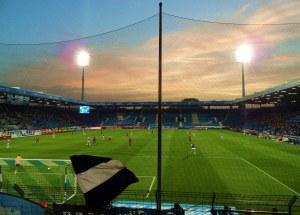 Men v Boys is a fair summary of the games we saw over the weekend, starting with Hertha's dominance over Bochum. Berlin have gambled on an immediate return to the Bundesliga after their play-off defeat to Fortuna Düsseldorf in May.  No longer is their team one dominated by Germans.  - eight different nationalities started the game under Dutch coach Luhukay. Two well worked second half goals from Kluge and N'Djeng didn't really do the shoreline justice although they could've had an injury time third when they missed a retaken penalty (having scored the first time around).
Whilst the night was over for Bochum, for us it was just beginning.  A brief pit stop on the way back to the station to look at some lovely Bochum net curtains in a pub and then we were onto the bright lights of the Rhine.  At some point we made it back to Herr Legg's local, dubbed the "Legg Arms" for obvious reasons although events prior to that are still a blur.
Saturday dawned and the main event was almost upon us.  Seven games into the Bundesliga season and Bayern Munich are yet to drop a point. In fact they have won every game they have played this season bar one (the surprise defeat to BATE Borisov in the Champions League), and have rarely being tested. As the thousands of Bayern fans descended into Düsseldorf for the 3.30pm kick off against Fortuna, few thought there was be anything different about today's game. The F95 fans wanted to remind the visitors of a remarkable 7-1 back in 1978 but it was never really going to happen again, was it?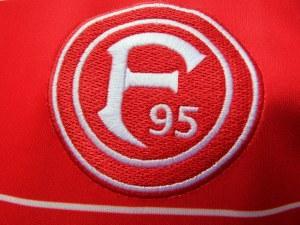 Düsseldorf old town on a Saturday morning is a great place to be. Women throng to the shops whilst the men go to the many bars at the Rhine end of the pedestrian streets and drink copious amounts of Alt beer. Then the women return and join in the fun. Add in a few dogs, men dressed as spies and of course on this day, Lederhosen left, right and center and you have quite a scene (Great things about German football #3 – Football is a day long event for the whole family)
The Esprit Arena is an impressive structure, built on the edge of the city and one of the best stadiums in Germany that wasn't used in 2006 (Great things about German Football #4 – There is no such thing as a shitty stadium anywhere near the top flight). The city invested massively to rebuilt the crumbling Rheinstadion back in 2004 in the hope that some of the World Cup games would be hosted here. After all, they had "big tournament previous" having hosted games in the 1988 European Championships and previous to that in the 1974 World Cup. But with three other grounds in NordRhein Westfalia already a shoe-in (Schalke's Veltins Arena, Dortmund and Köln's new stadium), Düsseldorf lost out, winning the right to host the 2011 Eurovision contest as consolation (Remember Blue coming out of retirement for this one?  No, nor do we).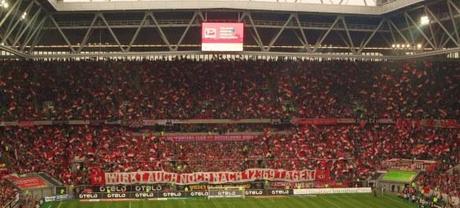 This was the first season back in the Bundesliga after a fifteen year heitus for Fortuna. So far they had started OK, picking up ten points from their opening seven games.  Their fans are some of the most passionate in Germany and there was never any doubt all 54,000 seats would be sold out for this game.  Tickets obviously would be hard to come by, but in Germany buying a ticket on the black market is not illegal.  German ebay (or ebay.de) for us in the know was our best friend and for less than a price of an Arsenal pie we had procured three tickets in the week before the game (Great things about German football #5 – Tickets can always be bought legally and without any issues online).
Fortuna Düsseldorf 0 Bayern Munich 5 – Esprit Arena – Saturday 20th October 2012
After our pre-match warm up of some excellent Warsteiner Pils we headed up to the seats just in time to see the F95 hardcore fans at the far end unfurl a huge banner celebrating that victory back in 1978.  Right on the referees whistle the banner split in half and as soon as it appeared, it was gone, replaced by mass flag waving – a pretty awesome sight (Great things about German football #6 – Fans "tifosi" displays are amazing and put our support in the shade).  So distracting was the display in the first few minutes that anything could have happened on the pitch and we wouldn't have known.
Bayern lined up with a 4-4-1-1 with Kroos in the false 9 position (back in the day he would have been called a "link" man, but let's go with the flow) behind the league's top scorer Mandzukic.  Ribéry and Müller gave the team width, whilst there was no place in the starting XI for new signing Javi Martinez.  Fortuna's Norbert Meier (most famous for THIS incident when he was manager at Duisburg) also had the same formation with the Dane Ilsø in the pivotal central role.
From the first moments it was obvious that Bayern had come to win, and win comfortably. They held onto the ball for minutes on end and Fortuna were chasing shadows.  It came as a surprise that it took so long for them to take the lead – in fact we were on our 2nd match beer by the time that Mandzurik converted a chance made by the impressive and busy Ribéry.  The second came just before half time and goes down as a very soft goal.  A corner was played in, Bayern midfielder Luiz Gustavo poked the ball at the Fortuna keeper and the ball rebounded back to him off his knee and he simply guided the ball into an empty net from a few yards out.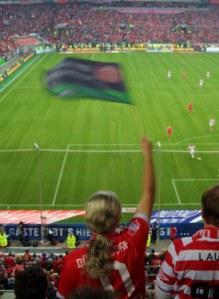 The second half started in much the same with Bayern threatening from the first whistle.  Such was the excitement that more beer was required.  Ribéry was again the creator when he set up Müller in the 55th minute to put the game beyond doubt.  The Fortuna fans, however, never gave up trying to get behind their team (Great things about German football #7 – Fans support the team for 90 minutes irrespective of the score), whilst the Bayern fans showed their support with some mass scarf waving.
We missed the fourth goal, scored by Müller when Danny walked in front of us, but the fifth which arrived within 30 seconds was a cracker, scored by substitute Rafinha, again from the magic boot of the Frenchman Ribéry.
The final stats do not lie.  Fortuna could only muster 2 shots in the whole game (only one of which was on target) to Bayern's 25.  They had 69% possession during the 90 minutes and should have won by a bigger score.  But Fortuna knew this would probably be a bridge too far and so will refocus their efforts for the visit of Wolfsburg next weekend.
Unsurprisingly, our night ended with a few beers on the banks of the Rhine.  As we sat on the steps of the riverbank, sitting in romantic splendor as only four young chaps could, watching the crescent moon pass across the sky.  A semi-naked couple arrived to do some fire eating and it all became too "Germany's Got Talent" so we headed back to the Legg Arms for final orders, preparing ourselves for an early Sunday start.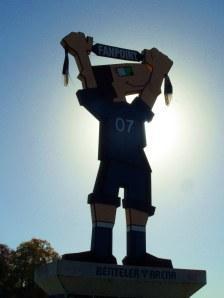 Düsseldorf Central Station at 8am on a Sunday morning is a buzzing pot-pourri of all walks of life.  People with multiple facial piercings, tattoos, ripped clothes and virtually everyone drinking beer.  And then it hit us – these were all St Pauli fans who were heading East, like us, to Paderborn.  We certainly felt out-of-place on the long train ride, without any metal or ink on our bodies, and drinking water.  They were certainly an "interesting" bunch of fans.
There was a welcoming committee for the train at Paderborn station.  Riot police were rounding up the St Pauli fans and we managed to squeeze through the cordon, saying we were here to see the remains of St Liborius and not the football.  Of course they believed us and we were soon on the way to the Benteler Arena.
Paderborn is home to over 10,000 British troops and their families, and many regularly attend the Bundesliga 2′s home games in the functional, if not spectacular stadium that opened in 2008.  The club seems to have found a level in the second tier of German football, whilst today's visitors, St Pauli, had ambitions of a return to the top-level.  With such a big traveling support a sell out here was never going to be in doubt.
SC Paderborn 1 St Pauli 1 – Benteler Arena – Sunday 21st October 2012
It is hard to think about the fact that back in the UK, rain and chilly temperatures had marked the start of Autumn, yet only a few hundred miles away we had 29 degrees of beautiful sunshine.  Fans bathed in the heat, shedding their clothes accordingly (alas only the male St Pauli fans) as the game kicked off.

It is fair to say that it wasn't a classic.  Neither team really pressed forward, although St Pauli had two good first half chances, one of which hit the post.  Both Danny and Deaks had bets on a three away win accumulator from our weekends games and they could smell their money when Ginczek put St Pauli in the lead with a great header in the 48th minute.
Alas the lead, and the boys winning bets, lasted just 25 minutes before Naki scored an outstanding solo effort from the edge of the box to draw the home side level.  The away fans hardly skipped a beat.  If points were awarded for fanatical support, they would be up there with the league leaders.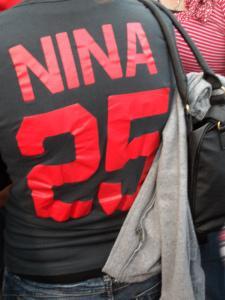 So three days of fun was coming to an end.  Our annual Octoberfest of football had been a roaring success but now it was time to return home, or in my case, down to Munich for work.  Germany does football as football should be.  We'd paid a grand total of €83 for our three games (approximately £72) and that included buying tickets on ebay – the final great thing about German football – ticket prices are based on affordability despite full stadiums and not greed.
I will leave the final words to that German adolescent goddess, Nena:-
"The President is on the line, as Ninety Nine balloons, three matches, six sausages and God-knows how many beers go by."