I managed to water my seedlings the morning of Tuesday May 15th, the day that Pip was born. But with the delivery being a little difficult, having to stay in the hospital longer than expected, and extremely warm temperatures my little seedlings didn't make it on their own. So after losing them for a second time, I decided to give up. I was sad but Reggie said we could get some plants from the garden center and still have a few veggies in the garden. Then, my lovely mother came to visit for a couple days once Pip and I were home, and she brought me some plants, and planted them in pots. And I couldn't be happier with them, and how easy it is to care for them!
So today, I thought I would share how you too can have a garden, and grow some veggies, even if the growing season has started, and even if you don't actually have a yard to have a garden!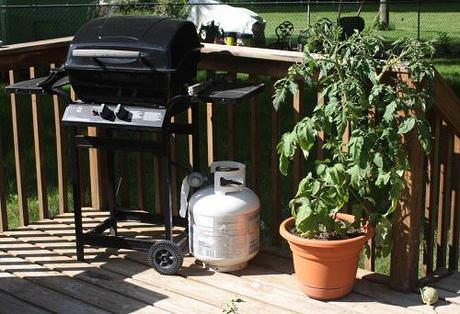 The plant in the above photo is a mature tomato plant that my mom bought at her local market. She transplanted it into a larger pot and now it hangs out on our back deck. I am super excited because there are already tomatoes on it, and with the rain we had recently and the warm temperatures we are having right now those little tomatoes should grow and ripen quickly.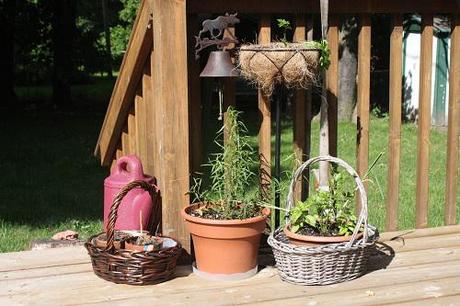 My mom also brought me some herbs and planted them in various pots. Those are also living on the back deck, which means they will hopefully get used more frequently than having to go all the way back to the garden.
So how can you do this at your house? If you have been meaning to get a garden going, but haven't gotten around to it yet I would visit your local garden center or market and pick up a few plants (seedlings might be a little small, so look for plants that are slightly more mature). If you have a garden space in your yard then get the plants in the ground as soon as you get them home, if you don't have a garden space ready then I would get a few large pots and some soil and plant your young plants in the pots. This is also good if you are growing veggies or herbs and plan to use them in the kitchen - the pots can be placed close to the door that is closest to the kitchen, which means you will be more likely to use them.
Some plants that would grow well in pots are: tomatoes, peppers, herbs, beans/peas (just make sure you give them something to climb), lettuce and other greens, and of course feel free to add some color with a few flowers :) I'm a little sad that I won't have as much in the way of veggies as I did last summer. But I'm not sure I'd have the time to care for the garden anyways - the pots are closer and easier to maintain at this point. I think I might still pick up a pepper plant or two and maybe get some lettuce growing for fresh summer salads!
How are things going in your garden?
xox