The clocks have gone forward and the lighter mornings and evenings are here - Spring has arrived! And with it brings the promise of days and evenings spent outdoors in the warmer weather again. Spring also means less wrapping up as we can finally say goodbye to the jumpers and hello to maxi dresses, t-shirts, shorts and lighter jackets (or even no jackets at all, yay!).
This weekend was the first weekend of the year that we left the house in shorts and t-shirts (and a maxi dress for me) and it felt great! We sat overlooking the lake, with a mini picnic playing eye spy with the boys just watching the world go by in no particular hurry and it gave me all the spring/summer vibes.
I am so ready to pack away the big coats and oversized jumpers and go back to my favorite sorts of outfits - spring/summer outfits. I find that during the winter, I lose my sense of style quite a bit as I tend to consistently opt for whatever is warmest and most comfortable. Whereas during Spring and Summer, I look forward to picking a nice outfit and feel so much more confident in what I'm wearing. 
Today, in collaboration with Fashion World, I am sharing a few pieces of clothing and some accessories that inspire me to really get in the mood for Spring. I'd love to know what clothing or accessories are your go-to when it comes to creating a 'ready for Spring look'?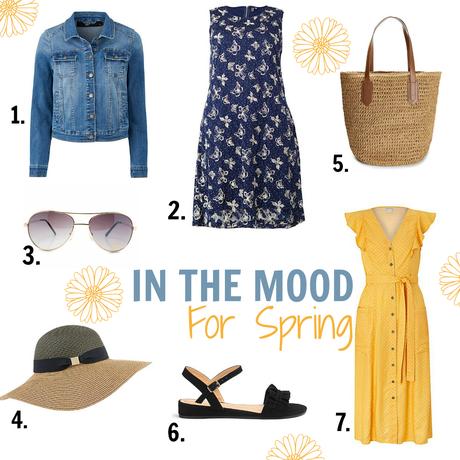 1. denim jacket // 2. butterfly navy dress // 3. sunglasses // 4. floppy hat // 5. straw bag // 6. black sandals  // 7. yellow dress
Spring outfit choices for me are all about the brighter colours and the pretty patterns. I really can't wait to get my dresses back out of my wardrobe! And this year I'll be adding a nice denim jacket to my spring/summer jacket collection too as I've been eyeing them up for a while now.
For even more Spring fashion inspiration head over to fashionworld.co.uk and if you're planning any getaways soon then take a look at their brilliant holiday shop for some great holiday style inspiration. 
Thank you for reading.   Alex xo

*This post was written in collaboration with Fashion World