The story is set in Hobart, the capital of Tasmania, the most southern state in Australia. A most beautiful place. I went there a few years back and imagined how it would be to live in this city, how to adapt as a "non-local", and bit by bit I wrote the story of two sisters moving there.
Obviously, I added a little romance into the story as well – so I added Mark and Zach.
This is the second edition of NEW BEGINNINGS.
The story is now a bit sexier and has also received another edit.
Literary Chanteuse's review: "This author has a way of endearing her characters and it is easy to fall in love with them. An intriguing story with emotion, love and hope."
Sharon's review: "This was a very enjoyable read and it left me wanting just a little bit more. I highly recommend it."
"Other people have to fight battles in their life as well."
~~  New Beginnings ~~
(2nd Edition)
by Iris Blobel
♥♦♥  SYNOPSIS ♥♦♥
The chance to start life all over with the help of a stranger. 
Twenty-two-year-old Sophie Levesque has been guardian to her eight-year-old sister Mia since their mother's death a few years ago, and it hasn't been easy. Luck comes their way when they inherit a small house in Hobart. Problem is, though, they don't know and have never heard of Clara Bellinger, the testator. Settling into their new life, Sophie is still afraid it's all a mistake.
Mark O'Connor, attorney in Hobart and the bearer of the good news for Sophie and Mia, curses himself for the lack of information about the testator. However, researching the questions gives him an opportunity to see Sophie again, and the more time he spends with the two, the more he realises that his life is missing something. And it's not his casual lover Linda.
But then there's Zach, Sophie's sexy neighbor from across the road… and a very good friend of Clara's.
Will unravelling the mystery unravel Sophie and Mark's promise of a future?
♥♦♥  EXCERPT ♥♦♥
Sophie Levesque stared at the attorney in front of her, waiting for some answers. She and her little sister, Mia, had been quietly sitting in Mr. O'Connor's office for more than half an hour, learning about the details of their inheritance.
Once he was finished, silence hung in the air before she asked with raised eyebrows. "Who?"
"Clara Catherine Bellinger."
Mia leaned closer to her elder sister and gave a soft tug on Sophie's shirt. "Who is she?"
Sophie shrugged. "I wouldn't have a clue." Then turned her attention back on Mr. O'Connor and asked the same thing. "Who is she?"
The handsome attorney on the other side of the massive desk leaned forward and rested his elbows on it before he started to repeat his earlier speech. Although hearing his words, Sophie still found it all very hard to comprehend. Here she was in this old office, furnished with heavy antique oak furniture, the curtains in a pretty shade of aubergine, and the carpet beneath her shoes thick and warm in a matching shade, hearing about an inheritance from someone she'd never even heard of.
Startled by the subtle sound of the clock chiming across the road, Sophie's gaze turned to the window, where she saw the post office building across the road. It looked impressive and old. It'd been only a few hours since they'd arrived in Hobart, the most southern capital in Australia, but she already liked it. A lot more than Sydney, the place she'd lived all her life.
Hauled back from her thoughts, she heard Mr. O'Connor say, "I believe she was a distant relative of yours. I'm afraid I don't have any further details."
Sophie arched an eyebrow in disbelief, doubting the accuracy of it all. Not only did she try not to question his competence as a lawyer, but she also hoped it wasn't a dreadful misunderstanding.
With a slight shrug of her shoulder, she asked, "Why not?"
He met her gaze steadily. "Pardon me?"
Sitting up straight, she repeated, "Why not? Why aren't there any further details?"
He rubbed his chin with his fingers, his unease now obvious, and although she almost felt sorry for him, she tried not to care. She needed to know more. And not just the what, but why and who as well.
Only a week earlier, Sophie had received the call from Mr. O'Connor telling her about an inheritance. Initially, she'd thought it had been a horrible joke when he'd given her details on where to pick up airplane tickets to Hobart. It was important for her to come, he'd explained. Some legality she hadn't understood. Something about her having to sign documents for the transfer of ownership of some assets. It'd sounded too farfetched at the start, but after some research on the firm with the help of a friend, it sounded valid, and she'd hoped her life was finally turning around for the better.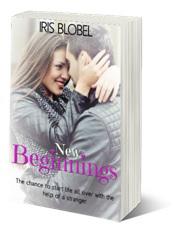 You can purchase 'New Beginnings' here:
AMAZON AU
♥♦♥ MEET THE AUTHOR ♥♦♥
IRIS BLOBEL
Iris Blobel was born and raised in Germany and only immigrated to Australia in the late 1990s. Having had the travel bug most of her life, Iris spent quite some time living in Scotland, London as well as Canada where she met her husband. Her love for putting her stories onto paper has only emerged recently, but now her laptop is a constant companion.
Iris resides west of Melbourne with her husband and her two beautiful daughters. Next to her job at a private school, she also presents a German Program at the local Community Radio.
Social Media Links:
Click here to subscribe to Iris' Newsletter
Facebook: https://www.facebook.com/IrisBlobel
Twitter: https://twitter.com/_iris_b
Goodreads: https://www.goodreads.com/author/show/4067254.Iris_Blobel
Instagram: https:/www.instagram.com/iris_blobel/