iVVO has a meaning. It is an abbreviation of Innovation, Variety, Value, and Omnipotent. These are the four strong pillars of the new mobile phone brand that comes from a new business group BRITZO. Well, there are few hidden pillars in this mission. One is volume. Because the mission is to reach where nobody else is even thinking about. To reach the remotest of the places of India. And to provide the best of the products at the least possible cost. So that everyone is able to taste the best of the technology and features. The best, unlike other brands, don't limit to a select few or the cream of the society. Let those who can't spend big amount to buy a smart feature phone own it and use it. The range of this feature and smartphones is between INR 649 to INR 5,999.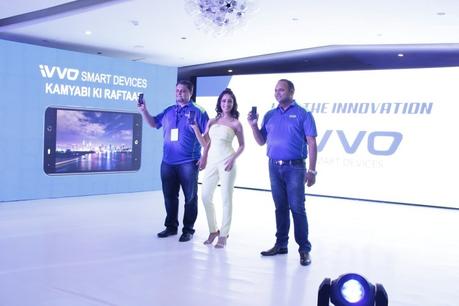 L -R Pradipto Ganguly, CEO & Co-founder, BRITZO, Bollywood Actress Yami Gautam and Dharamvir Shaw, COO & Co-Founder, BRITZO )
In total, there are eight smart 2G feature phones and a solo smart 4G feature phone. In addition, there are two 4G smartphones. That makes the first family of iVVO from BRITZO. But that is not all. There is a lot more to come under the brand. And there is a lot more to share for this 'Make in India' launch. The sole purpose is to catalyze rural digitization. These eight smart 2G feature phones fall into five different product categories. Those are BEATZ. SELFEE, TUFF, PRIMO, and VOLT. In addition, there is their first 4G feature phone 'Skipper' along with two Android Go 4G smartphones. The latter belongs to the smartphone series 'Storm'. That is just a beginning with a big bang. All the devices come with multilingual support so as to cater to the rural population well. For the first time feature phones will get smartphones features.
iVVO Comes With A Mission Of Inclusivity
IVVO offers WhatsApp in its feature phones which is a 'first' of its kind in the mobile industry. In addition, the user gets WI-Fi Tethering, Facial Recognition, and shatterproof smartphone screens. The following chart will make the things much clearer. Within this price range probably this is the best one can offer to its consumers. That too with the best of quality and service. The focus is not on selling the product and gain profits. It, in fact, aims to provide the best of the support possible after selling the product. The mission is noble and the prices are competent enough for competitors to get them out of their comfort zones. But the real challenge for the company is to sustain the model for next 3 years with same vigor and commitment.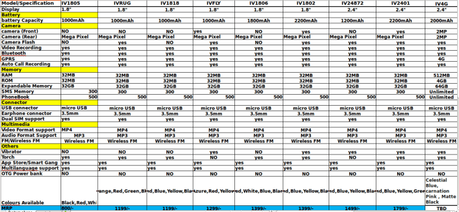 Pradipto Ganguly, CEO & Co-founder, BRITZO says, "BRITZO has recognized critical pain points of rural consumers and extensively worked towards developing more evolved alternatives to traditional mobile phones. We are delighted to announce the launch of iVVO, which is a direct outcome of our research and innovation-driven approach, and are confident that the brand will emerge as the flag-bearer of digitization in rural India."
He further adds, "Besides offering unmatched features, we have also worked on the pricing and have simultaneously enhanced our channel partnerships and aftersales services to offer a superb customer experience to our end-users. The brand launch also comes in tandem with the rollout of our first smart 4G feature phone and two evolved 4G smartphone offerings, which is in line with our vision of making superior technology accessible to every Indian."