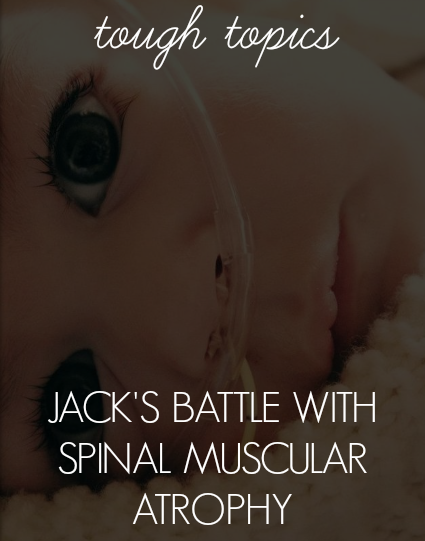 I always knew I wanted to be a mom. When my husband and I decided to have kids, I couldn't wait to start this amazing journey. After months of negative tests, I felt so hopeless. After a few more disappointing months, we decided to go through with Artificial Insemination. The morning I was able to test, I couldn't believe what I was seeing. A faint 2nd line started to appear. At that moment, I knew I would be a mom. We found out we were having a boy.
We dreamed of the beautiful future with our baby boy. What would he look like? What would he grow up to be? What would he love? The day I held him in my arms for the first time, was the best day of my life. Our sweet boy didn't cry when he was born. He just opened his eyes and looked around the room. He was perfect. We named him Jack. I instantly fell in love with this little being. I loved his bright blue eyes, his sweet smiles, how he gazed at the world with such wonder.
A few days after his birth, we started to notice Jack could not move his muscles like he should. He began to have trouble nursing and always seemed tired. During one of our visits to the pediatrician, the doctor laid Jack on his stomach to see him practice tummy time. Jack's face stayed planted to the table, unable to lift it or move it to either side. That was a red flag, but they were not too concerned at the time. A week later we went back to the doctor. She noticed he still could not hold his head up. She told me it looked like he had low muscle tone and that we needed to make an appointment with a neurologist. I remember going home that day and holding Jack in my lap. I had him grasp my finger and hold on tight. Each time he would slip and lose grip. I remember telling him it was ok, that we would help him get stronger.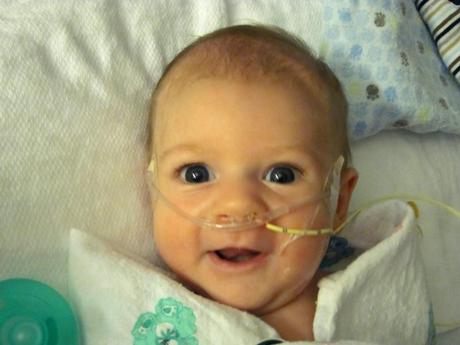 Jack started eating less and less and had trouble breathing when he cried. I decided we couldn't wait for the appointment with the specialist. We went to the ER immediately. After a week stay in the hospital, and many tests, Jack was diagnosed with the #1 genetic killer of children under 2, Spinal Muscular Atrophy or SMA. We were told he had the most severe type and had just 6 months to live. Six months. Our world fell apart. I remember running down the hall to an empty room and just crying on the floor. This couldn't be happening. We were going to lose the most precious thing in our world.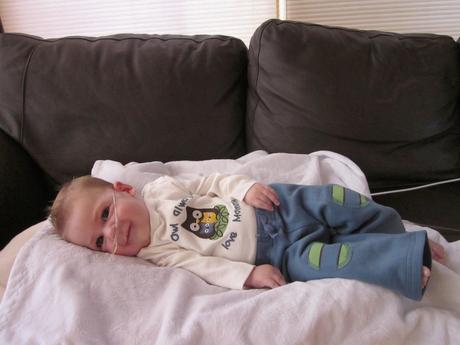 We decided to go home with Jack rather than stay in the hospital. We wanted him to just be comfortable. Jack required multiple machines. He needed to be fed through a feeding tube, and was on oxygen. He also required a suction machine and a machine that helped him cough. Both helped clear his secretions since he had lost the ability to swallow. Because Jack was unable to lift or use most toys made for babies his age, I decided to make him a small tag blanket that had crinkle material inside for him to explore. He loved it! From that moment, I continued to create more tag blankets, onesies and headbands. I opened my Etsy shop a month after Jack's diagnosis. I named it Jumping Jack in his honor. I made the first headband for Jack. It held his oxygen and feeding tube in place. Crafting was very therapeutic to me during the horrible rollercoaster we were on.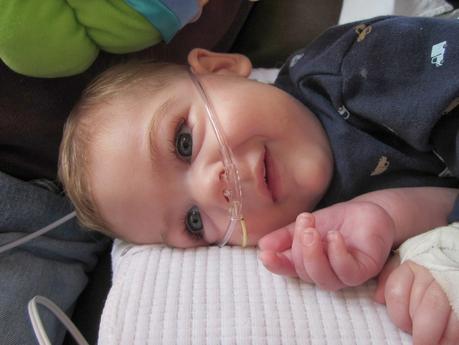 Each day was a celebration with Jack. We made him a bucket list of all things children love. We brought him to the zoo and the aquarium, we took him hiking and sledding. We let him feel the grass between his toes, and the rain drops on his cheek. All while carrying oxygen tanks, feeding bags and suction machines with us. We had a birthday party each month and celebrated most holidays a few weeks early, not knowing which would be his last. I took the fastest showers I could, in fear something would happen to him while I was not there. He slept by our side each night. I loved holding his hand and staring into each other's eyes as his slowly closed. Often times, Jack would wake up in the middle of the night and talk to us. He would smile and make the sweetest sounds. My husband and I wouldn't trade those peaceful moments for the world.


We celebrated Christmas early that year. We opened presents with Jack in our lap and our family surrounding us. On December 23rd, Jack took his last breath in my arms at just 6 ½ months old. We never opened the presents we were saving for Christmas morning just 2 days later. We made unforgettable memories each day. We were so lucky to have had this beautiful boy a part of our lives but would have given anything to watch him grow up. He is truly the strongest person I know. We decided to donate Jack's organs in hopes he could help save a life.


A year later, my husband and I were blessed with a beautiful, healthy baby girl named Melia Jack. Melia means "wished for child". She is truly a miracle. This past Christmas, I hadn't gotten a chance to find her some Christmas jammies. On Christmas Eve, we opened the presents we had not opened the year Jack passed away. Inside was a perfect pair of PJ's just Melia's size.


Today Jumping Jack has developed into much more. I love that Jack is the inspiration behind what I do each day.
***If you would like more information about SMA please visit www.thegsf.org and watch this video ***


Do you have a story or blog post about an experience with 

Spinal Muscular Atrophy? We love for you to link up below!