I have been to their Rajouri Garden and Connaught Place outlets earlier. This is my first visit to Jungle Jamboree Sector 34 Noida. Thus adding their third outlet to my food journey. The outlet is in Logix City Centre Mall. Obviously, this increases the chances of more footfalls. In addition, the theme is so obvious to attract kids and thus families. That makes it their center of attraction.  The restaurant is on the second floor. Decor and ambiance go well with its themes of Jungle and Aqua. While the former area comprises of a Bear Family, Lions, Elephants etc. with grassy sofas. The latter has a large aquarium, starfishes, seahorses, and mermaid statue. The floor in this section is like an ocean bed. Both the areas are equally attractive for kids and adults both.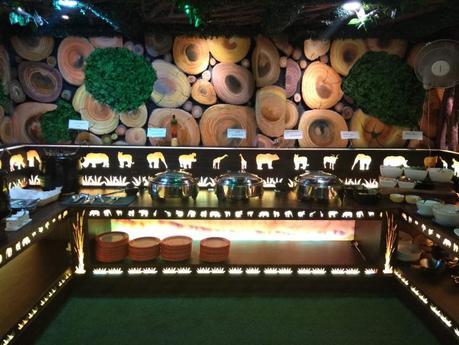 Jungle Jamboree Sector 34 is the largest outlet out of their four outlets in Delhi-NCR. That automatically increases their seating capacity and buffet area. As evident, there is a 7-course buffet for all the guests. In fact, it is an all-buffet restaurant with no ala carte. Of course, you can get pasta and pizza on order.  If you have not been to any of their outlets, let me tell you that the appetizers and drinks are served on your table. In fact, there is a mini grill on each table. For the main course and desserts, you will have to help yourself. For whatever number of servings, you want to have. That means for every serving of soup, main course, and desserts, you will have to walk to the buffet area to fill your plate.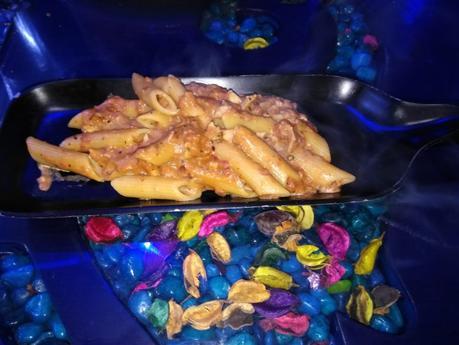 Jungle Jamboree Sector 34 is Quite Near to Metro Station
We had Paan Shot and Pink Lady in beverages. Beverages, like Pizzas and Pasta, come on demand. All appetizers are good especially the non-veg ones. Mix Sauce Penne Pasta that was on demand was fabulous. Non-veg pizza on demand is also a good option to try. Overall, Jungle Jamboree Sector 34 was as good experience as its two earlier outlets. I love to visit this place for its ambiance and food.