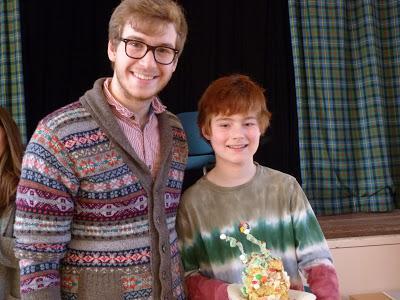 Boy One with James Morton
There was much excitement this Sunday. There was a celebrity in our midst.
 You could tell something was happening by the number of people whose casual weekend morning attire was arranged with feverish precision.
And the reason for all this tastefully styled Boden... the BBC Great British Bake Off runner up James Morton. He was in Quarriers Village to judge a children's cake contest.
My senior son had entered with a chocolate orange concoction good enough to get into the final, along with around 50 other kids.
It looked set to erupt into e-number-fuelled mayhem at any moment as kids stood behind their naked sponges and armed themselves with piping bags and butter cream.
When the moment arrived to start the mass ice off, Boys Two, Three and I were banished through tight lips. "Go. Away. Now."
So we took a turn around the play park and returned to find the Somerville Hall above the Three Sisters Bake a flurry of sprinkles and mini marshmallows.
Boy One was standing proudly behind a mountainous gateau complete with icing antenna.

James Morton - who wears a cardigan with as much brio as he works a food processor - was faced with the enormous task of picking some outstanding bakery items.
He declared Boy One's effort, entitled 'Boris Johnson Before The Makeover' to be the most exciting. He said: "I think this is much more creative and exciting than my choux pastry bike."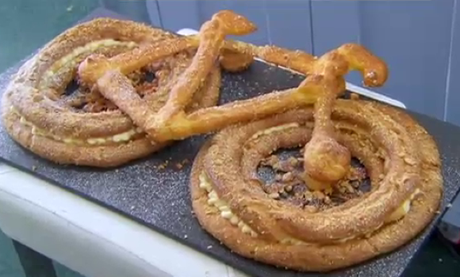 James' choux pastry bike
Boy One should be rightly proud of his achievement. 
I'd also like to report that James was utterly charming and can come round for tea and cakes any time he likes.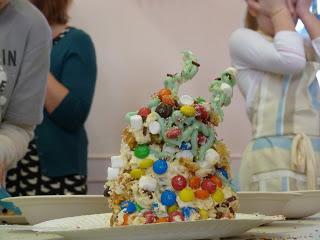 Boris Johnson before the makeover, of course

Posted with Blogsy