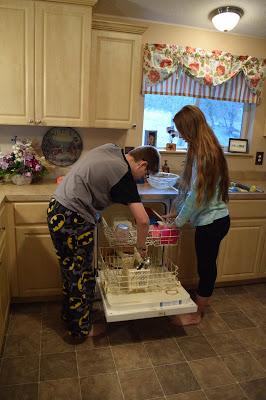 We had a low-key Thanksgiving, this year, with just the four B's. We had hoped to have my parents over, but the weather turned nasty with lots of snow and ice in between Eugene and Harney County, and my dad needs cataract surgery on his eyes, which means he isn't the safest driver right now (especially in snow!). It was lonely without them, but it was still a very nice day. Us B's love any day we get to be at home! I put the kiddos to work on dishes, since I had to cook them a full Thanksgiving meal (I tried to talk them into pork chops, but they wouldn't go it!). The only mishap we had was that the biscuits (as we call them where I'm from - other folks know them as "rolls") took a bit longer to cook than anticipated. Britt was super hungry by this point, and he was on the couch moaning. With every check of the oven and resetting of the timer, he grew more dramatic, and before long, his moaning was all the way down to the floor. It was comical to us, but not so much to him.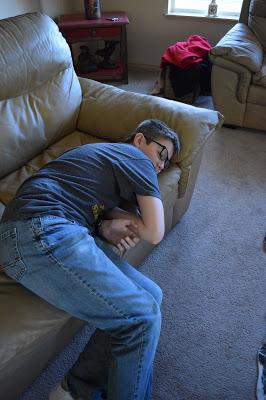 We are working on our Christmas puzzle... This is a new one, and extra hard!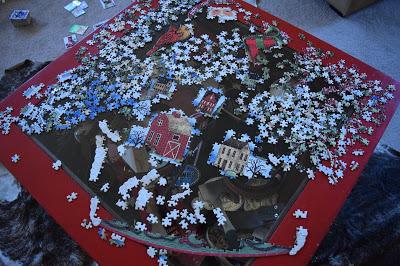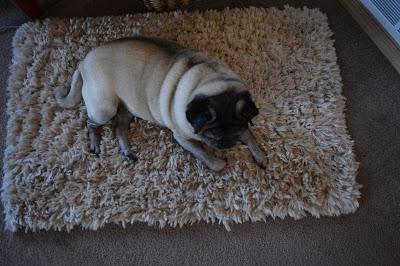 Rosin the pug on her bed, in her favorite spot, which is in front of the heater. As you can see, Britt has landed on the floor with his hunger pains. At least he had his trading cards down there to help pacify him. It was touch and go if he was going to make it or not! Hahahah...!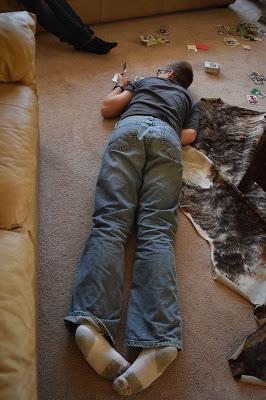 He was so hungry, he offered to set the table. I love how he fixed the silverware on the napkins. Fancy, fancy! (Hahahaha! SOOO CUTE!)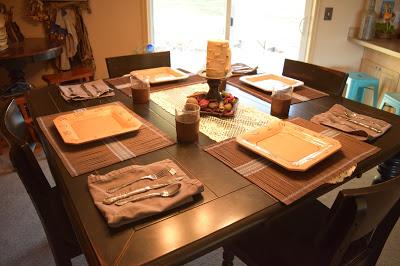 And then, the breaking of the wishbone from last year's turkey, which we saved. Once again, Britt was the winner! He has won two years in a row, now. After our turkey dinner, we went to see the new James Bond movie, which was absolutely fantastic! I swear it is the best one ever... I love Daniel Craig as James Bond - he is amazing! Cool as a cucumber, that guy. Anyway, it was a great movie and a perfect way to spend the afternoon. We made it home in time for football, which was great, except that all our teams lost. Oh well - the Ducks made everything better with their Civil War win on Black Friday. Stay tuned for that post next...