Last Saturday, June 18th, my Nesting Sale came to a close and I hosted an Open Studio event in my home (since my studio is in my home.) I had 50 paintings on display on every wall of my house. Of those 50, 36 of them sold, which I consider a huge success! For the most part, the paintings I kept were the ones I wanted to keep (for a future exhibit I'm planning) as I hadn't marked them down very much. So it worked out perfectly!
The Open Studio started off slow as people trickled in, then a throng of people arrived all at once. There were quite a few small children in attendance and the atmosphere became boisterous! The whole thing was so much fun. Here are a few photos I took (last-minute, with my cell phone, sorry…) before everyone arrived.
Bedroom–I MUST make a new painting to hang in place of this one, which sold!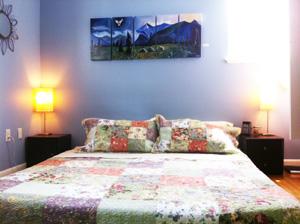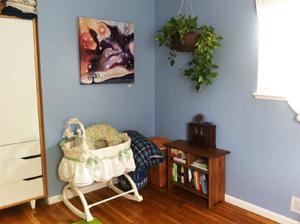 My husband's office had all the seascapes.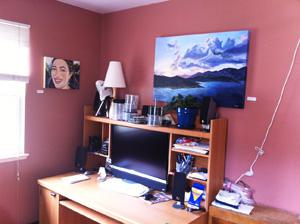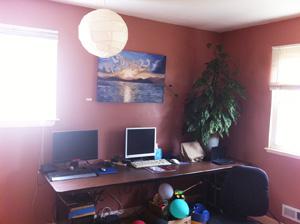 Blazington followed me around while I was photographing and wanted to pose for this one: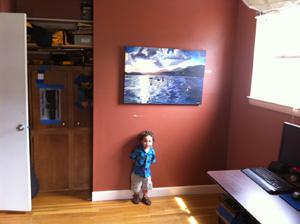 Blazington's room with some of the smaller pieces.
Even the bathroom had art on every wall: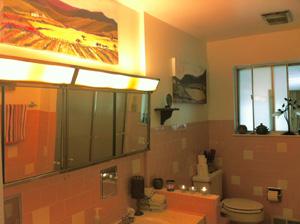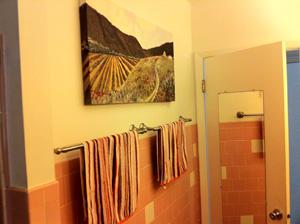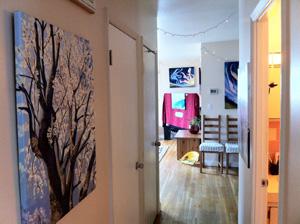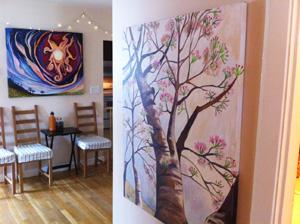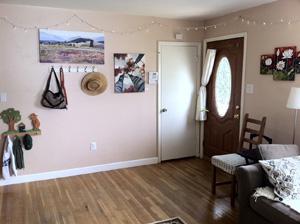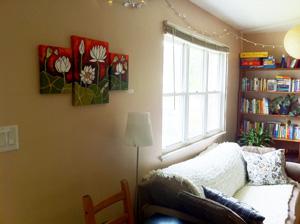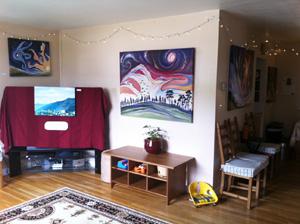 This painting was raffled off to a winner at the end of the event. People had a lot of fun trying to buy the perfect number of raffle tickets to increase their odds, and we did a random drawing to determine the winner. She was so excited!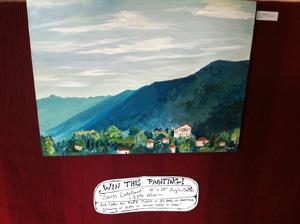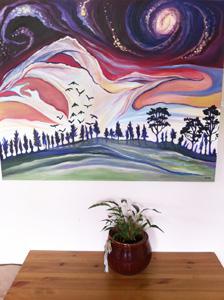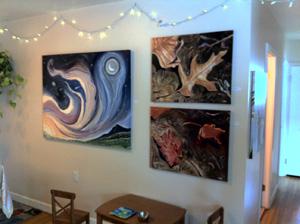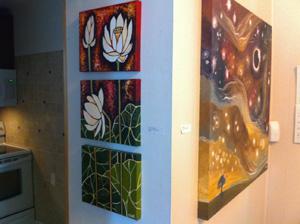 I prepared a spread of snacks and drinks for everyone: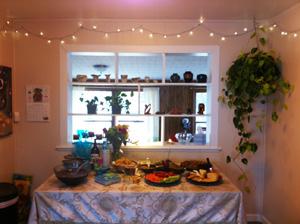 Including sangria!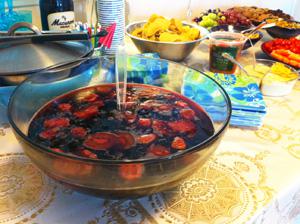 And all your typical art opening staples (grapes, cheese, crackers, veggies & dip, cookies.)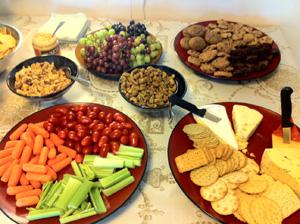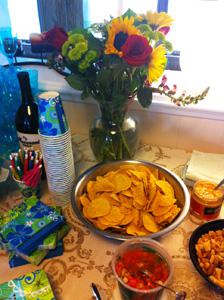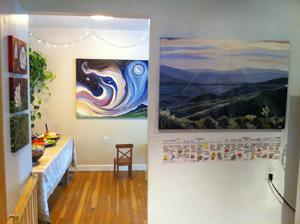 The studio was jam-packed with artwork! (Sorry for the poor lighting in these photos.)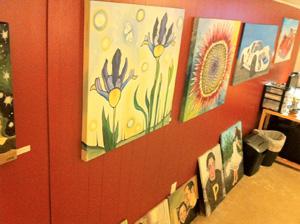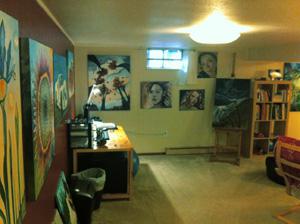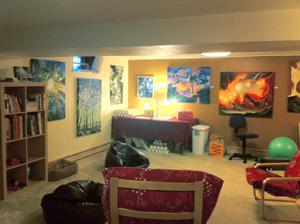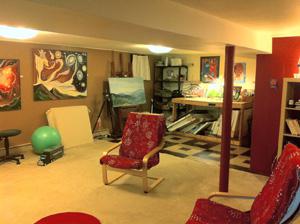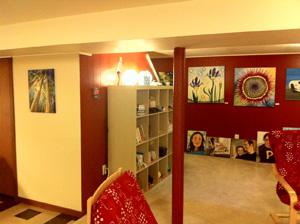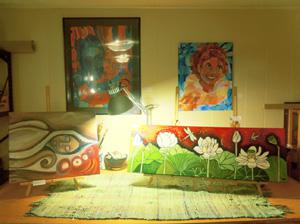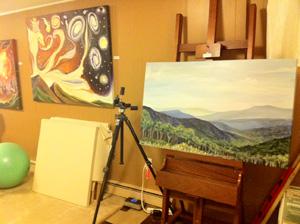 I spent the following 4 days packing sold artwork as fast as I could. Thursday was shipping day, when 22 paintings were shipped off far and wide to their new owners. (Including one to a nice fellow in Sweden!) The remaining 14 paintings were claimed by local people, and most have picked theirs up now.
My handsome dog Blake wanted to pose in this one: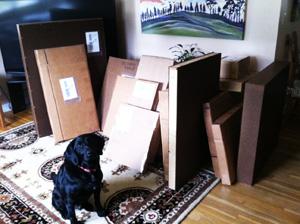 I was surprised at how emotional I got saying goodbye to some of that artwork–it was bittersweet taking one last look at each one before I closed it into its shipping box. I created these paintings, and have lived with them and loved them well. Now that so many are gone, my home and studio feel so bare! But that was my intent after all–out with the old, in with the new! And it makes me happy to think of all that art now being enjoyed by so many different people in different places.
There will be plenty more paintings, lovely, exciting, inspired ones, in the future. But I've been telling everyone that it may take me awhile. July 1st I'm officially going on "maternity leave" to await my new baby's arrival, and I don't plan to paint much for those first few months. I'll get back into the swing of things work-wise once I figure out how on earth to be a mother to not one but TWO little ones. (Wish me luck!)