As a believer of this "2012" theory I have created a medical supply list of things I wish to purchase for a one year emergency survival. All items and prices are from Walmart.com and are Equate Brand Medicines.
This list does not show the complete as I could not get a decent sized screen shot of the list for posting,
not shown includes all Childrens Medicine such as Allergy Relief, Acetaminophen, Ibuprofen, Gas Drops and Vitamins. The total Price tag is just about $600.00 and although I do not plan on making this purchase in full its is a good guideline for what I would possibly need for 1 year to sustain the medical needs of 3 adult Males, 2 adult Females, and two Children. ( and YES, I do know that I am nuts! So you do not have to inform me =0)  )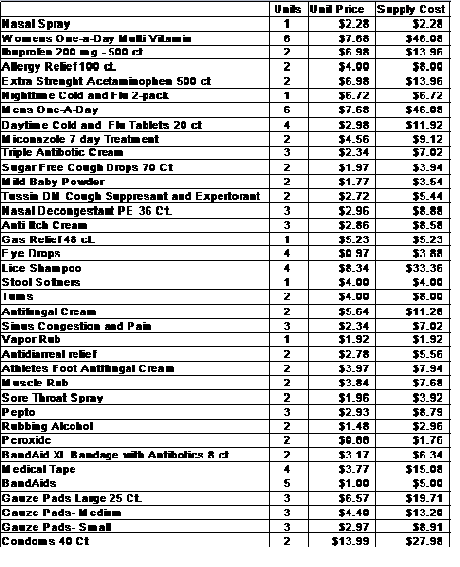 This list does not include personal medical supply, ie. Albuterol Inhaler Solution, Lexapro and Xanax, but will be included in my "Kit" if I ever truly make one.