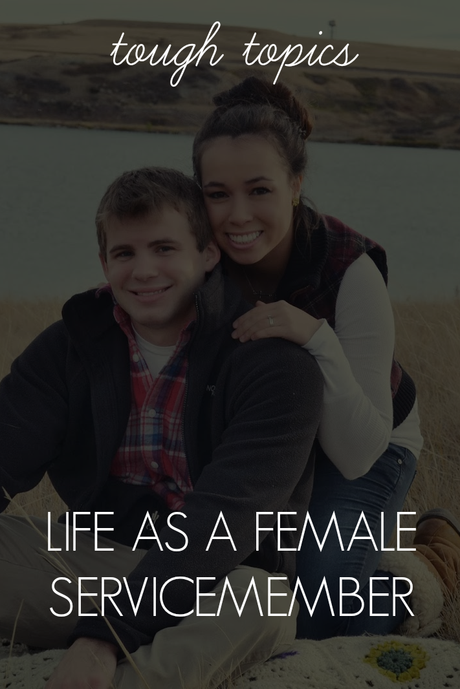 My name is Kim and I have been a military kid (Navy), military spouse (Marine Corps), and am a service member (Air Force).  I blog over at 

Little Fierce Blog

, but probably spend more time on

Instagram

, so feel free to visit!  When Kaitlyn invited me to share my story, I was so honored that she had asked, but also was kind of stuck on what to focus on.  So in sharing my story, I will discuss my experiences having been a Marine Corps spouse and now being an Air Force officer.


When I married into the military, I was a 21-year old college student from the Midwest.  I was still in my junior year and had the rest of my schooling to complete for my degree.  My husband and I got married at the start of the summer.  I spent the prior semester balancing school, jobs, and probably spending a little too much time on Etsy with planning an intimate beach wedding on Coronado Island.  I remember sitting in a Wisconsin airport with a Bucky Badger Build-a-Bear in a wedding dress gifted to me by my sorority sister, Jenny.  My level of excitement was off the charts!  I was going to marry the man of my dreams! As the plane was taxi-ing on the runway of San Diego's International Airport, I received a text from one of our friends.  She said, "I am so sorry! If there's anything I can do at all to help, please let me know."  I had no idea what she was talking about.

I texted my fiance and asked him what that was about and he said he would explain once I got my baggage.  So there I was, with everything in the world running through my mind.  As I approached Ryan, it became clear that he had just learned devastating news.  On his way to pick me up at the airport, his uncle had called him to let him know that Ryan's dad had passed away.  The ride back to Camp Pendleton was one of the saddest and most confusing car rides of my life.  We had to cancel our small beach wedding.  Instead of getting married on the 21st of May, we were going to his dad's funeral.  As Ryan was talking to his leadership about getting leave, I was in the car texting and heading up phone calls to family and friends explaining the situation.  I had just arrived on base and we were planning on leaving the next day.  As tragic as this situation was, it's one example out of thousands of how things start to compound when you live in a military life.  Family and friends had to cancel flights out to San Diego, tickets had to be purchased to fly back to Wisconsin, the officiant had to be canceled (without getting our money back), and Ryan had to get leave.  Not only that, but Ryan's grandfather had passed away only two weeks prior to this and he had just been home for that funeral.  It was a really sad time for our family, however, God blessed us in having such wonderful people as part of our life story.  Tragic situations can be overwhelming but combine that with the military and sometimes it feels debilitating and impossible to figure out.  Our family and friends, whether back home or at Camp Pendleton, stepped in to take care of us and made the start of our new life together, easier.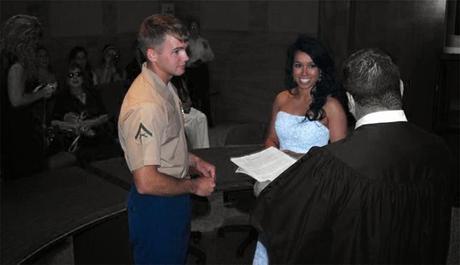 When we flew back home, we still weren't married and had to figure out how to accomplish that in a very limited time frame.  We were (and still are) madly in love, but we also had to get Ryan's basic housing allowance (BAH) so we could have someplace to live and I had to register for healthcare and dependent benefits.  My biggest advice to anyone who marries into the military is to be flexible and accommodating.  This doesn't just apply to weddings, but to the lifestyle your are about to become part of.  If you take a look at my Pinterest or know me at all, I have very grandiose ideas about events and people were certain I would have this huge wedding.  Well my husband was an enlisted service member and I was a college kid, so we had about a grand to spend on this.  I shopped on Etsy and bought my dress online for something like $180.  Three days after a funeral, we were getting married.  We went "across the border" into Illinois the day before to start the paperwork and then the next day we got married.  It wasn't super fancy, but I had sorority sisters and friends drive to our hometown from all over to wish us well and had the most delicious cupcakes brought from my favorite shop in my college town.  I got married in a courthouse and despite wanting this x, y, and z type of wedding, I made adjustments to the plans because it's a necessary aspect when you or your spouse (or both) are part of the military. 
After we moved to Camp Pendleton I learned so much about the military lifestyle and my experiences, I believe, have played a large part in how I serve as an officer.  It's so important to keep in mind that everyone who is a part of the military represents different backgrounds and socioeconomic statuses. We only had one car and that was perfectly alright for where we lived on base because I could walk everywhere.  I only lived at Camp Pendleton for two summers because of school and I applied to so many places for work and because I was there for such a short time, had difficulties finding a job.  My situation was temporary but this a problem for many spouses who are there for a more permanent situation.  I spent a lot of time working out, walking to stores for errands, and visiting the base library.  With your spouse going to the field, or working long hours, you learn to be by yourself a lot and you learn how to budget with the smallest amounts of income.  It was important for me to make friends and I found that to be really difficult.  In my mind, I more or less expected this wonderful Army Wives-style welcome wagon to greet me.   I was sorely disappointed as I soon discovered that I was on my own to make friends.  Having limited money, no car, and tons of internet access, I joined several support groups on Facebook.  I would say take heed with those because they can be really beneficial or they can be pretty dramatic and detrimental.  To make friends, be a friendly, positive person and uplift others, don't bring them down.  I have made wonderful friends at different bases and I treasure those friendships.  There are about three women that I keep in touch with from C.P., no matter what part of the country I live in.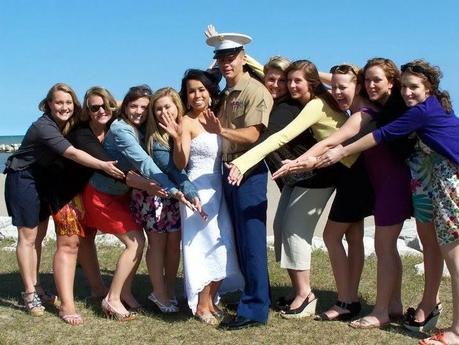 When I became an officer, the expectations were certainly different.  My husband got a kick out of the base housing we received and the differences between the Air Force and the Marine Corps.  Some changes for me were major things and some were trivial.  It's funny because you don't realize things like nail polish or how you get your hair cut will come into play, but we have a regulation on the type nail polish you can have. It's also a pain in the butt to get your short hair into a bun if you're trying to grow it out.  When you're an officer everyday, not a ROTC cadet for a few hours out of your week, some things in your life will definitely change.  It also became a realization that many uniforms that you're given are meant to fit a man's body with very little adjustment to the female form.  One of my biggest concerns going into the military was the fact that I was a woman, and while there are many concerns that are shared amongst women who are civilians, the military creates a whole new ballgame.  Right before I commissioned, I watched the documentary The Invisible War, which I highly recommend.  It brought to my attention how complicated the military system could be, especially for women.  From the spouse's viewpoint, I knew it was complicated and sometimes seemed unfair, but to be a part of that system yourself, created entirely different issues and concerns. If you don't know, the military has their own set of laws and doctrines that service members follow.   However those complications, although sometimes limiting, can be the force that encourages you to speak up and critique things that need to be better, like sexual assault education and awareness.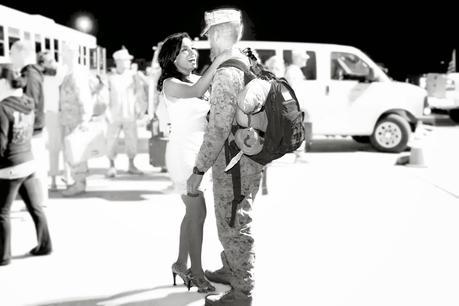 Before I commissioned, I also learned that the way that I looked may also create problems for me.  I actually talk about this in depth in my post, 
Military Spouses vs. Female Service Members
.  There are women out there who create problems, but for the most part a female service member is there to get a job done.  I think one area that I've struggled with the most is that my "life plan" was thrown to the wind and that is a really hard concept for me to be okay with, even as I write this.  To provide some background, I did not pick my job, nor were really any of us in my career field truly informed of the type of hours we would be working and because the mission takes precedence, you're put where there is a need.  I am in my mid-20s and I would really like to start a family soon, but because of my job it would be very difficult for me to be around.  I could have a baby but I am gone almost every other day in what is called "deployed to the field" and I think that would just kill me to miss special moments with my child because of my job.  That is a big sacrifice that many service members, not just women, make to serve their country.  I am contracted to this specific career field for 3-4 years so I will probably be close to 30 before I can reasonably think about having a baby without job conflicts.  I personally do not think those types of issues are brought up in focus groups or on the news, but it's something that affects quite a few female service members.  There are many issues that come up that affect all service members, but I can say that I am proud to serve our country and hopefully my talents and experiences can continue to benefit the military in other ways in the future.
Are you a female 

servicemember

 with a story to share? We would love for you to leave your comments or links to stories below!