- I'm certain that it's baby season. Ladies – don't drink the water! Between bloggers and IRL people, I can't keep up with all the pregnancies and births. Seriously.
- I had a relatively uneventful Easter weekend. Kyle worked, Isla's too young to look for eggs (or eat chocolate), so we just hung out at home. I did, however, take some ridiculously cute Easter photos of her. What's that? You'd like to see? I thought you'd never ask!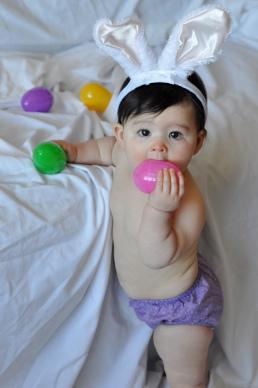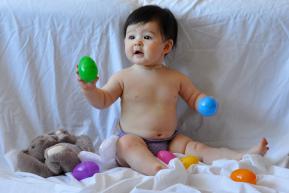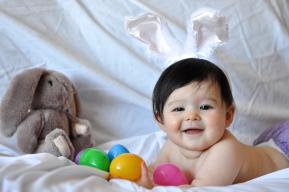 - After a series of bizarre events, I had stitches put in in my forehead last Tuesday and had them removed earlier this week. Yay! I'm going to have a sexy scar. And? Every now and then my scar starts hurting. Pretty sure I'm Harry Potter.
- I also had an MRI last week for a follow up on some masses that were found during an MRI a couple years ago. As it turns out, they're hemagiomas – bundles on blood vessles that mean nothing. Yay for nothing! I'll have another MRI in a year to check in on them again, but really, they're nothing to be concerned about. Woo!
- I got the go-ahead from my doctor to give Isla cow's milk if I want to try. He said that her tummy may not be ready for it, but if it goes well, go for it. We shall see how it all pans out. Right now I'm OK with pumping and giving her a bottle, but there are days where it's hard to get enough pumped for her.
- Can anyone suggest an alternative for a Google Reader phone app? I'm using Feedly right now but I'm really not liking it. (Difficult to navigate, have to log in every single time I want to access my feed) I use an Android phone too, so I'm slightly limited to what I can download.
- My birthday is in just over a month. I'll be closer to being 30. WHAT THE HELL, LIFE? SLOW DOWN! With that being said, I have no birthday wish list other than a nice dinner out with my husband. And cake. Delicious cake.