- Isla's swimming lessons ended a few weeks ago and we haven't been swimming since. On Tuesday a friend from out of town wanted to go with her two girls (aged 3 and Isla's age) so we loaded up the swim bag and went. Isla loved it more than lessons! I don't know if it was because there were less kids at the pool, but she was splashing, jumping into the water, walking around in the shallow end, and even going under the water all by herself! We're definitely going to have to go more often.
- Since Kyle and I finished painting our bedroom, I've finally been able to start thinking about artwork for our walls. I was holding off because I wasn't sure what color we were going to paint the walls and I didn't want whatever artwork I bought to clash with the new paint on the walls. Ya'll, artwork is expensive, even the mass-produced prints you can buy in stores. Then I was reminded of this easy DIY project on Pinterest and figured, "Hey! That's totally easy to do and I can make them whatever color I want! So, after a trip to the dollar store for canvas ($2 for a 16″x 12″ canvas!) and a trip to the craft store for some acrylic paint ($0.99/each!), I was able to get started on my $10 masterpieces. I went with two gray canvases and one brown one to match our curtains. I just need to attach hardware to hang them, and we're set! Here's a photo of my creations: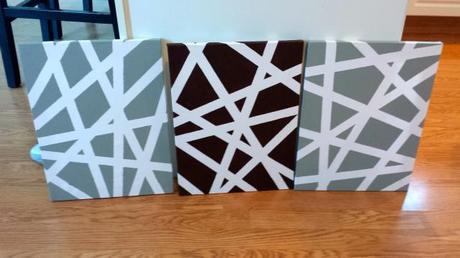 - I didn't have a yoga class this week, so I took it upon myself (and a little reminder from Krysten that I owned the DVD) to do Jillian Michael's Yoga Meltdown. I haven't done it in AGES and I quickly remembered why – INTENSE. My muscles are definitely not used to repetition and while I understood all the yoga stuff, I struggled with the sets. By the end of the workout when it came time to do side planks, my arms were ready to give out. Ha! Either way, it was a good time and I felt great afterwards. I even celebrated with a flexing selfie, which will never happen again

(For the record – My body HURT the next day.)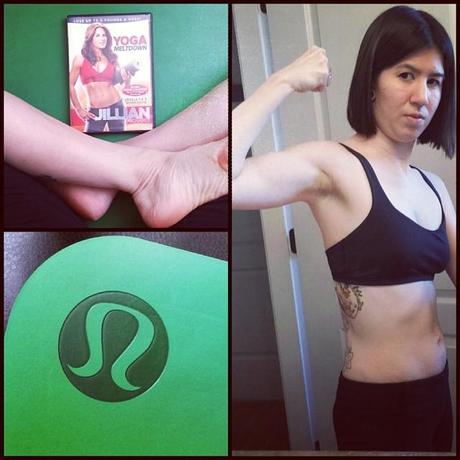 - This afternoon my mom is picking up Isla when she gets off work and Kyle and I get to have a little bit of a kid-free evening. We've decided to go watch a movie (300: Rise of an Empire) since we can't remember the last time we went. I'm looking forward to it!!
- Isla has this cute little song that she sings to herself. I have no idea what it is and don't recognize the tune from any of the shows she watches, but it's adorable and got it on video yesterday morning during breakfast. Bask in the cuteness:
- Finally, as a member of BzzAgent, I received a sweet campaign offer to try out Lavazza, a new coffee brand that has come to Canada. I received two bags of ground coffee – Gran Aroma (medium roast) and Gran Selezione (dark roast) – and they are pretty tasty! The true test will be Kyle: He can usually taste when I've used a brand other than our usual, so I've been prepping the coffee maker for the morning while he's not home.
I hope you have a wonderful weekend - Happy Friday Lovelies!