I have been taking part in Live Well Go Orange for the past 10 days. This is a very interesting campaign where you eat an orange every day for 10 days.As everyone knows oranges are deliciously healthy, juicy little balls of Vitamin C. Great for warding off colds or making you feel better when you are feeling ill. One fresh orange contains 64 Mg of Vitamin C, this is nearly one and a half times your recommended dietary intake.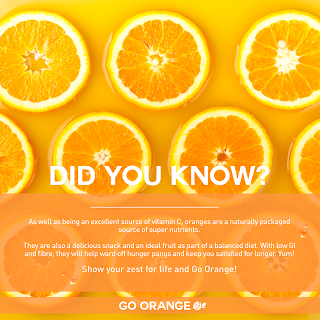 This wonderful fruit can benefit you in a whole lot of ways, and they contain so much more than meets the eye. The nutrients in the humble orange are rich, powerful and plentiful.
They are a naturally packaged source of valuable antioxidants. These antioxidants can support our immune system and fight free radicals in our bodies.

They help keep the aging process in check. Super antioxidants such as polyphenols and carotenoids can keep us looking younger for longer. One orange can contain over 60 different carotenoids!

They promote a happy heart. Oranges contain a perfect balance of heart protective nutrients such as folate, potassium, fiber and antioxidants.

They can help you to maintain a healthy weight. With low GI and plenty of fiber they ward off hunger pangs and keep you satisfied for longer.

They also have a naturally high water content, to hydrate you quickly and easily.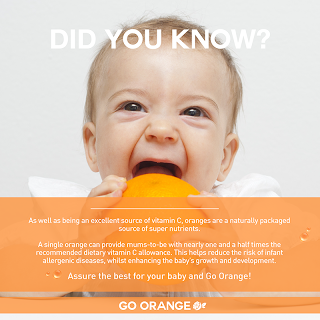 Healthy Orange Recipes
Orange, Watercress & Tuna Salad
Place peeled orange segments into a bowl and mix with watercress, aniseed, salt and pepper. Stir watercress into the orange mixture.  Slice the cooked tuna and divide with equal portions of the salad. Yum!
Orange Hommus
Simply add orange juice to your favorite plain hommus  recipe!
Pop chickpeas, orange juice, orange rind, tahina, garlic, puree, cumin and coriander in a food processor. Switch on and blitz. Voila!
Marinated Chicken and Noodles
Squeeze the juice from your orange into a bowl into a bowl with lemon juice, rice vinegar, soy sauce and spices.
Marinade your chicken in the sauce before serving with slices or orange, some healthy greens and glass noodles. Just perfect for an afternoon snack.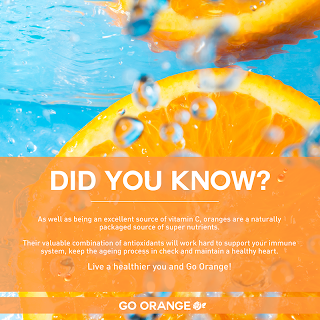 Try the Live Well, Go Orange challenge for yourself. Eat one whole orange every day for 10 days and enjoy the sweet benefits. Make sure that you eat the fresh fruit, don't cheat yourself by only drinking the juice or taking supplements. It is just not the same, and you won't get the full benefits that a lovely fresh orange can give you.
You can share your nutritious experiences on facebook https://www.facebook.com/pages/Aussie-Oranges, Twitter and Instagram, Simply use the hash tag #GoOrange.
 Enjoy the health benefits and Go Orange.
Melanie