A little while ago Ellie, John and I took a trip to the Marlowe to go and see Matthew Bourne's Lord of the Flies by the New Adventures.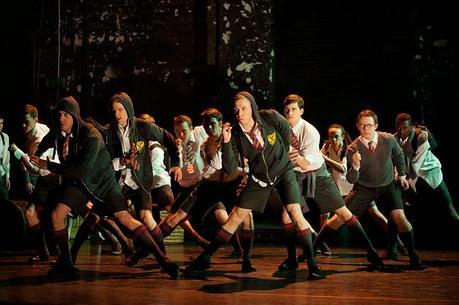 I'm no stranger to Bourne's creative genius; I bawled my eyes out for the last 10 minutes of Swan Lake and came away with a new found respect and appreciation for dance.  To say I was looking forward to this production was an understatement.  I was borderline reverting to toddler levels of excitement, and I'm sure my voice had elevated up an octave every few hundred yards we got closer to the Marlowe.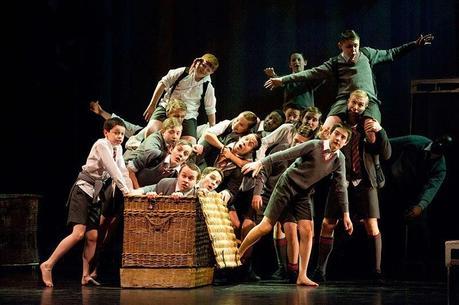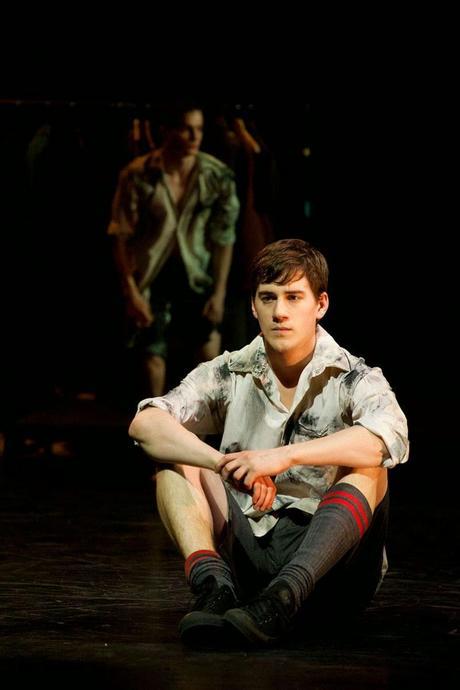 As well as taking classic dance and turning it completely on its head, Bourne has a knack for exploring stories that you wouldn't automatically associate with the potential for dance, and re imagining them as a new art form.  He did it with Edward Scissorhands and Dorian Grey and he has done it again with William Golding's classic novel, Lord of the Flies.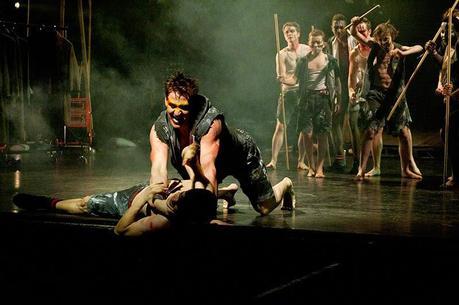 Lord of the Flies is unlike anything he has ever attempted before though, and that is down to the use of local boys alongside the main Company as the show tours.  In each new city, young boys and young men from local schools and colleges, some of whom have absolutely no previous dance experience, are put through their paces in a series of rigorous auditions and then rehearsals, ready for a week of performances in the local theater.  This means that every time the show enters a new city, the touring production must get to grips with about 20 new, highly excitable, faces every time.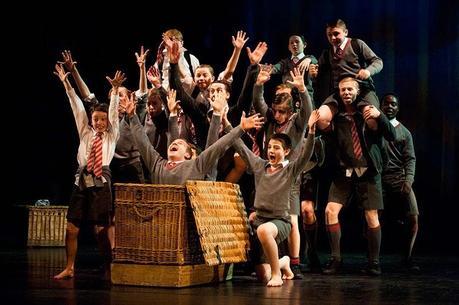 This is having the not unexpected side effect of introducing thousands of boys to a world that they may well have previously been alienated from.  Ask most young lads if they want to dance, and they are more than likely to turn their noses up at the idea, imagining pink tutu's and pigtails.  Lord of the Flies is anything but feminine.  It is dark, gritty, filthy and violent and you can tell that the boys are having the time of their life.  There is clearly a need for this type of role for men - over 600 boys auditioned for just 24 places in Manchester alone.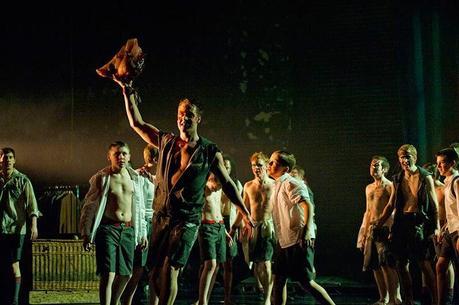 In interviews, Bourne notes that he selects his core dancers from the Company from members of the New Adventures who will be positive role models for the young men he has in his production.  They are dancers who will not only perform well on stage, but will inspire the young men he is bringing into the fold.  He is focused not on finding the next dance star, but on helping the young men become more rounded individuals.  It is clear that he is taking the wider implications of his work seriously, something that is likely born out of the origins of the show.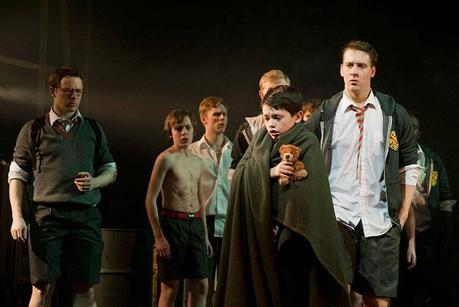 Lord of the Flies started life in Glasgow in 2011 when the New Adventures were asked to create something that would inspire boys who would normally have to be dragged kicking and screaming into a theater.  Lord of the Flies was the outcome of that initial idea, and after a successful residency in Scotland, the decision was taken to tour the show to three or four cities around the UK.  That tour, at last count, had 13 cities on the schedule.  That is quite an undertaking.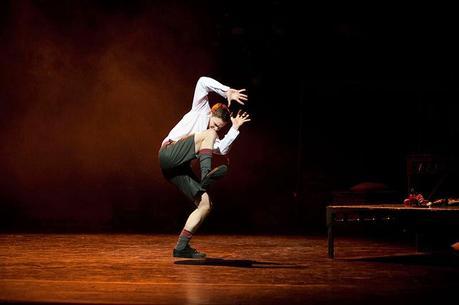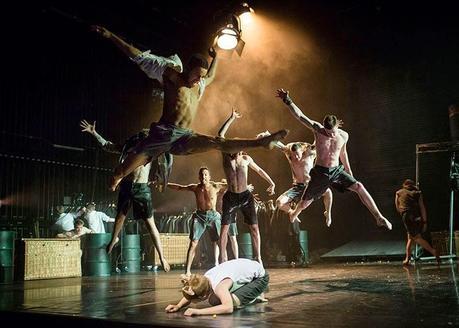 Choreographed by Olivier Award-nominated Scott Ambler, composed by Terry Davies and with an incredible set and costume design by Olivier Award-winner Lez Brotherston, Lord of the Flies is transported from a desert island to a deserted theater.  On a school-trip-gone-wrong, the boys are trapped inside whilst outside the theatre there is civil unrest, and the situation rapidly deteriorates as order is abandoned and chaos reigns.  The boys quickly descend into feral behaviour, tormenting each other, with as many as 32 on the stage at any one time.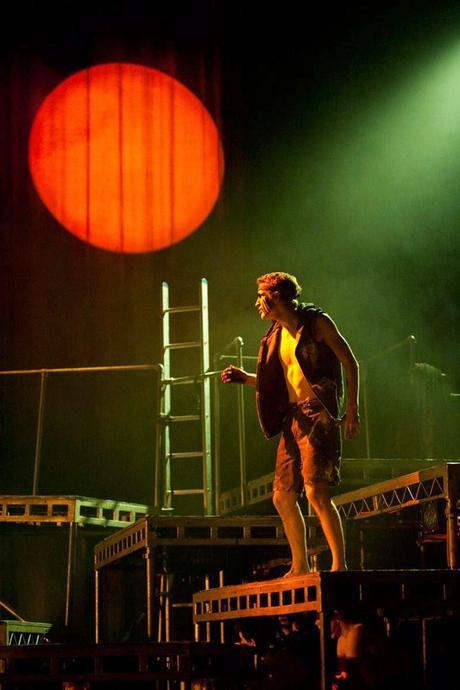 The set is industrial; steel girders, steel drums with fire blazing from the tops, ladders and metal shutters that are banged and rattled thunderously as a counterpoint to the action.  Everything is made of something that the boys can use to beat out their feverish rhythms.  The boys utilise every last piece of the set, swinging from the beams, stamping on the platforms and rolling on the drums.  They don't move slowly either - the movements are, for the most part, frenzied and frantic.  They take your breathe away.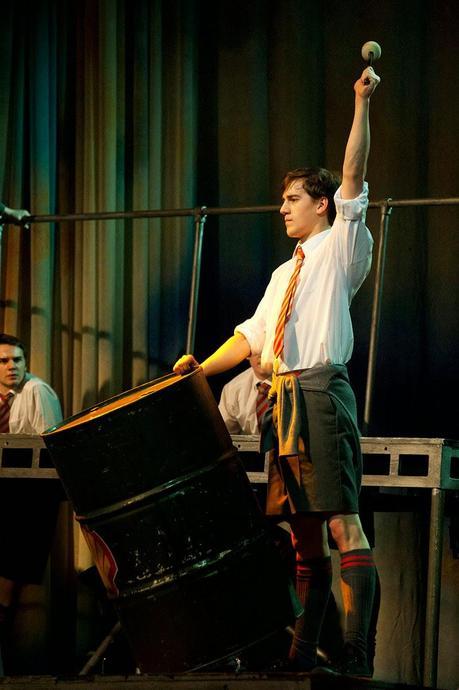 The storyline is very cleverly adapted from the book, with the raiding party heading out into the auditorium, passing up and down the aisles to fetch the boxes of crisps, ice cream and canned drinks that become their food supply.  The pilot becomes an ailing tramp that is living under the stage, terrifying the boys as they elevate him into a larger than life monster in their minds.  Costume rails and wicker baskets become hiding places, lights fall from the ceiling to tragic consequences.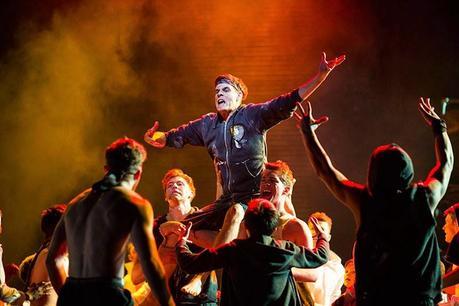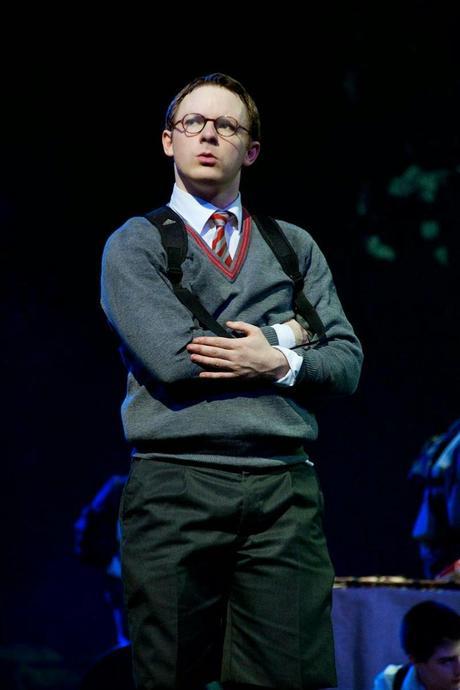 Bourne has admitted in interviews that he is acutely aware of the fact that the show is being performed by individuals, 50-75% of whom are not professional dancers, and yet the show wants to attract paying audiences who will expect to see a professional level performance.  He needn't have worried - the show is stupendous and the boys look as if they were dancing before they could walk.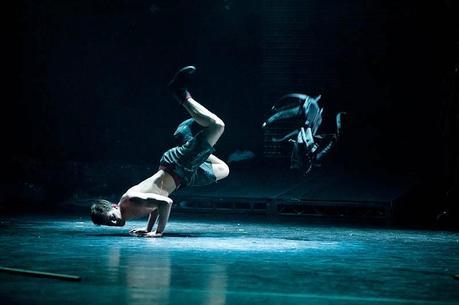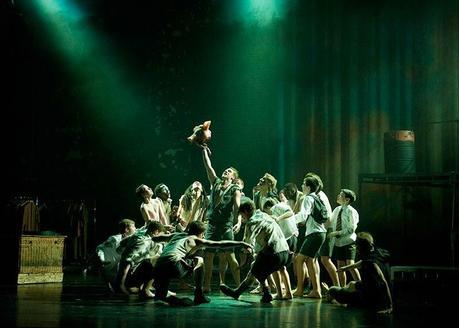 The production feels wild, threatening and untamed.  It's been years since I read the book, but from what I can remember of it, this is a fitting tribute to the classic dystopian story of societies collapse in the wake of no rules or regulations, of the emergence of savagery and primitive behavior over civilization.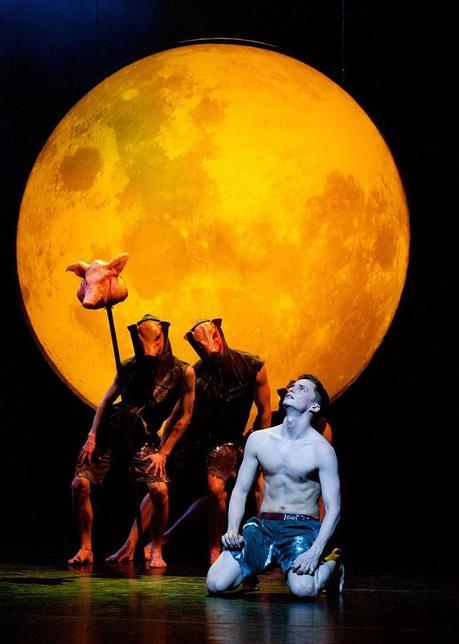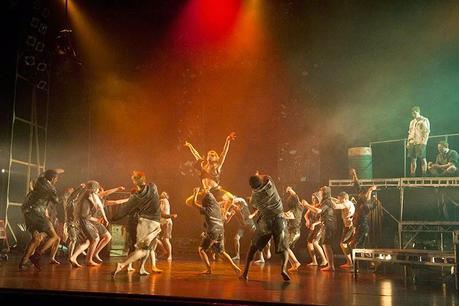 As the production wears on, the boys themselves become feral; marked with tribal paint and shredded clothes, moving through mist and smoke and beating out a rhythm with sticks.  The boys who reject this life, who keep their school uniforms on, who refuse to take part in the hunt or the frenetic group dancing become outcasts; spurned, scorned and later hunted.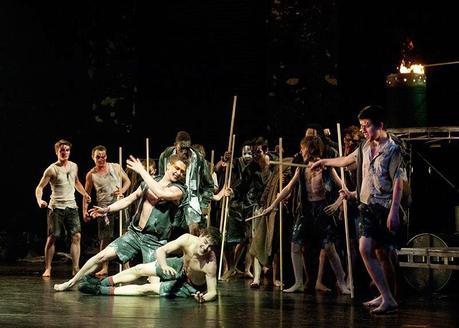 Each of the boys is responsible for their own back story and character development.  They are not just faceless, anonymous members of an ensemble - they each have character names in their own right and they are encouraged to explore this.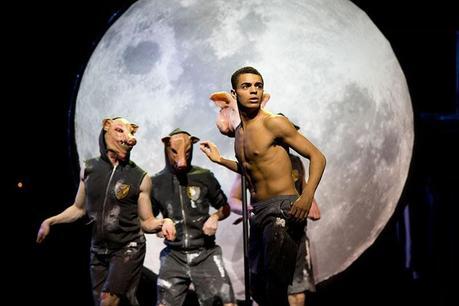 When the show comes to its climatic end, you leave the theater utterly breathless.  You are also surrounded by excited parents, friends and relatives clamouring to get the stage door to applaud the youngsters as they leave the theater on cloud nine.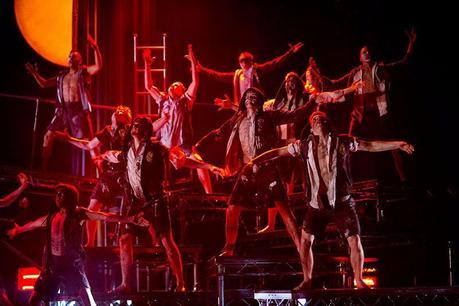 For a host of young men, Bourne has done more than just open a door to a world that they had never dreamed existed.  He has held it wide and allowed them to run, screaming in savage animalistic joy through it.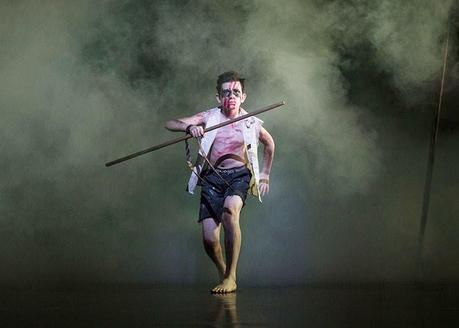 The tour finishes in early December 2014.  If you have the opportunity to visit it at a theater near you, please take it.  You won't be disappointed!
Photo's courtesy of new-adventures.net/lord-of-the-flies
If you like (or hate!) what you have read, please do let me know in the comments below or slap me with a

cheeky follow,

or say Hi to me on my

Facebook

group or

Twitter

or

Instagram

!