We've all been in a situation where we need to ask people to chip in for a group gift, perhaps for a baby shower or a colleagues leaving gift, and we all know how awkward it can be for everybody involved...but there may now be a way to make processes such as these a little bit easier.
Are you familiar with the concept of Money Pot Platforms? If not, read on...
A Money Pot Platform allows everyday people to pool and securely collect money from friends, relatives and coworkers for the purpose of gift giving, raising money for charities or personal projects. These could be for birthdays, baby Showers or retirement presents or maybe just a collective project or to put towards charitable causes. In situations such as these, Leetchi's free Money Pot Platform is the ideal tool for collecting and securely managing funds for the people involved.
During the recent YouGov survey, it emerged that 1 in 3 Brits agreed that money caused issues between their family and friends. Startlingly, 36% of people agreed that discussing money with their friends made them feel uncomfortable and 35% encountered difficulties when trying to collect money back after having loaned it to friends.
These days not everyone has family members close by, or even in the same country. Add to this that many of us work remotely and rarely if ever come face to face with coworkers even if you speak to them everyday. This can often make collecting funds and communication difficult, and discussing money with friends, family and coworkers can sometimes be awkward at the best of times. Too many friendships and families that had previously been rock solid have been destroyed by a simple lack of clear communication about money.
Creating a Money Pot via a platform such as Leetchi helps bypass the potential difficulties of chasing people for money, asking them to chip in and so on.
The process to create a Money Pot is free and couldn't be easier.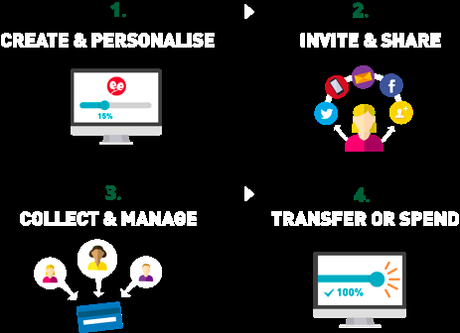 To create a pot, log on to Leechi.com and create virtual money pot with it's own name and reason for people to back it.
Then contact friends, family etc, and/or share it on social networks.
Once sent, funds can then be collected, accounted for and managed. It can however be very tempting to watch the funds grow on a daily basis as people become aware of the project and back it.
Once fully collected, a bank transfer can be requested, people can spend their funds online at Leetchi partner websites or the funds given directly to the chosen recipient be it a charity or individual.
Since being launched in 2009, Leetchi has become a leading European service. In 2015 Leetchi was acquired by French Bank Credit Mutual Arkea and has amassed more than 6 million users. Available in English, French, German and Spanish, people are now able to contribute to money pots from over 150 countries.
Leetchi also boasts lower fees than any other gift-giving platform. It is free to create a money pot and launch a campaign unlike current existing UK market based platforms. Add to this Leetchi.com's extensive list of partner websites means that funds can be spent with no additional fees. This makes the transition from 'project to purchase' process completely free...infact the only time you will pay is if you choose to withdraw the funds to a bank account, in which case there is a 4% service charge - but if you spend the funds with Leetchi partner websites it costs nothing at all.
So the next time you are about to undertake group gifting for a special occasion, consider Leetchi and their Money Pot service-It may just save you an awful lot of time and embarrassment!
To find out more, please visit Leetchi.com
If you enjoy my blog, please consider following me on Bloglovin'