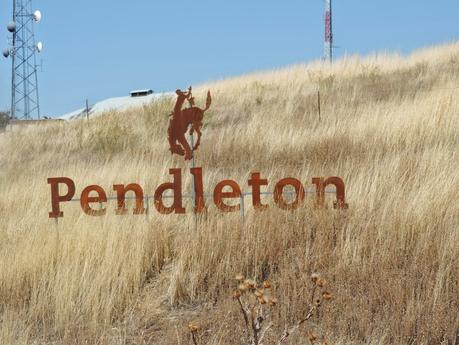 As Brady and I reflected on our weekend in Pendleton, we had a hallmark moment and realized something big - it is important to make time for memories. And this means making time for friends. We are so glad we made the trip to Pendleton for an incredible weekend with wonderful people and special occasions! It wasn't easy - Brady had an unexpected trip to Pendleton the very week of the wedding - he literally drove home from Pendleton on Friday, all to get me for a return trip on Saturday. For my part, I made arrangements with a babysitter, who is amazing in every way (thank you Terra!), so I could go with Brady for Clint and Beverly Corey's wedding and then Clint's induction into the Pendleton Hall of Fame. If you know me at all, then you know I live for my children and Brady, and it wasn't easy to leave them, even though I knew they were in good hands. Add to the mix the beginning of the school year, and I will admit I was doubting my decision to go with Brady. But I'm so glad I did! We had a wonderful time, which I will give you the highlights of below...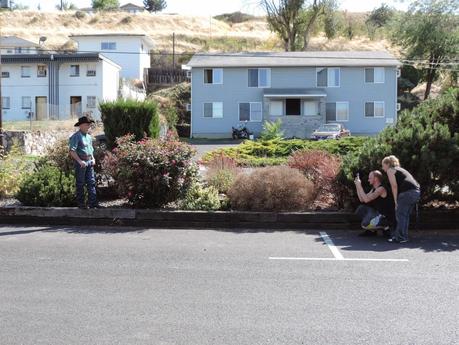 Right when we got to the motel, the owners of the establishment were taking Clint's picture. Brady offered to take a picture of all of them together. Clint said, "Thanks, Brady! Brady's an old picture taker from way back!" It was a fun moment and a perfect start to the weekend!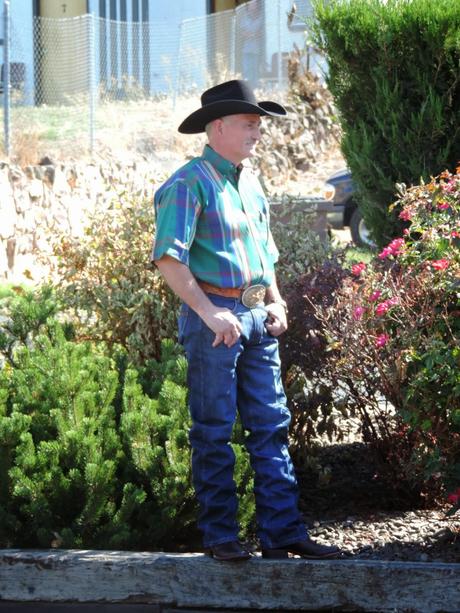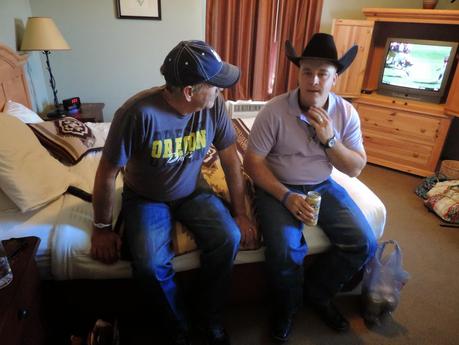 The next exciting thing for Brady and I was that I got to meet his buddy and co-worker, Brad Tucker! Brad is a fellow Montana Silversmiths Rep - he trained Brady and they became fast friends. The two of them have a blast together and talk on the phone nearly every single day. It was fun for me to experience him in real life, even though I felt like I already knew him. They are both super salesmen and kindred spirits!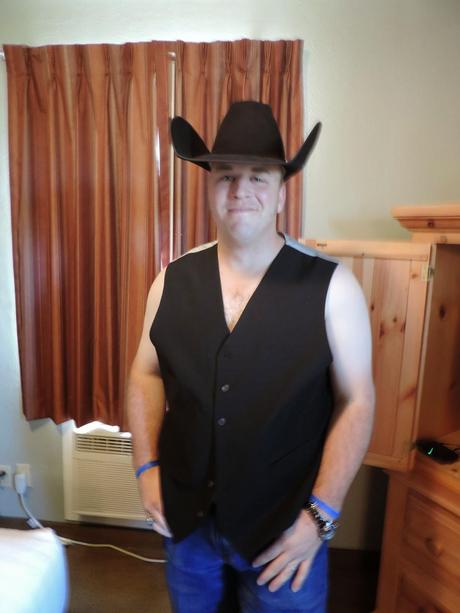 Some of the male guests were asked to wear white shirts and black vests to the wedding. We picked Brad's vest up for him, and he and Brady looked dapper in their matching wedding finery. But first, Brad hammed it up for his wife, who also came on the trip and it was super fun to meet her, as well. He donned his vest without the shirt, all for her benefit.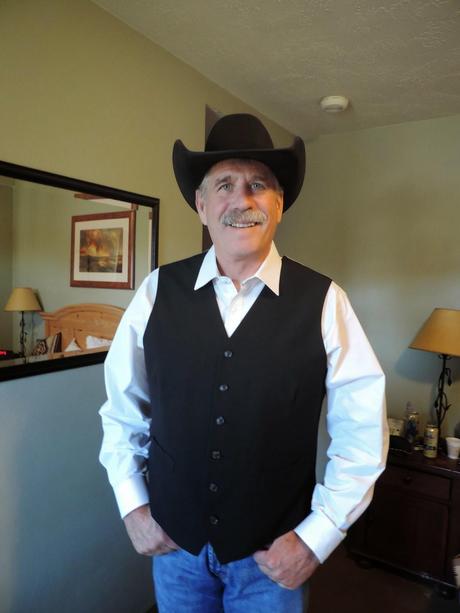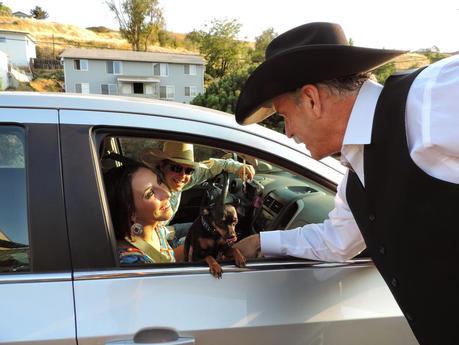 Just as we were leaving the motel for the wedding, we ran into Joe and Bailey, Clint's daughter, and newlyweds themselves. You may remember their ceremony from earlier in the summer - I am still talking about their wedding! It was wonderful to see them and to hang out with them at her dad's wedding. They are so cute!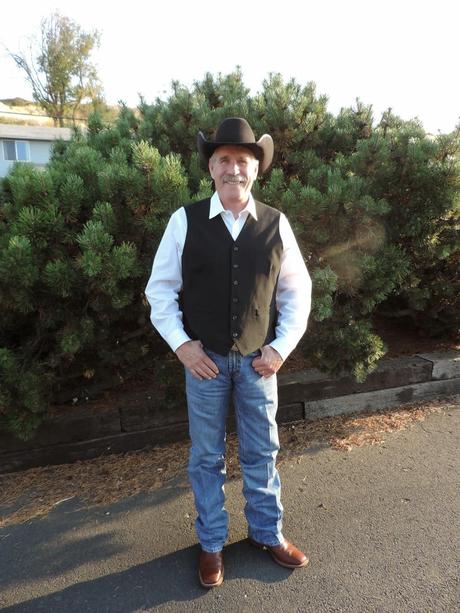 Have you noticed anything special about Brady? NO CRUTCHES! He has been hobbling around crutch-free for just over a week, now! He has quite a limp, and he doesn't move very fast, but it is so nice for him to be able to walk around a bit. Walking is a blessing!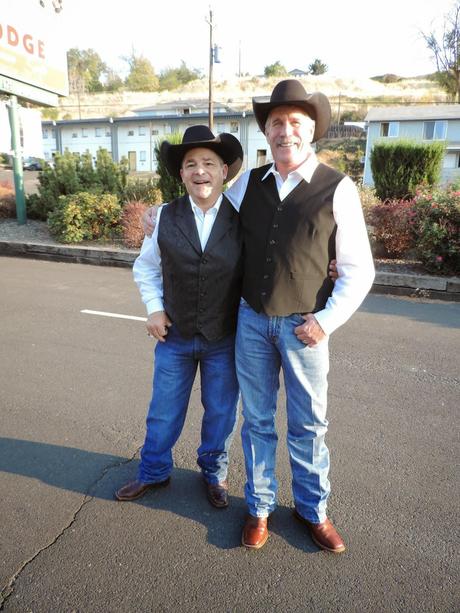 Brady and Mark Garrett, another PRCA World Champion! These two became fast friends last spring when they helped Clint move to Colorado. They were so happy to see each other again!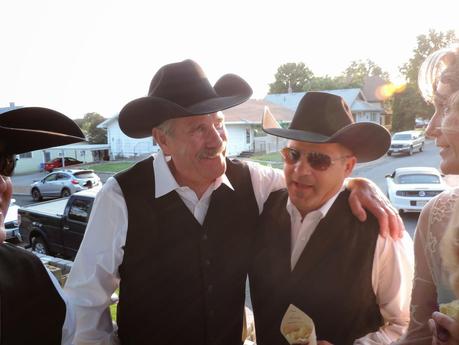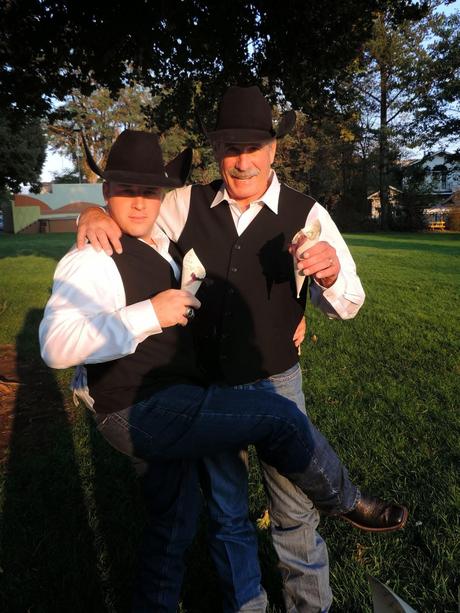 Mr. Montana and Mr. Silversmiths. Brad forgot about Brady's leg and nearly took him down a mere second after the moment captured above. He's a rowdy one, that Brad Tucker! And we love him - he fits right in with our style.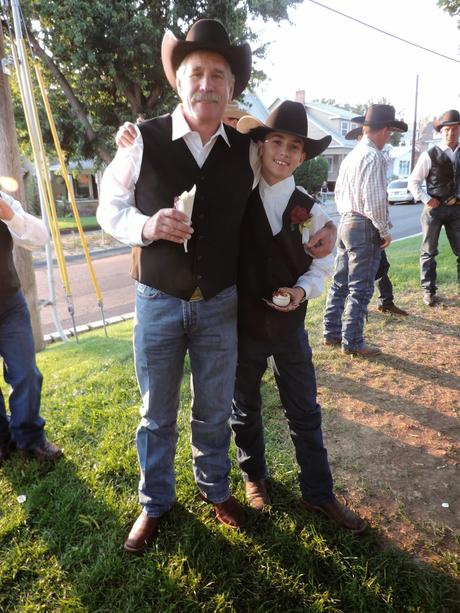 Brady and Zane, Clint's youngest son. He was such a star at this wedding! He took care of all the music, and did it well.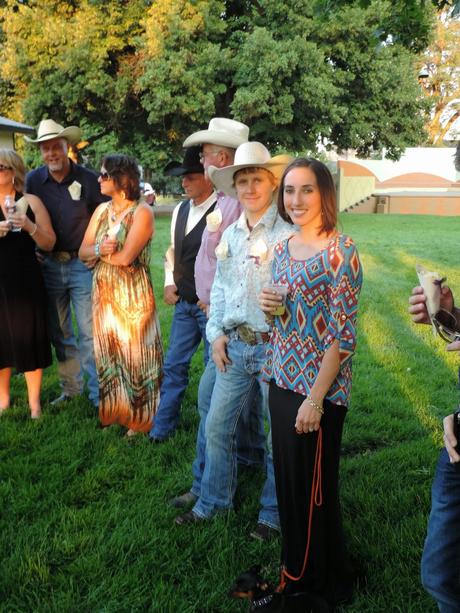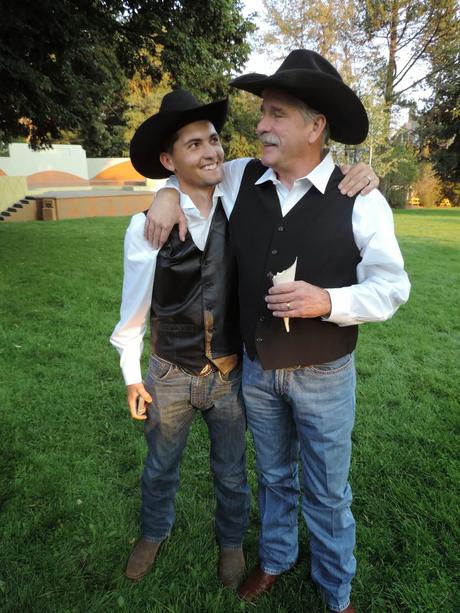 Brady and Clint's oldest son, Blaine. He was recently married, as well! Newlyweds everywhere! We love Blaine and are so glad we got to see him.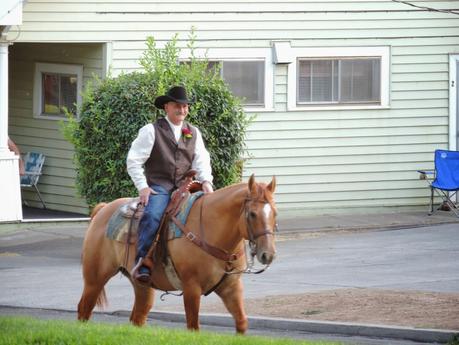 Yes, he arrived at the wedding horseback! And Beverly arrived in a fancy old car - 1920's meets Tombstone. It was darling! Hence, all the fine fellows in their white shirts and black vests. Beverly was a stunning bride!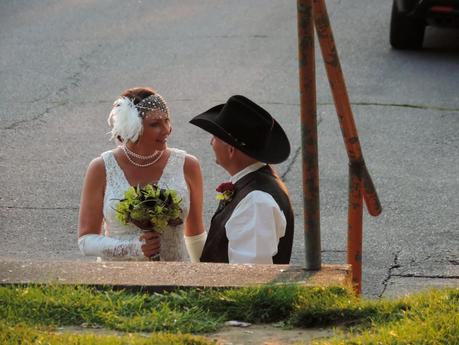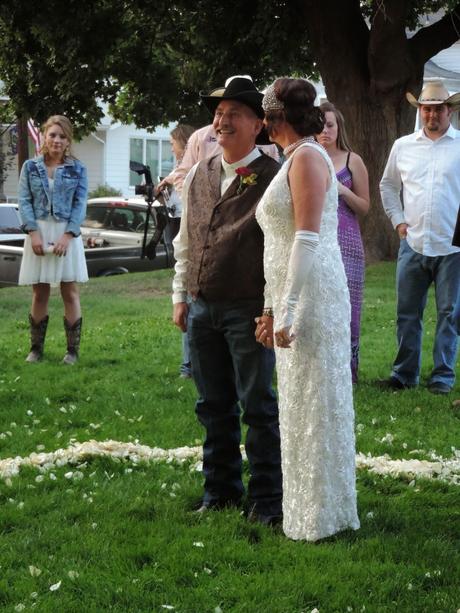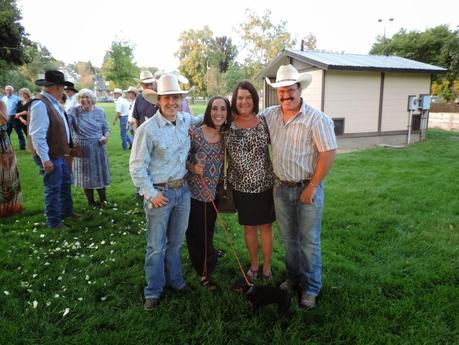 Bailey and Joe with the Talburts, Jack and Kerri Jo! We had so much fun with them at the reception - we all got to sit together. It was a darn good time - lots of laughter! I think we had the happiest and rowdiest table there...!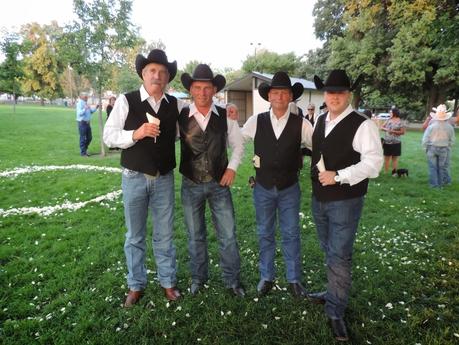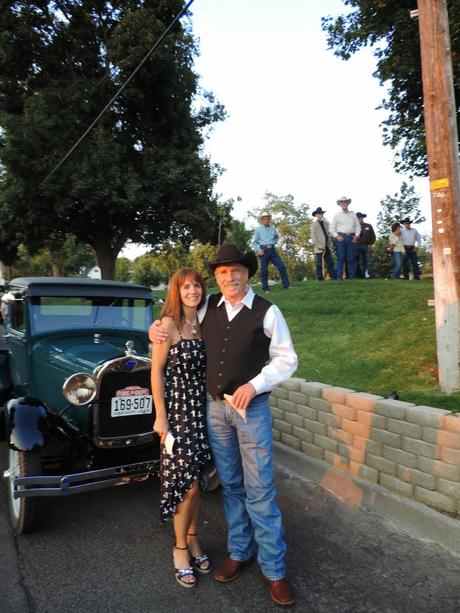 You can see the car Beverly arrived in behind us... So much fun!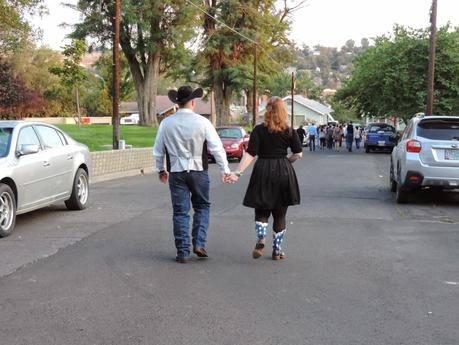 Everyone followed the bride and groom down the street with a live marching band, playing "When the Saints Go Marching In." Brady and his wife, Meredith, were a bit behind, but I got this super cool shot of them. Brady and I drove to the reception, since he isn't fully recovered from his broken leg, yet.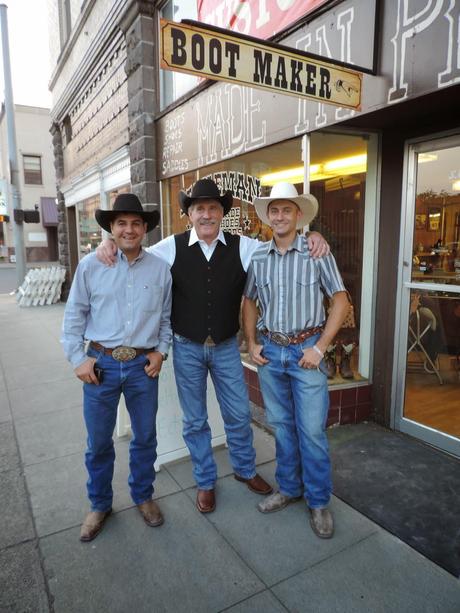 We ran into these two fine fellows on our way to the reception - their boot shop is directly across the street from Hamleys! Joe Meling and ? They have a wonderful new shop!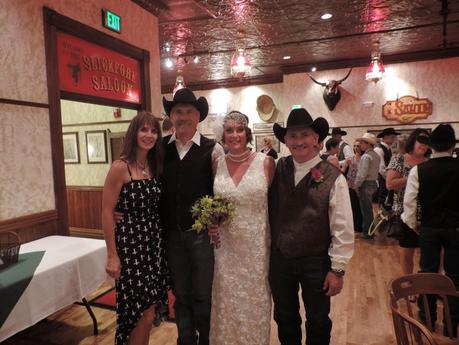 And here we are, with the newlyweds! So much fun!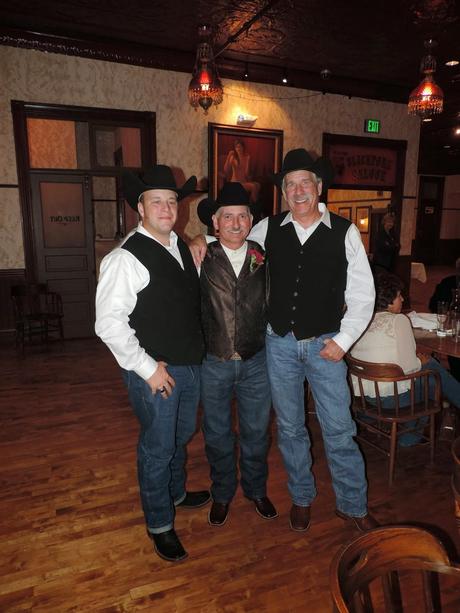 The three amigos - Clint and Brad met when he worked for Montana Silversmiths. They are a dapper looking trio, aren't they? Montana Silversmiths knows how to pick their reps! Love them all!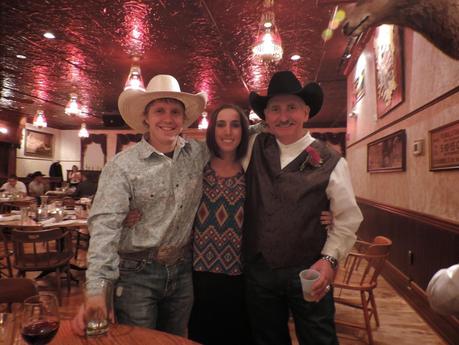 The newlyweds with the newlywed!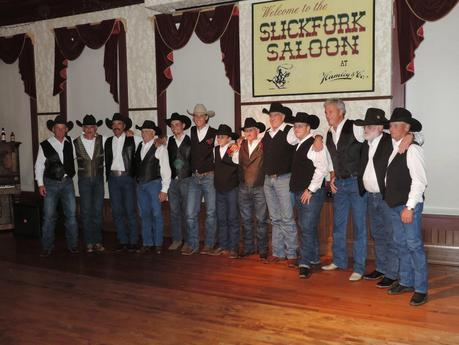 Here is a great picture of all the guys in their Tombstone attire. So cool!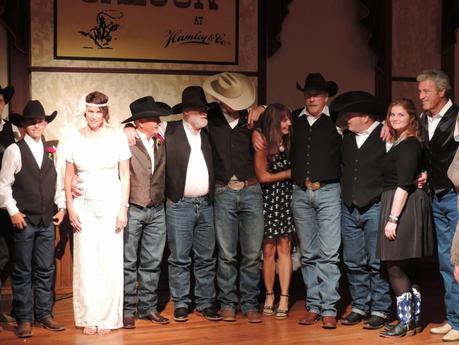 And a fun candid of them with their wives (thank you Kerri Jo for taking this picture for us!).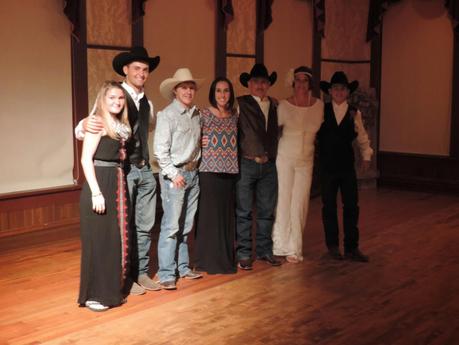 Clint and his family...Theada, Blaine, Joe, Bailey, Clint, Beverly and Zane.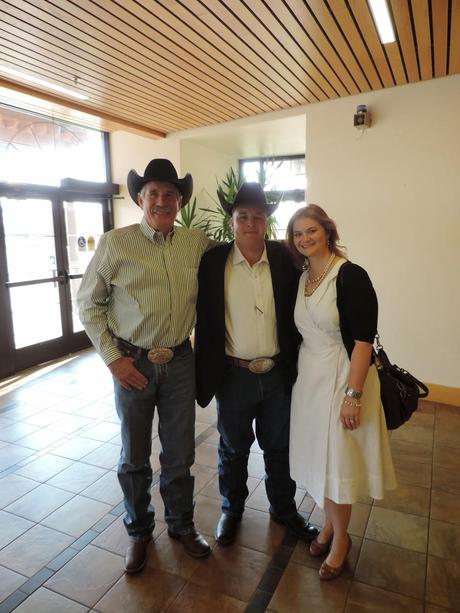 And then it was the next day! Clint was inducted into the Pendleton Hall of Fame, and we were so honored to attend his induction ceremony. It was wonderful! Above, Brady, Brad and his wife, Meredith. They were just married last October, so they are newlyweds, also! It was so fun to spend some time with them.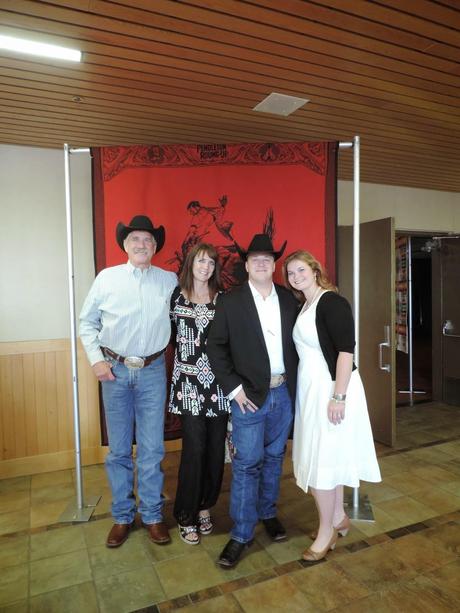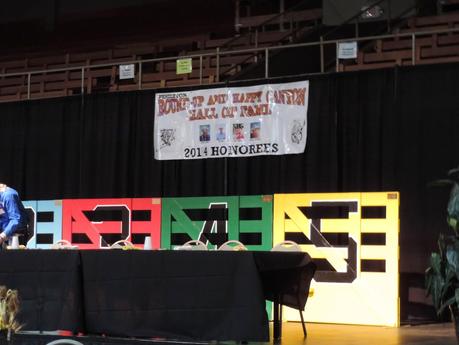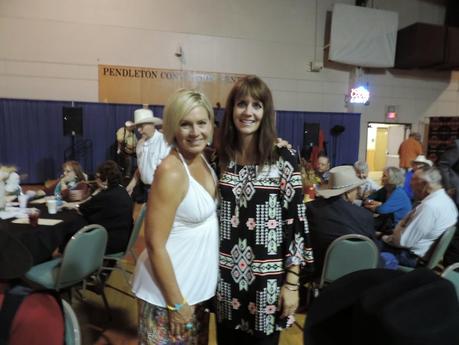 Look who I got to meet! This is Kimberly Maus, and she is an anchor for Good Morning Oregon! She is married to one of Clint's best friends, and after I found out she was a news lady, I approached her to see if she new one of my dear friends who is on the news in Eugene. Then we started talking, and I fell right in love with her! She is my kind of gal. And she's super pretty, too!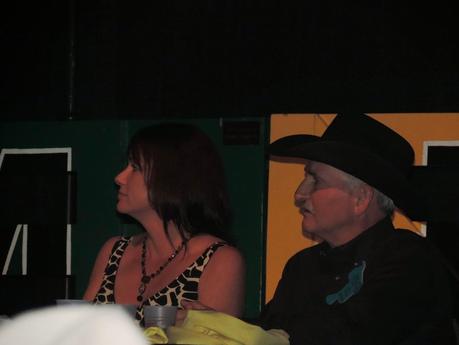 Clint and Beverly at their table (see above for a brighter picture of the stage). It was such an honor to see him inducted. Flint Rasmussen was the emcee, and he did an amazing job. The food was delicious! Another fun memory for the books - we are so grateful we were able to attend this special weekend of celebrations. Clint is one of Brady's dearest friends, and we were thrilled to be able to experience the weekend with everyone. And the moral of the story? Don't let everyday life get in the way of the special occasions - make time for making memories.