New Orleans, the place to be every Mardi Gras, and celebrations have already been happening throughout this iconic city, but, for those of us that might not be able to get there, a few other cities that go all out for Mardi Gras:
San Diego: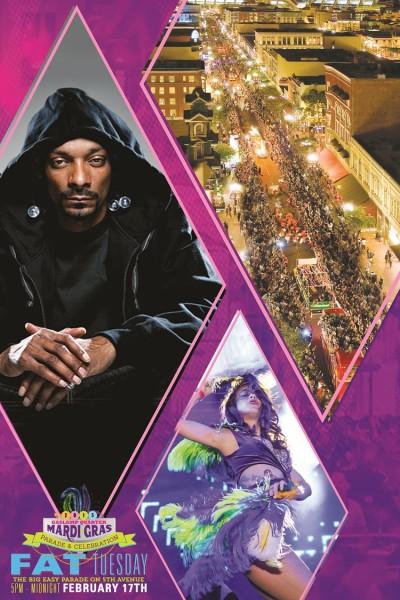 For those of us in California, the easiest trek is heading down to San Diego where the Fat Tuesday celebrations are gaining in popularity as the Gaslamp Quarter is overtaken by festivities from 5pm to Midnight on Tuesday, February 17th.  40 Dollars General Admission at the Door. VIP Tickets: 120 Dollars at the Door.
Entertainment of over 20 performers are taking place this Tuesday night including a DJ set by Snoopadelic! And of course, it's not Fat Tuesday without a parade to boot… as they like to introduce it: The Gaslamp Quarter Mardi Gras parade is back! At the top of 5th Avenue and E Street the Mardi Gras parade begins to erupt in sound and visual splendor lead by multiple music groups, roving performers, the Grand Marshall and extravagant floats that will consist of over a hundred people. The parade will roll at 9:00 PM to hype up the crowd for the floats and to tie in a traditional New Orleans parade performance staple.

Everything's bigger in Texas, and of course, no surprise that there's a fun Mardi Gras celebration happening there, as well.
Celebrations began Feburary 6th and will continue throughout Tuesday evening with entertainment, parades, and over 3 Million Beads being tossed out.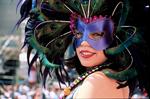 Photo Credit: Lee Deforke Jr.
Tuesday Night Parade: 6:30pm: Mystic Krewe of Aquarius 19th Annual Fat Tuesday
One of the island's most popular parades. In the final hours of Mardi Gras this special event will feature the 10 lighted Aquarius floats plus  entries from Knights of Momus, Krewe of Gambrinus, Krewe Babalu, Z Krewe, Krewe of Thalasar. Lighthouse Krewe and many others.
The parade will also feature 8 marching bands. Come and enjoy this great event.
Lake Charles, Louisiana:
New Orleans isn't the only part of Louisiana that goes all out for Mardi Gras.  Welcome to Lake Charles!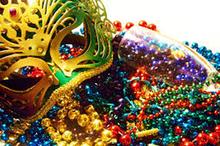 Photo Credit: Lindseyjanies.com
The Lake Charles Mardi Gras celebration is unique in that it is the only place in Louisiana where the public is invited to see the costumes of the all the krewes in one place, at the Lake Charles Civic Center. Lake Charles is also home to The Imperial Calcasieu Museum, the largest Mardi Gras museum in the United States, which tells the global history of the celebration, along with the best recipes for King Cake and showcases 1,000 costumes.  Mardi Gras runs until February 17th in Lake Charles and regularly draws 150,000 people. ~Hotels.Com

The best part of this area is the genuine feel that comes with it, and an entire day dedicated just for children and families which was today (Sunday, February 15.) It's been so fun following the photos today.
Mobile, Alabama:
Widely recognized as the birthplace of Mardi Gras in the United States, the bonne temps have been rolling in Mobile since 1703. These authentic celebrations revolve around mystic societies and exciting private social organizations. Today, nearly four dozen parades in less than two weeks celebrate that legacy. The events in Mobile began on February 1st and will continue until February 17th. ~Hotels.Com
Pensacola, Florida:
The annual Pensacola celebration is among the oldest in the United States, dating back to 1874. Parades are on the evening of February 13th ("Krewe of Lafitte"), February 14th in the afternoon (the " Pensacola Grand Mardi Gras Parade "), and on Sunday the 15th ("Krewe of Wrecks") on Pensacola Beach.
The parade has over 6,000 people participating in the parade and over 100,000 watching it happen.
St. Louis, Missouri:
And for your Midwesterners, have no fear, make the trek down to St. Louis for weeks of Mardi Gras festivities.
Celebrating 250 years since the French founded this city just upriver from N'awlins, St. Louis is home to the second biggest celebration in the United States. The Soulard district is ground zero for more than a month of activities, including a Taste of Soulard restaurant crawl on Feb. 7th and 8th. Pet parades on Feb. 8th crown the family friendly events and transmit the enthusiasm of this celebration to the new generation.
Mike Mike Mike, it's Mardi Gras Season! #FamilyWinterCarnival #Stlmg

A photo posted by St. Louis Mardi Gras (@stlmardigras) on Jan 24, 2015 at 10:18am PST
Photo Credit: Stlmardigras on Instagram
The celebration begins on Feb. 7 and goes until the 17th. The event sometimes attracts hundreds of thousands of revelers. Previous years saw crowds of 200,000–250,000 attendees.
After writing this, it only makes me realize how much I want to be partaking this Tuesday night. Do you have any Fat Tuesday traditions? Have you been to a Mardi Gras celebration before? Share below.