Welcome to Material Mondays, my weekly fabric and mixed media art materials session where we tak a look at some fabric projects, techniques and have fun playing with fabric. This week I show you what is in my travel kit.

I have a felted piece of material that houses my needles and pins and a selection of embroidery thread in different colors depending on the project that I am working on and some standard ones.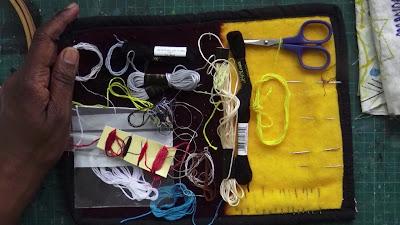 I also travel with an embroidery hoop and a piece of heavy cotton that I have written several encouraging words on. When I travelled this time, I hadn't wanted to take a lot of supplies and found the words on the fabric ideal, as I could not only stitch, but I was continuing to reflect on the encouraging words as I was stitching.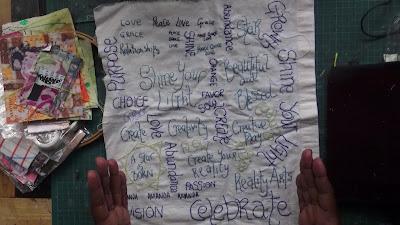 I also have a series of fabrics of different stages, some have been wax resisted and dyed or painted, it is great having these small pieces to collage together and add stitching when the mood takes me.
Check out the accompanying video to see the travel it up close and you can check out the previous Material Monday Episodes HERE

I am also taking part in the Ultimate Blog Challenge and you can check out previous posts below
Day 1 - What are you Doing with your life?
Day 2 - Coles Adventure and the Case of the Rogue House Sitter