I have come to the conclusion that I really enjoy using different mediums in my work, and this has come over the years of experimenting, trying different things.  Creating using fabric, and decorating using the sewing machine and then embellishing is not only a fulfilling activity, bring joy, and excitement at using the different materials, it is also a relaxing activity with the different types of activity that you have to do.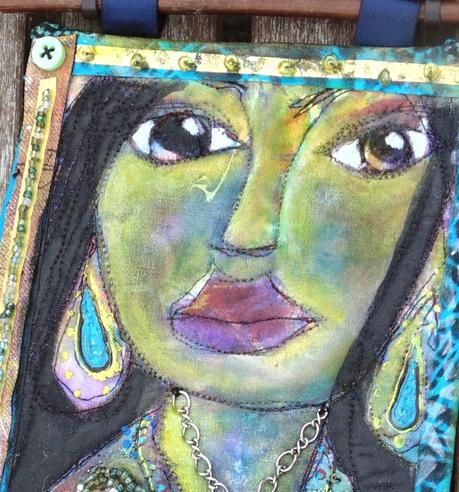 Each activity in itself has its own rhythm, when I am adding the paint to the fabric there is some freedom and abandonment as you let the pain, colours, textures, stamps and stencils meet together on the fabric, and from that I allow the images to form.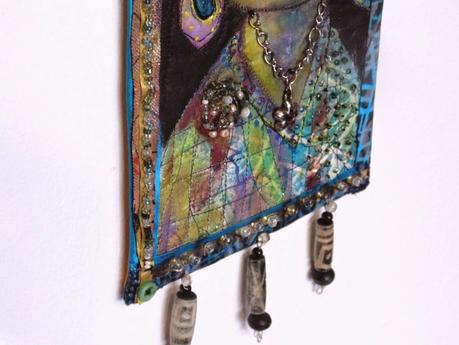 I have been using the sewing machine as a drawing tool as well, defining the images.  There is a rhythm in the sound of the machine as you allow it to play with the fabric, joining the stitches and bring order to the piece.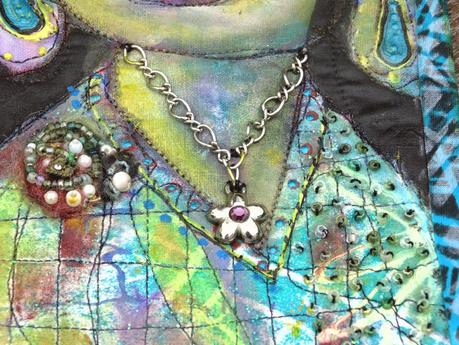 Once this is done, I enjoy looking for the right embellishments, and jewelry that will complete the piece, and not only raid my own supplies, but go to the charity shop and see what jewelry that I can pick up that can be added.  This part of the process gets you to slow down, each bead threaded by hand, and combining the beads to attach to the piece takes time.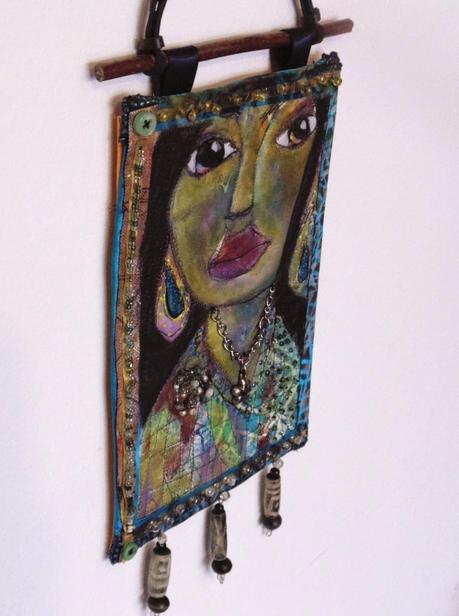 This art panel combines some of my favorite colours, mainly the light blue, and picks up some of the pinks and yellows within.  The clear beads also have a hint of blue and green in them and this brings balance to the whole piece.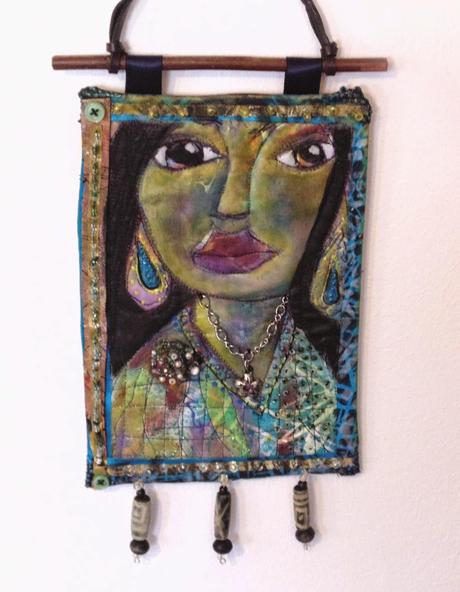 I really enjoyed creating this fabric art panel and finishing it off with a willow stick and faux leather string. I will be putting this up for sale soon in my Etsy store and on my website. 
Every Monday I share a project that involves either working with Fabric, Jewelry, Crochet, Knitting and much more!  If you want to learn how to crochet or work with fabric, jewelry and a number of other courses, then check out Craftsy. 

Craftsy
 For all new subscribers they have a selection of free online classes, and are always running a special offer on some of their fee paid classes.