As someone who gets more excited about castles and history than a child does on Christmas day, being invited to stay over at Warwick Castle with my family this week made my year! They invited us along to stay in their BRAND NEW for 2018 Kings Luxury medieval glamping tents in their Knights Village that will be opening at the end of June. If you haven't heard of glamping then it is glamorous camping - great for people like me who want to experience the fun of camping but with a touch of luxury.
With our stay in the new glamping tents we also had two days entry into Warwick Castle and so we arrived just after lunchtime on our first day and managed to fit in absolutely loads. I'm going to share some of our highlights below, but before I do I'm going to talk a bit about the new glamping tents and our experience of Medieval glamping in the grounds of Warwick Castle!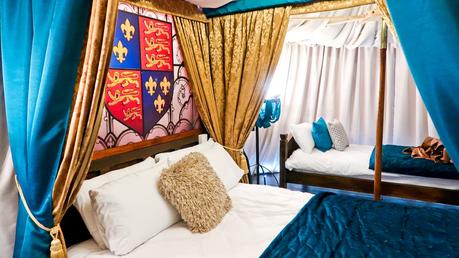 The new glamping tents are located in Warwick Castle's Knights Village area close by to their Woodland Lodges. You can park not too far away, right by the Knights Village reception and from the car park and the reception it's about a five-minute walk. From reception you can pick up your parking token to get out of the car park, your key for the padlock on your tent and your park tickets and map.
Thre are two types of glamping tents, the Kings Luxury tent and the Warwick tent and we stayed in a Kings Luxury tent which was located in such a lovely spot overlooking the river and a grass area.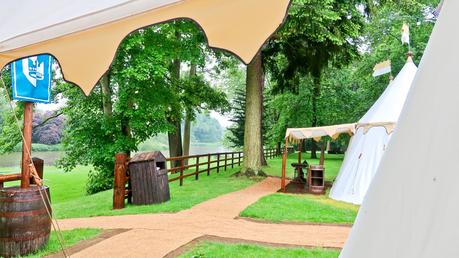 From the outside I think that the tents appear smaller than you'd probably expect, especially when you know how much they are supposed to fit inside. But as soon as you step inside it becomes obvious just how much space there is.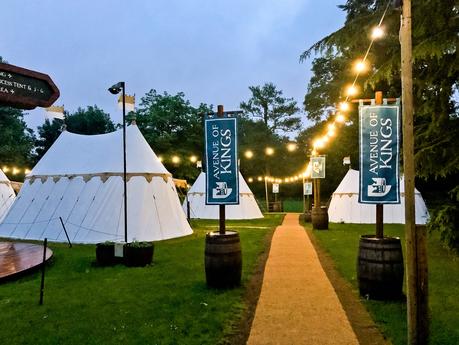 The tent we were in had a superb medieval-themed 4-poster bed inside as well as two single beds either side with space between the beds to walk and store things. Everything was fully set up and as well as the beds and the bed linen, it featured wooden flooring, a char, a large oak storage chest, a large mirror as well as being fully lit with 2 power sockets. We also had rugs inside our tent and towels and free WIFI. Outside the tent there is space to sit down and look out to the river, there's also a chessboard table and a barrel to store your drink and snacks on. My husband also accidentally stumbled across hidden color changing lighting on the backboard of the main bed which was a great little touch. So if you can wanted to, you could have your own tent disco!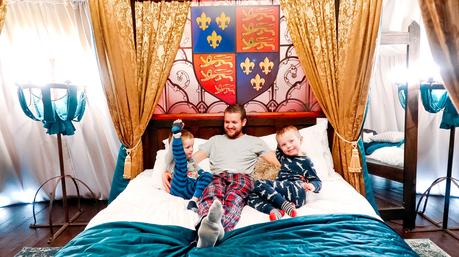 About a minute's walk away there are shared on-site toilets and heated showers with toilet paper and hand wash and the outside is (rather prettily) lit so you don't need to stumble around at night trying to get to the toilet.
As the temperature dips at night it can get a bit cold but the duvets are really thick and warm. I felt very snuggled and cosy in our bed, especially as it was raining quite heavily and we could hear the rain hitting the tent which felt really relaxing. Our bed was really comfortable and lots of pillows were provided so we all had a lovely nights sleep (after the boys finally fell asleep with all the excitement!).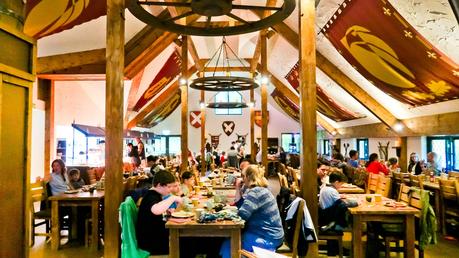 A buffet-style breakfast is served in the Medieval dinner hall (which again is themed so well). There's plenty to choose from with both continental and cooked traditional breakfasts on offer. It was also great to find that vegetarian sausages were being served alongside the meat style sausages for us non-meat eaters.
Medieval-themed glamping in the grounds of Warwick Castle with my family was such a unique experience and I know that my boys (aged 5 and nearly 3) found the whole thing really exciting. It was such a fun experience for us as adults, so I can only imagine how magical it must have been for my children to glamp in a medieval-themed tent not far from what is such a stunning and impressive medieval castle.
Top tips!
- Watch the weather forecast - As lovely as it was to feel so relaxed listening to the rain hitting the tent at night, it also would have been lovely to enjoy sitting outside our tent taking in the river view and watching the ducks go by. Unfortunately, it was too wet for us to do that.- Look out for members of staff around the Knights Village offering archery and sword fighting lessons. We'd already paid to do this at the castle, but I walked past children being shown how to do archery on our way back from breakfast on our second day. I think it's included in your stay. So it's worth asking about this at reception.- You can book to eat dinner in the Medieval dinner hall if you wish to. We visited a nearby Pizza Express ourselves as we had vouchers, but I asked about the children's options and the told me that the chefs are happy to cook up vegetarian Quorn nuggets and vegetable fingers for vegetarian children if needed.- Bring your wellies/boots if it's forecasted to rain, we had a sunny first day and a wet second day and because I packed light I forgot to bring wellies and boots so we got very wet!- Pack warm jumpers/pyjamas for the evening when the temperature dips. My Husband and my Son didn't feel cold at all, but I have bad circulation so I feel the cold very easily and should have brought a thicker jumper for the evening.- When we were there a knight visited the reception and dining area, you can catch him around 7.30pm I believe, the children seemed to love chatting with him and he was very friendly.- Bays 8 and 9 in the car park are the closest to the Knights Village.- Don't forget to pick up a free token from reception when checking out to let you out of the car park.
Warwick Castle highlights 
Warwick Castle itself has so much to see and do. There are fantastic shows on throughout the day, stunning grounds to explore, the incredible staterooms to see, castle walls to climb and lots more including one of my favorite highlights - The Wars Of The Roses Live jousting show (more on that below). Here are some of our personal highlights and moments from our trip.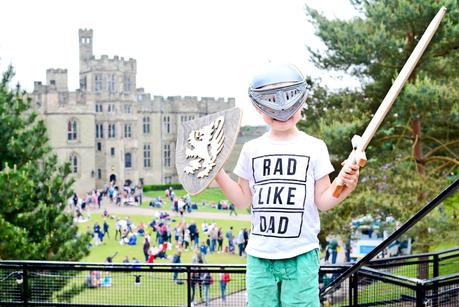 The Chapel, Great Hall, State Rooms and The Royal Weekend Party
If the outside of the castle wasn't magnificent enough, behind the castle walls are some of the grandest interiors. We spent ages trying to soak it all in, it really is impressive! I love the additional touch of all of the models based on real-life people in most of the rooms, it really brings the castle to life!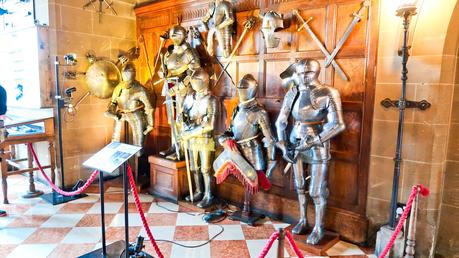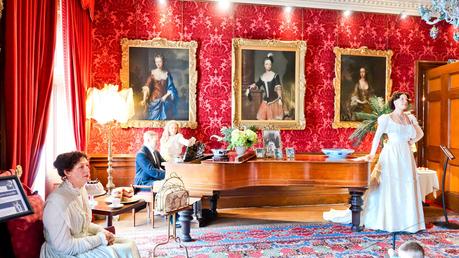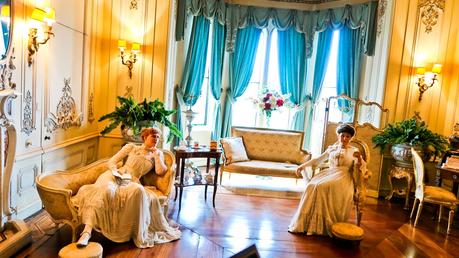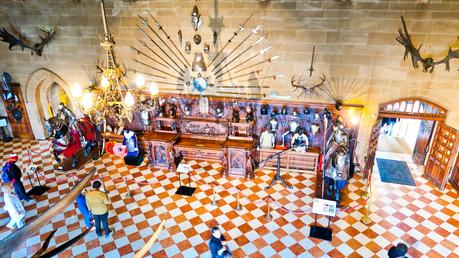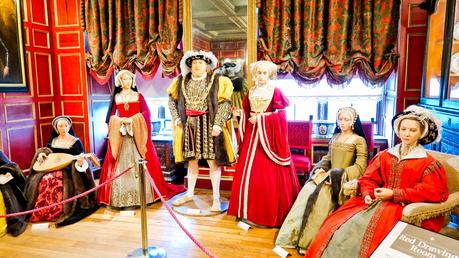 My excitment levels when I saw these figures of Henry VIII and his six wives went through the roof! ;) It's so nice to see not only a model of Henry VIII here, but with each of his six wives too!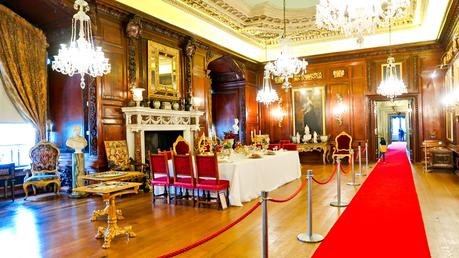 Does it get any more grand than this!?
Archery and sword-fighting 
If you want to you can pay extra to have a go at archery or sword-fighting. We paid £5 for 12 arrows and it was so worth it, mostly because the member of staff helping both Ethan and I was absolutely brilliant. He really made us both laugh and we had such a fun experience!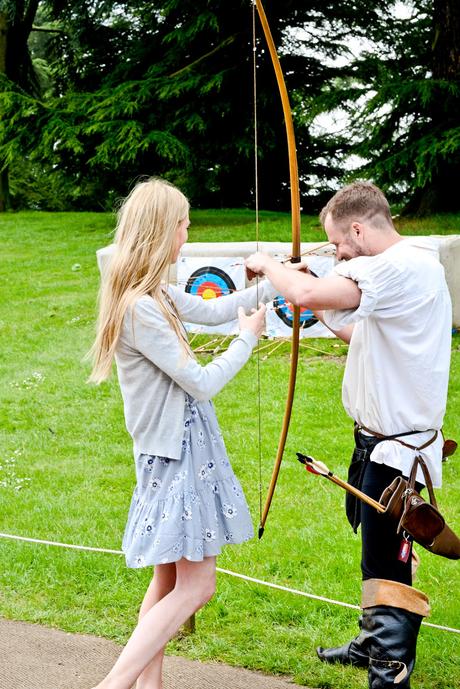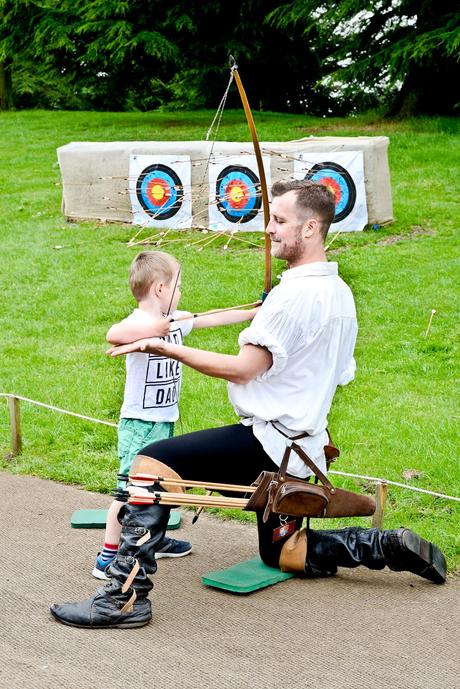 Climbing the castle walls
Climbing castle walls is something you won't ever find me doing, despite my love for castles and old historic buildings. My fear of heights always holds me back but my Husband and my eldest Son had a lovely time climbing all of the steps and taking in the views from the very top of Warwick Castle. My Husband forgot to take a photo of the view, but you can see how high it is in the video we've shared below.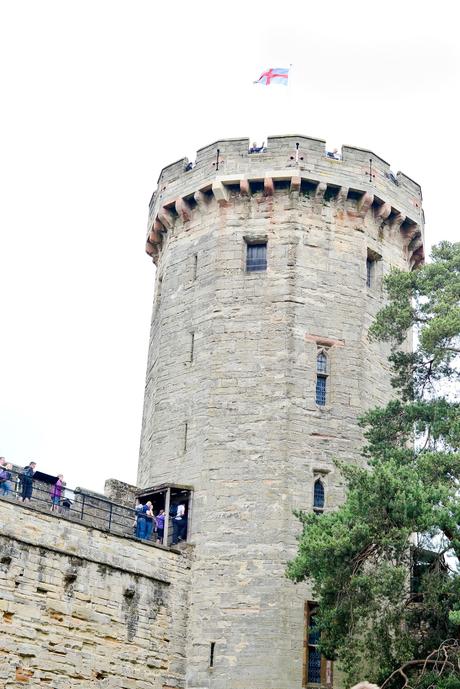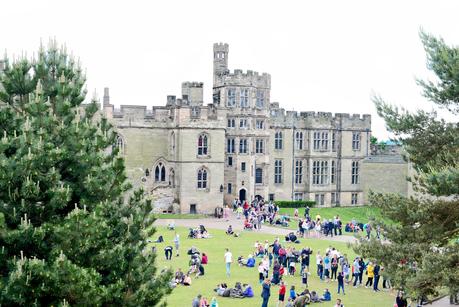 The Wars Of The Roses Live 
The Wars Of The Roses Live is a jousting show not to miss! It is included in your general admission, so there's no extra charge to watch it. My advice is to head over to it half an hour before it due to begin to get a good view as it is very popular. On arrival you choose your side quite literally, picking either to choose the red side (House of Lancaster) or the white side (Houe of York). The show takes you back to 1455 and tells the tale of the Wars Of The Roses and how the Tudors came to be (which obviously for me as such a big Tudor fan was SUPER exciting!). The show features sword battles, jousting, real doves and more (I don't want to give away too much). But quite honestly - it's spectacular to watch and I can't tell you how good it is to see females take part in this show in strong roles, one as a jouster who plays 

Margaret of Anjou, wife of Henry VI. 
The Wars of the Roses Live runs twice daily until Sunday 3rd June, twice daily on weekends in June and July, before twice daily every day again during summer school holidays.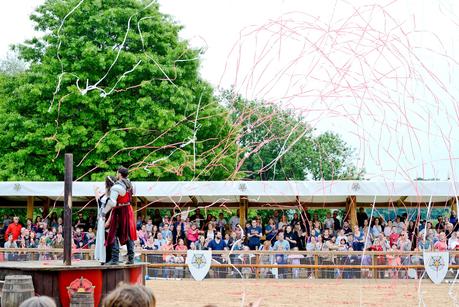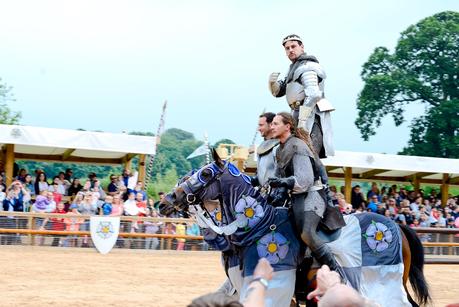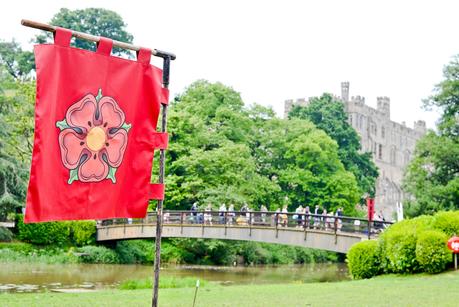 Trebuchet 
After The Wars Of The Roses Live we watched the lafgest siege machine in the world in action. It's definitily worth seeing this being fired if you can.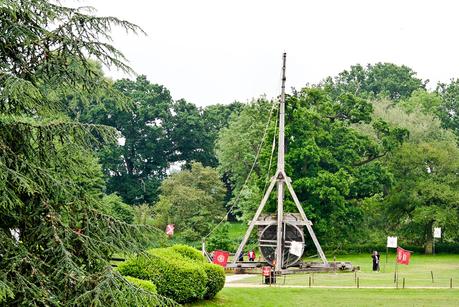 Other activities and shows
There are so many more activities and shows going on at Warwick Castle as well as what I've mentioned here. There's the Castle Dungeon whcih features live actors (though this is charged on top of your admission ticket price). There's the Princess Tower whcih is great for kids (pick up your free timed ticket beforehand). There's a Horrible Histories Maze which is really fun for the children. There's Kingmaker which is a walk around and is based around Richard Neville, 16th Earl Of Warwick. There's also the Time Tower, whcih unfortunately we never made it too, but will definitly need to check out next time). And then there are the 64 acres of gardens which are beautifully landscaped (this is also where you'll spot lots of peacocks!). And also don't forget to head down to the side of the castle to see the Mill and old water pumps. 
In terms of other shows I haven't yet mentoned don't miss the Flight of the Eagles birds of prey display, there's also bowman shows and history team tours and also the Knights School which is a must-do and see for children.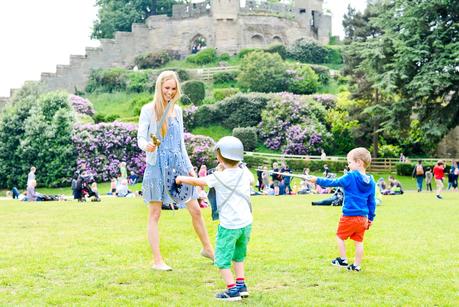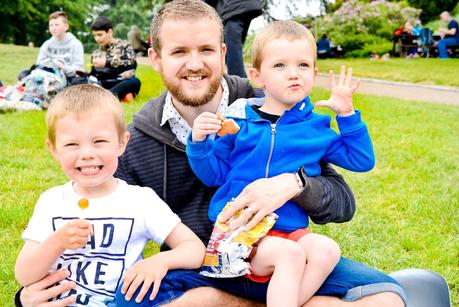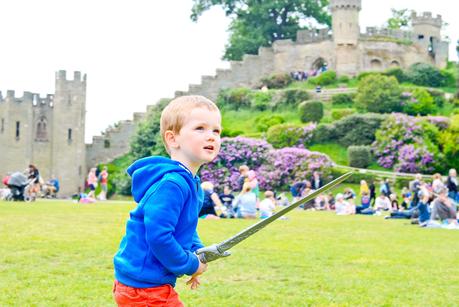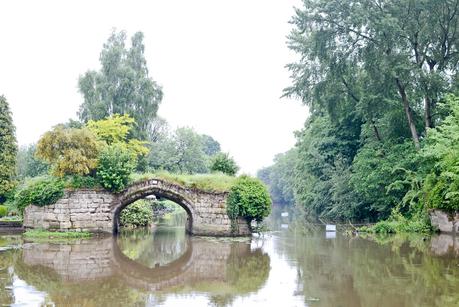 Additional Information
Bookings for day tickets and short breaks at www.warwick-castle.com
Day tickets from £18 per person (when booking min 5 days in advance, online)

Short breaks – all include two days entry to the Castle; car parking; buffet breakfast; one night's accommodation and extra exclusive entertainment in the Knight's Village. Dinner additional (£18.95 for adults; £9.95 for kids) – from half term, this is an evening buffet. All prices quoted are based on a family of four. 

New Avenue of Kings premium glamping tents – stay from late June to September. Starting from £259 per night

Standard glamping tents – stay from late June to September. Starting from £139 per night

Lodges – available year-round. Includes private bathroom (glamping has shared bathroom facilities). Starting from £159 per night.
Dragon Slayer – the new explosive evening experience starts Friday 3 August, with eight dates. The first evening experience designed exclusively for Warwick Castle, tickets start from £15 for show only with dining packages also available. Tickets are selling fast; www.warwick-castle.com/dragonslayer.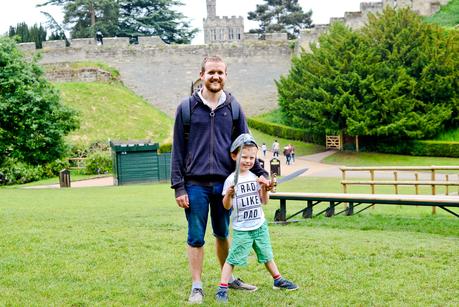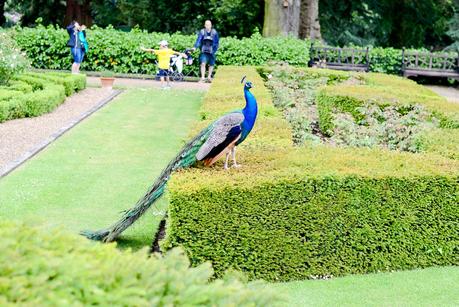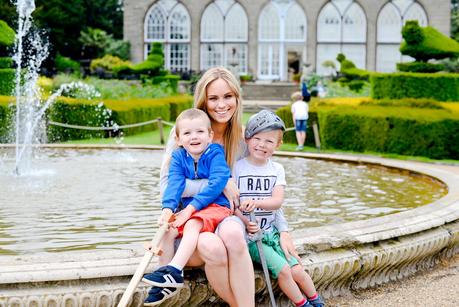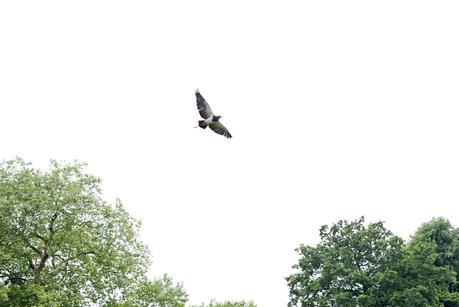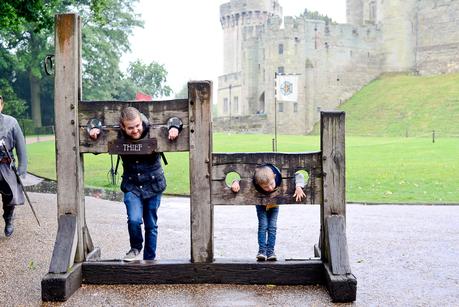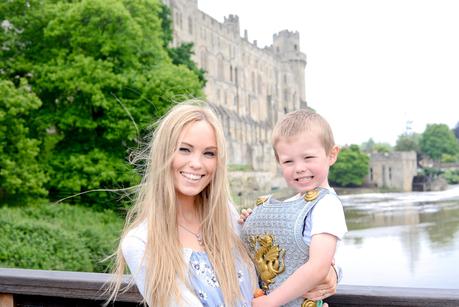 We'd like to say a huge thank you to Warwick Castle for inviting us to stay, as huge history fans especially we had the best time!
Thank you for reading.  
Alex xo
PIN THIS:
Save
Save
Save
Save
Save
Save
Save
Save