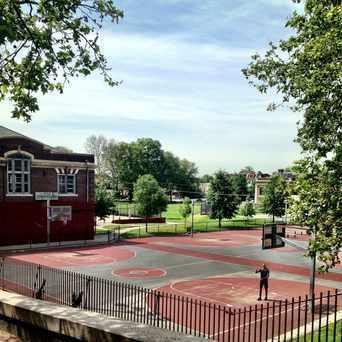 It's Monday and time for another installment of Julius JE Thompson 's Monday Memories from the award winning journalist, novelist and coach.
When I was a sportswriter for the Philadelphia Bulletin during the seventies, I spent time exploring and learning the different Philly neighborhoods.
Basketball was played in every playground, recreation center, church gym, and anywhere you could cram a court. I wanted to know: Why were Philly basketball players so skilled in "The City Game?"
I visited 48th and Woodland, Kingsessing and other meccas of basketball to see players practice their skills over the course of many summers. Eventually, they tried out for the Sonny Hill League teams which played games at air-conditioned McGonigle Hall on the campus of Temple University.
For a sportswriter, these encounters provided material for some of the best human interest stories of the year. The summer was a time to find unusual features to fill up the sports pages. For me, I wanted to find human interest stories that captured the essence of Philadelphia basketball.
For example, I watched a playground legend, John Smith who lived across from Clarke Park, develop his game. I did a feature story on his exploits. He was a talented point guard who moved from the cement court at 48th and Woodland to the hardwood at Ben Franklin High.
I watched players practice in the scorching hot summer afternoons when Philadelphia playgrounds were never silent. Gang wars on corners, screeching cars on avenues, and squealing steel trolley tires on the tracks kept you alert for the next confrontations.
On the basketball court at 48th and Woodland, the occasional thump of a basketball striking the cement startled the hibernating ghosts of past hoop games. I saw players pass under the gate to engage in one-on-one battles. The kids spent more time wiping sweat form their foreheads than dribbling a basketball.
For a lot of the players this was "the bridge to something else" and a way to earn a spot on a summer league team and then maybe be good enough to make the JV or Varsity team at Overbrook, West Philadelphia, John Bartram, University City or any of the other Philadelphia Public League teams.
The kids had a plan, an organized procedure for improving their "Skill Set".
First, they practiced everyday under the sun and then tried out for a team like Herb (Uncle Herb) Adams in West Philly, Bill Berry in South Philly or Jon Kinley in Germantown. And there were other community and recreation leaders like Bob Johnson at Gustine Lake, Warren Tanksley at Kingsessing and others who groomed the Philly basketball players that set the stage for the explosion of the tremendous growth of basketball talent in seventies Philadelphia.
I watched players get off the trolley that clanked up and down Woodland Avenue with three of four T-shirts hanging from the back of their pants. They traveled from playground to playground, changing shirts, playing a game and then hop on the trolley or bus to the next playground. With this work ethic, the players improved and honed their talent.
They played on 12-14, 14-16 and 16-18 teams working hard to be able to try out for the Sonny Hill League team in South Philly, North Philly and Germantown, etc. Maybe, you could play for a team called Mrs. Pauls' Pals or travel to Narberth Playground in Delaware County for games.
Players in the seventies worked hard on these outdoor courts and it was a different era. Today, what do you have...AAU?
What are some of your memories from the "Cement" playground basketball courts?
-
Julius J.E. Thompson
Phone: 404-707-0151
Email: [email protected]
Twitter: @consultjulius
Consultations: http://www.consultwithjulius.com/
Urban Fiction Course: http://www.writeurbanfiction.com
Information: http://juliusjethompson1.com
Stormy Winds: http://stormywinds.weebly.com/