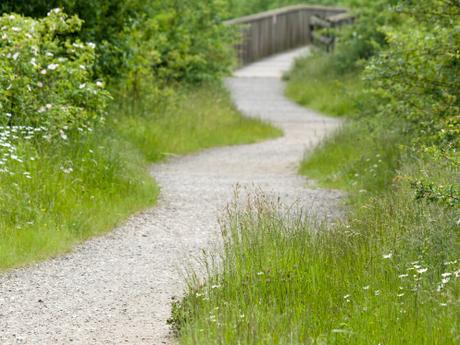 "Morning will come, it has no choice."
― Marty Rubin
Walking along the path at dawn I am especially aware of the silence. There is a quiet that hangs in the air here, despite the conversations of the wrens busy atop the tree branches. I walk but I feel afraid, frightened by my own inner stillness. I know that within the hush of my being that I may come face-to-face with things I try to hide from myself. The shadow place of my consciousness blots the things I do not want to remember from conscious awareness.
I walk and glance to my right. I notice that the river is as still as the silence in this place, and not even the tiniest ripple of movement can be glimpsed in it. It feels like something is about to happen, but what?
A small wind blows and I glance to my left in time to see the wildflowers wave. They give off no scent but dance in the breeze lazily, their quiet beauty blissful in movement. As I step along the path, I notice the sound of my own footsteps now crunching tiny pebbles beneath my feet. Their gentle crunchcrunchcrucnch is a metronome hypnotizing me. The steady rhythm keeps me moving forward and I take notice of the burgeoning stillness within myself. It is the quiet that comes when the mind relents from its incessant busyness. One moment myriad thoughts flicker across it, and then suddenly, seemingly out of nowhere, they seem to stop.
"New morning, new mercies."
― Lailah Gifty Akita
Inside I am in sync with the outside stillness.
We are one. I am a part of the fabric of all that exists. For just one moment I am aware of this, and as my thinking mind takes notice, the worry is gone. There is no thought of earthly worries. For a fleeting moment, there is no separation between me, the birds, the river, the flowers, the pebbles. For a moment I do not feel the boundaries of this body. For a moment, nothing matters.
And in another moment, life, as usual, resumes.
© 2014. 2018. Egyirba High. All Rights Reserved.
Feel free to share this post with others, as long as you include the copyright information and keep the whole posting intact. If you like this piece, please share it with others. You can like me on to see more of my writing and my personal and spiritual journey.