HOLLYWOOD—Hollywood moguls like to bet on sure things. That could explain why we are seeing so many remakes. A few months ago we had "Just Go With It," the Adam Sandler-Jennifer Aniston remake of the 1969 comedy "Cactus Flower," starring Walter Matthau and Ingrid Bergman. This month we had the remake of "Arthur," the 1981 Dudley Moore comedy about the tipsy millionaire who refused to grow up. Honestly, I just don't get it. Why does Hollywood insist on doing remakes, instead of venturing out with something original? Is it because of familiarity? What is the point of making the same movie over again?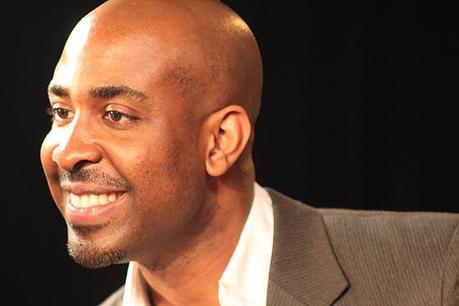 Emmy Award-winning makeup artist Valenté Frazier. Photo by Kelly Olszuk
I absolutely loved the original "Arthur," with the late Dudley Moore and Liza Minnelli. The 2011 remake of "Arthur" may be a bit different than the original, and that could be why it's getting mixed reviews. So, if you loved the original, you won't care for the remake with a cast led by comic actor Russell Brand. They changed a few things in the movie. For example, Hobson the butler is now Hobson the nanny, played by Helen Mirren. He has a Latino chauffeur now, along with a pushy father instead of a pushy mother, and this Arthur leaves a brunette for a blonde, instead of a blonde for a brunette. Hollywood should have changed the main character to a female perhaps from Arthur to Bertha. That would have been a great makeover.
Another movie coming out the end of the month is "Prom." The Disney movie is scheduled for release on April 29, just in time for prom season. As the title suggests, these teenagers are getting ready for the most important night of their life. Prom stars Aimee Teegarden, Thomas McDonell, Nicholas Braun and Christine Elise. If you look hard enough, you'll recognize YouTube beauty guru, Blair Fowler, better known as JuicyStar07. She has one line in the movie; however, on YouTube she has over 670,000 subscribers and has her own website at the age of 18. She's really a fashion entrepreneur, having recently teamed up with Cellairis.
Movies and cosmetics go hand in hand. In other words, in every movie there are always makeup artists and key makeup artists who help transform the average person to the glamorous actress you'll see on film. Or you'll see the makeup effects designer who brings you the gory effects from "The Sopranos." That's what we saw at the International Make-Up Artist Trade Show the weekend of April 9-10 in New York City. The Makeup Museum showcased busts of Eddie Murphy and Paul Giamatti among others. The museum was one of the highlights of the show along with professional makeup artists, vendors and beauty gurus from YouTube. We met up with Emmy Award-winning makeup artist and entrepreneur Eve Pearl, who displayed her talents in an hour-long demonstration on bridal and high definition beauty techniques. Miss Pearl is an on-air makeup artist for Meredith Vieira. 

On the main stage was Emmy Award-winning makeup artist Valenté Frazier, who provided the essential tools and techniques for the red carpet look. Valenté told us that on certain days, he could do Tyra Banks's face in 20 minutes. He also shared with us a special technique for the red carpet to focus on red lips. "Just add some red Jell-O to the lips, it will stain, and you can use it as a base," said Valenté. His impressive list of clients include Tyra Banks, Iman, Heidi Klum, Ciara, Kerry Washington and First Lady Michelle Obama. When he's not transforming the face of Tyra Banks for "America's Next Top Model," he's working around the world serving as an authority on makeup. The event was sold out and missing from the excitement was MAC and MAKE UP FOR EVER cosmetics. Nonetheless, the event was full of quality and it successfully resonated with the audience. According to the show's director, they plan to have a bigger venue for IMATs New York 2012. Keeping things in perspective, everyone walked away with a great feeling of beauty.
Rose's Scoop: Remember Earth Day is April 22.