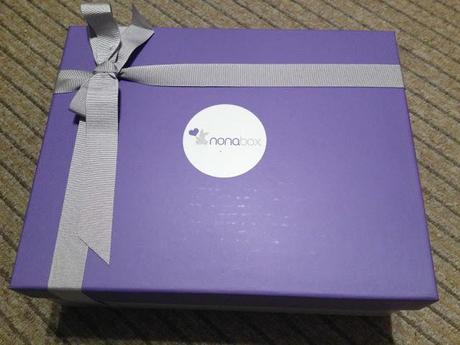 You may recall that last month, Tyne & I were sent a Nonabox to review - you can read all about last month's box HERE - well we were delighted a couple of weeks ago when our October box arrived!
We thought that couldn't possibly be any improvement on last month's box, which we absolutely loved and were SO impressed with!
Oh how wrong we were....
Let's take a look at what was inside this month: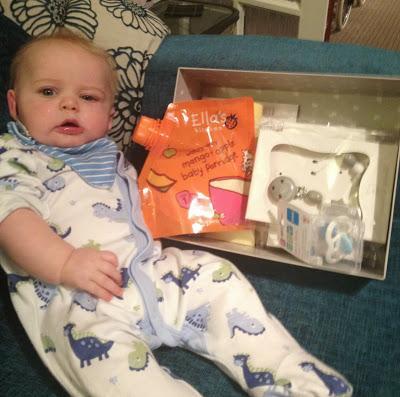 MAM Bite & Relax Teething Dummy - RRP £2.69
This is such a great little product for a baby Tyne's age who is right in the middle of teething - he loves his dummy and he loves biting down on a teething ring, so this is perfect for him! He wasn't sure what to make of it at first but he took to it quickly and now he loves it!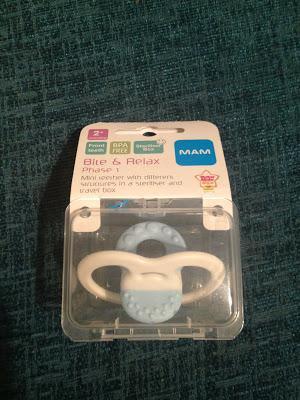 Pasito a Pasito Dummy Chain - RRP 16.00
I have been meaning to buy a dummy chain for a while now but have never got around to it, and I'm glad I waited as I would never have found one as lovely as this!It is chunky and wooden, and so stylish! You can tell straight away that it's a very high quality product, and the colours will match most outfits - I love it!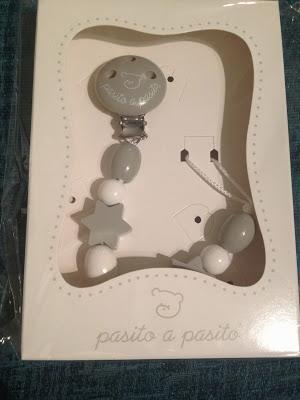 Pasito a Pasito Wooden Rattle - RRP £17.00

Another beautiful product from this range - I have never heard of this brand before but I will definitely be checking them out as their products are right up my street, so elegant and beautiful!
I thought Tyne might be a bit old for this rattle but I was wrong - he loves it and I think its actually his favorite thing from the box this month, certainly the thing he plays with/uses most!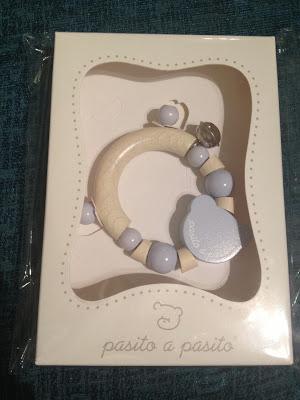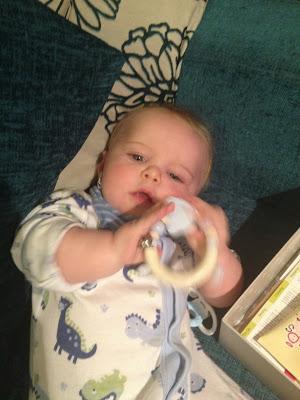 Ella's Kitchen Wakey Wakey Mango & Apple Baby Porridge - RRP Approx £4.00
I was really pleased to see this in the box as I had thought about trying it for a while but the size of the packet always put me off incase he didn't like it - so it was the perfect opportunity for us to test it!
Unfortunately Tyne isn't that keen on it, but I think that's just because he doesn't seem to like ANY kind of porridge - but I'm glad we got to try it and if your baby is a porridge fan, it really is ideal as it would last for quite a while!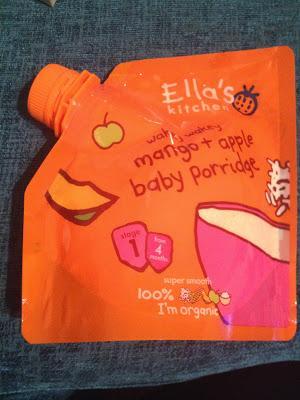 Halos & Horns Moisturising Lotion - RRP 4.07
This is probably the item I was least excited about, as I don't really use moisturising lotion on Tyne - his skin is lovely and smooth as it is, and I don't like messing with it - so I probably won't use this. But if you are a fan of these sorts of products it would be a lovely find.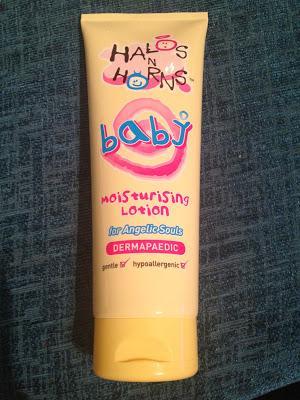 Waterwipes 

We got a pack in last months box too, but they always come in handy so I don't mind the repeat.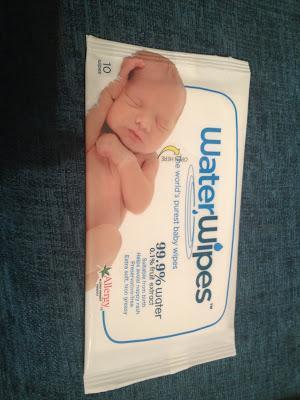 Podopro Pediwand and Teapigs Chamomile Tea

A couple of little things for Mummy which I thought was a lovely touch! I hope this is something they keep up! (thinking about it, I guess the Nursing tea in last months box could be considered a Mummy product too so perhaps it is a regular feature?)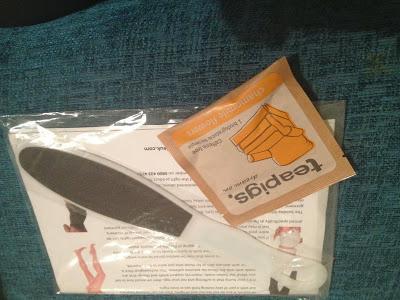 Cloud B Sleep Sheep RRP £29.35

We LOVED the Cloud B Sheep Pillow we received in last months box, and I was a little surprise to see the fluffy sheep in this months box - at first I thought there had been a mistake and we'd received the same thing but I soon realised it was a very different product!This sheep looks different as he sits upright - and he has a little soundbox inside him, with a choice of relaxing sounds to help soothe baby to sleep including heartbeat, rain fall and whale sound - I absolutely LOVE the sleep sheep and Tyne is a fan too!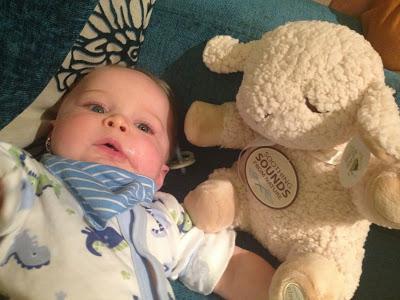 Our Verdict:

Once again, I am FLAWED by the value for money with this box and the quality of the items inside.
They are perfectly suited for Tyne's age, and include brands that I would otherwise probably never have come across who I now want to know more about (particularly Cloud B and Pasito a Pasito!)
My sister was here when I opened this months box and she was amazed by it - she has just had a baby boy 4 weeks ago, and was keen to sign up herself!
You can subscribe to Nonabox for £25 a month, or you can opt to subscribe for longer and save a substantial amount (A 6 month subscription saves you £20, and a year subscription saves you £50 so effectively giving you two boxes free)
For more details or to subscribe, go to http://nonabox.co.uk/subscribe/
Thank you for reading and If you enjoyed this post, please consider following me via Bloglovin